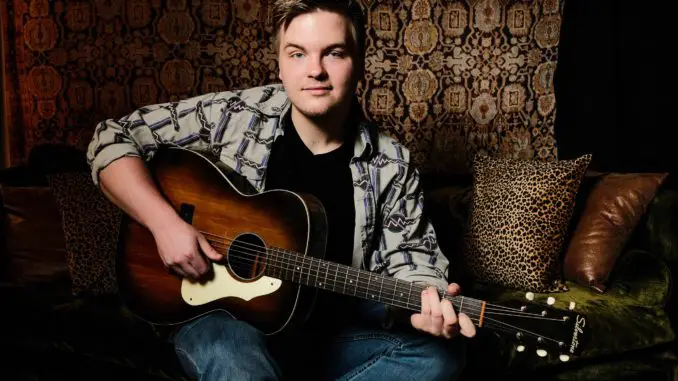 Caleb Lee Hutchinson releases the title track to his upcoming 5 song EP Slot Machine Syndrome. The dark song is about someone who realizes they are in the throes of addiction, but feels helpless to change.
"I've seen a lot of people struggle with a lot of different things," The American Idol 2018 runner-up shared with Taste of Country in a recent interview. "I've known a lot of great people, especially as a child, that I looked up to who experienced the pitfalls of addiction and substance abuse. I've seen families torn apart because of relationships that people have had. So, I think to me the core message of this song is that it can happen to anybody, no matter how great you are or how great you think you are. If you don't keep yourself in check, you could lose your entire life chasing something that may never be there."
Caleb Lee Hutchinson Drops 'Who I Am' Ahead of EP Release (Audio)
Maddie Poppe Posts Photo with Cancelled Vlogger, Angering Fans
Caleb recalls co-writing "Slot Machine Syndrome": "I wanted to seem like I was smart and had good ideas, so I just kind of had been saving that title. I kind of had the song figured out in my head, but [producer Brent Cobb] added so much of his Brent Cobb-isms, melodically and stuff. It's one of my favorite songs I've ever written for that reason."
The pitfalls of competing on American Idol
In a recent interview with People magazine, Caleb shares about how fans questioned his authenticity after competing on a television talent show.  "I've talked about this with [Season 10 winner of American Idol] Scotty McCreery, Caleb said, "I mean, I've talked to tons of people that have felt that. The assumption about anyone that goes on a reality TV singing show of any kind is, 'Oh, they just want to be famous.' I'm sure that's true for some, but for me, that was never the goal."
But keeping him grounded, is his girlfriend Maddie Poppe. They've been together since she won their season in 2017, and Caleb came in 2nd place. 
"This past year has been difficult, but it's been cool having her and having my friends that are involved in the music industry," Caleb told People about coping with the COVID-19 pandemic. "It's nice to have a little sense of camaraderie here, I guess, with all these people that have no clue what they're doing with their lives, especially when it feels like the world is upside down and inside out."
Maddie frequently travels from Iowa, where she lives close to her parents to visit Nashville where Caleb currently resides. "It's fun times. It's good."
Caleb is out on the road and will play his first headlining concert at the Brooklyn Bowl on August 29. Click for Tickets.
Slot Machine Syndrome comes out on September 17. Listen to the title track below.