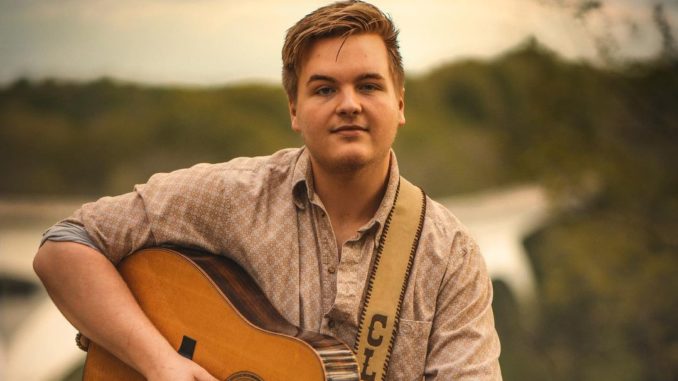 American Idol alum Caleb Lee Hutchinson drops new single "Who I Am" ahead of a 5 song EP "Slot Machine Syndrome" in September
American Idol 2018 runner-up Caleb Lee Hutchinson is set to drop his second EP, Slot Machine Syndrome on September 17. The record follows up his 2019 self-titled debut.
Ahead of the 5 track set's release, the country singer drops the lead single, "Who I Am."  Caleb told The Boot, where the song exclusively premiered: "I decided to just write a song, almost for myself, that expressed my own feelings, struggles and anxieties," he continued. "It's an open letter to the world and to myself: You don't have to define me, because I already know who I am."
"When I moved to town," Caleb explained about his post-American move to Nashville, "I was so worried about what people would think of me, what I should do, wanting to voice my opinions but not step on anyone's toes. I think these past few years have taught me that while you should always be conscious and respectful of your listeners and those that are on your team, at the end of the day, you are responsible for you," he added "I started to focus less on what the public perception of me was and more on my own self-perception. I started to think more about how I would want my music to sound if I were looking back on my deathbed with no one else's approval needed."
Caleb Lee Hutchinson, Slot Machine Syndrome EP Tracklist:
1. "Who I Am" (Caleb Lee Hutchinson)
2. "Love You Tonight" (Caleb Lee Hutchinson)
3. "Slot Machine Syndrome" (Caleb Lee Hutchison, Brent Cobb)
4. "I Must Be Right" (Caleb Lee Hutchinson, Trey Hensley)
5. "Whatcha Got" (Caleb Lee Hutchison, Bay Simpson, Kevin Mac)
Caleb describes producer Brent Cobb as a "long-time hero of mine" but also someone the singer is "lucky enough to call him friend."
Cobb allowed Caleb to be as involved in the recording process as he wanted to be. "I think Brent is the kind of artist who is truly amazing and truly country without having to try to convince anyone. I think he brought that energy with him into the studio, and you can hear it in the record."
The singer described the atmosphere in the studio as "a bunch of friends hanging out and making music, for the sake of making something cool."
We took our time to do it right, and I'm so proud of what we've made. My new EP, Slot Machine Syndrome, produced by the talented @Brent_Cobb is out September 17th AND my brand new single "Who I Am" off the EP is out this Friday! pic.twitter.com/SOVT5s7v9B

— Caleb Lee Hutchinson (@calebleemusic) June 22, 2021
Caleb recently played a date with girlfriend Maddie Poppe
Gossip fans will be happy to know that Caleb is still dating Maddie Poppe, who won American Idol 2018. The two recently played a concert at the Surf Club in Clear Lake IA. It's Maddie's home state and where Buddy Holly, Ritchie Valens and The Big Bopper lost their lives in a plane crash back in 1959.
 

 

 

View this post on Instagram