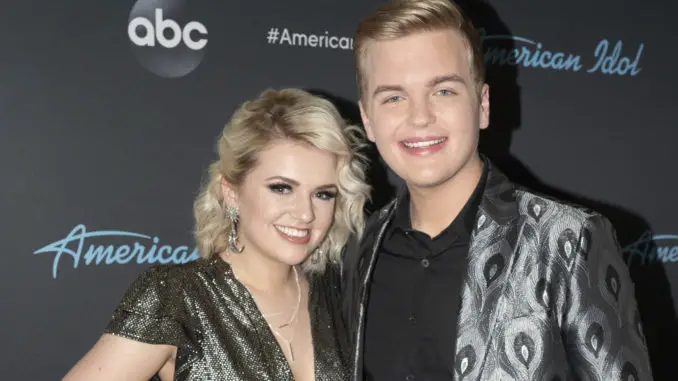 Maddie Poppe and Caleb Hutchinson visit controversial Youtubers and some folks weren't having it
Last week
American Idol
season 18 sweethearts
Maddie Poppe
and
Caleb Hutchinson
took a trip to Los Angeles. However, the trip didn't come to an end without a bit of controversy. On Friday, Maddie posted a photo of herself and Caleb at the home of controversial Youtubers
Shane Dawson
and
Ryland Adams
. Some fans were thrilled to see the four together. But overall, the reaction was negative.
Shane and Ryland are engaged.  But that's not the controversial part! For those unfamiliar with the world of vlogging,  Shane has been a Youtuber since 2008 and has amassed over 20 million followers. It is actually the thing that got him in trouble. Years of posting questionable videos finally caught up with him last year.
Shane got cancelled for offensive blackface, joking about underage sex and animal abuse
After Shane called out a fellow Youtuber who was in the midst of a cancellation, folks went digging and found Shane's questionable content. And then it was his turn in the hot seat. The unearthed videos contained exaggerated blackface, inappropriate comments to, and about, children as young as 11, and "jokes" he made about sexually abusing animals. For instance, clips show him "tonguing" animals mouths as if he were French kissing them and egging on young children in a sexual manner.
Making his situation worse–his cancellation went mainstream after Jada Pinkett-Smith called Shane out after  a video of him moaning sexually and gesturing to a photo of her daughter Willow surfaced. She was 11 at the time. Pinkett-Smith tweeted that she was "done with the excuses."
*
 

 

 

View this post on Instagram

 

 

*
This video is lengthy (LINK) but lays out a detailed timeline of Shane's demise. The unearthed clips are way over the top. I imagine Shane kept pushing, pushing and pushing the envelope to stay relevant and competitive. Still, some of the clips are pretty gross.
It's worth noting, that before Shane's career blew up, he used Catie Turner's "Prom Queen" in a trailer promoting a series about about beauty vlogger Jeffree Star (he was cancelled at one point too).  Overall, the exposure was good for Catie's career, introducing her music to a young audience beyond American Idol.
Eventually  Youtube demonetized Shanes channels. He deleted a ton of videos off the internet, posted an "apology" video and hasn't uploaded a video in over a year. 
So. Yeah. Some fans are upset Maddie and Caleb are friends with Shane
Behold a sampling of the reaction to Maddie and Caleb's post.
calebleemusic it was so nice to finally be in my own episode of hanging with shane
rollipollioli I'm surprised people support Shane after the inappropriate and disgusting things he said about children.
helenabraithwaite Unfollowing 
tattered_tiffany That's a huge nope from me. Yuck. 
jocelyn_jk Bestie ily but Shane???
victoria.haugrud NOT SHANE DAWSON
briannaaafulton oh NOOOOO.
ercabrwll Sis… read the room
yobriian Are you guys TRYING to kill your careers?
kenzwherry No no no no no why why would you associate yourselves with that man. So disappointed
_kesaiah09_ Shane thinks literal children are sexy but ok
alestakate ? sad to unfollow bb, but I got to
catherine.oesterle2022 Ily Maddie, but you should REALLY not be associated with Shane Dawson. He has a troubled history. 
katlynnebunes Oh no… this is not it. Run. Far away.
sapphirebscott Quick and easy unfollow. Not only is he a predator, but he's also racist! Thank you for letting me know you have the same values!!! ?
alissapaige___ Maddie I love you pls don't associate with people like this. Not for clout not for any reason. Not good people. They are using you, no one will work with them anymore for good reasons.
mackenzienabors26 Educate yourself please. No hate to you but please listen to people. This person is terrible and that's been proven by his own words. Please do better
moody_brew Ooof are you trying to get canceled?
leviixmay i'm genuinely disappointed i rly liked her
hairbycal I've never unfollowed someone so fast. Yikes
hannahmboudreau imagine supporting a pedo/racist :') honestly if you knew all the stuff against him you wouldn't support him too
oyimthejokerswife Do you know why he isn't on youtube anymore? You really need to do research before meeting people who could potentially ruin your career.
Fans also supported Maddie and Caleb
Fans also supported Maddie and Caleb. Some are loyal fans of the couple. But others are also fans of Shane, and are waiting for him to come back to Youtube.
madisonfirl all the people who unfollowed, good riddance ? she don't need support from people like y'all
mscrashley These comments dude. Get a life. She can hang out with anyone she wants. Don't like it? Don't watch. Shane isn't the bad person here.
emmworkk Ignore the haters girl! Yall look like you're having so much fun
snowpaw_shaw You just gained a follower, you all make me so happy!!! 
Shane and Ryland got a private concert
Maddie also posted a short clip on her Instagram stories of her and Caleb singing Death Cab for Cutie's "Follow You Into The Dark" for their hosts. A good time seemed to be had by all.