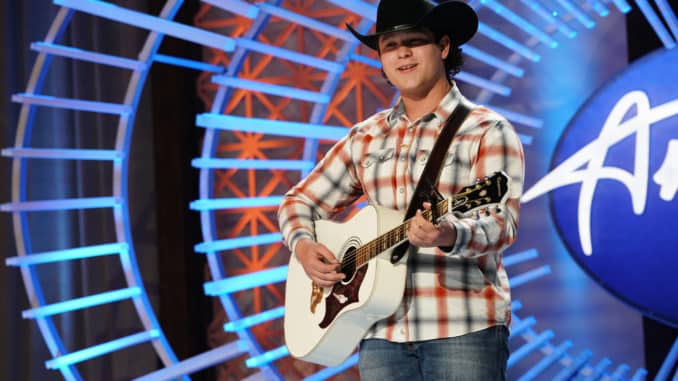 Caleb Kennedy will finally drop his American Idol 2021 single, "Raised on Dirt" on September 11, he announced on Instagram. 
The song would be out by now, except for a racist Snapchat video that surfaced mere days before the track was set for release. Subsequently, Disney/ABC and American Idol disqualified him from the show. In the short video, the teen country singer-songwriter sits next to a person wearing a K*K*K looking hood.
In the midst of the final weeks of American Idol season 19, fans voted for their Top 5, and the South Carolina native made the cut. Right after the results episode, Idol announced that the entire Top 7 had worked with top notch producers to record a song that would serve as their winners single if they won it all. 
A racist video involving Caleb surfaced just days before "Raised on Dirt" was scheduled to drop
However, just days before Caleb's self-penned single "Raised on Dirt" was scheduled to come out, the racist video leaked, and ABC/Disney/American Idol disqualified him from the show. Not only would he no longer compete, but the song he just recorded would stay in the vaults. The show also erased every single vestige of his participation in the competition, including all performance videos uploaded to the Internet.
But since his disqualification, which raised questions about whether Caleb was racist or not, the singer has been working his way back into the music industry. His fans did not leave his side, as he performed a triumphant hometown show, in addition to a few more regional concerts.
Caleb has been working his way back into the music industry
This summer, Caleb also traveled to Nashville where he met up with fellow American Idol alums (winner Chayce Beckham and Top 24 finalist Hannah Everhart) for a mini reunion. He also participated in writing sessions with country music singer and songwriter Brandon Kinney. During a four hour songwriting session, the two wrote "That's the One."
It's interesting that American Idol released the song to Caleb. Did he have to buy the rights from 19E so he could release it independently? Or will 19 Recordings get a cut from downloading and streaming revenues? Caleb made an unfortunate choice as a very young man. However, the video was so racist, that Disney had no choice but to cut him loose. 
"Raised on Dirt" was produced by Ross Copperman, who said of Caleb's talent, "He really knows who he is as an artist."
Check out a snip of "Raised on Dirt" below.
 

 

 

View this post on Instagram