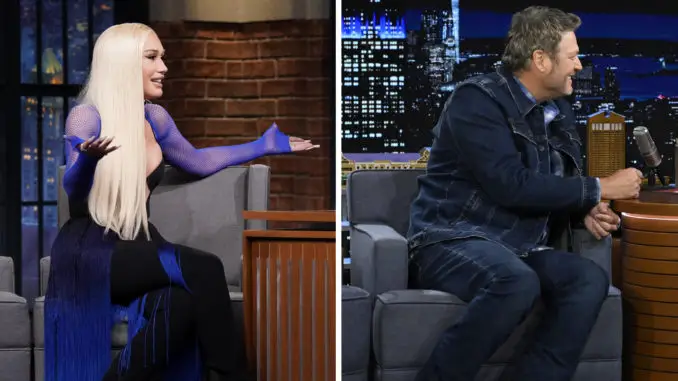 The Voice season 21 is just around the corner! And to drum up excitement for the new season–and promote their own projects, of course–Gwen Stefani and Blake Shelton dropped by Late Night with Seth Meyers and the Tonight Show starring Jimmy Fallon, respectively.
In her segments with Seth Meyers, Gwen talks about how she won The Voice the last time she served as coach two years ago.
"The way I won was amazing," Gwen said about her win with Carter Rubin. "Because I actually had a 14 year old boy and he was a one chair turn!" She boasted, "these ears heard a star!" She noted that he turned 15 on the show, and that he's "incredible," adding that he has "just grown before my eyes like he's my kid. He's blossomed." She is not kidding. Carter grew much taller and slimmer since his The Voice run, and has since released a single, "Horoscope," via Republic Records.
She admitted that it's really the artist who wins. But that "It does feel good to have one under my belt when I go back." She added, "There's no way to compete with Blake Shelton!" She and Blake will sit on the panel together for the first time since their 2021 wedding.
In another segment, Gwen desribed how fellow coach John Legend usually won't press his button when an artist covers his song (Actually, he did turn for Season 20's Victor Solomon, who covered "Glory"). Gwen exclaimed, "We're like John! You have to press your button!"
Gwen, on the other hand, is flattered when an artist sings her songs. She hints that an artist covers one of her songs on the upcoming season 22, so watch for that. 
However, sometimes, it's weird for her when good singers ornament her songs with runs, because of how personal the subject matter is to her. Nevertheless, "It's always flattering," she says, "And it's incredible."
Meanwhile Blake and Jimmy Fallon spent a couple of segments joking around about Blake's mullet, which he sports in the new video for his latest single "No Body." Jimmy also managed to demonstrate that he knows nothing about country music. 
As far as the coming season of The Voice, Blake goes in on new coach Camila Cabello. "She's got a lot to say, that girl." Blake teases, "She talks a lot. Kelly's not on this season…she makes up for it." Jimmy shows a little clip of Blake and Camila going at each other in front of an artist. The joke is that Blake has a "mute button" that's part of his contract. The clips from the show so far indicate that Camile is Blake's new foil, while his usual nemesis Kelly Clarkson takes a break. 
The Voice season 22 premiers on NBC Monday September 19 and Tuesday September 2o.
Watch Blake Shelton sing his latest country single "No Body" on the Tonight Show. And watch Jimmy Fallon, Blake Shelton, Gwen Stefani and Gigi Hadid play Pictionary HERE.