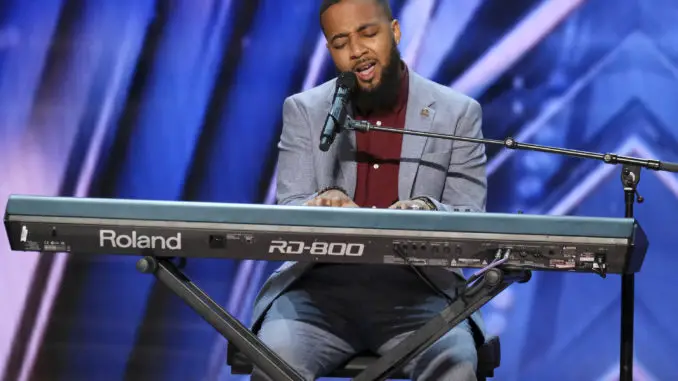 America's Got Talent: Ray Singleton Sings for His Wife Who Has Battled Brain Cancer
Thirty-one year old singer Ray Singleton went viral with a video of himself singing to his wife Roslyn  before she underwent brain cancer surgery. He initially shared his story on the Ellen show (Watch it HERE). But this week, the North Carolina native  performed "I Am Yours" by Andy Grammer on the America's Got Talent stage. (Read the full recap HERE)
Before his performance, Ray shares that not only is Roslyn a brain cancer survivor, but a U.S. Navy veteran. When they met in 2016, Ray knew immediately that she was the "love of his life." Ray's dream has always been to sing, which gets him through hard times.
Ray's singing helped his wife get through brain cancer
About a year after they married, Roslyn began experiencing headaches. Doctors found a mass that was about the size of an orange. Ray felt helpless, he said, seeing her go through 10 months of chemotherapy. Roslyn, who was offstage, said that his singing helped her get through brain cancer, and she pushed him to follow his dream.
During the audition which took place in the spring, Ray announced that Roslyn is "cancer-free."  I would like to note that Rosalyn was in the hospital about a week ago (via Ray's Instagram) and that my thoughts, love, and prayers are with Roslyn, Ray, and their family. She has returned home since. Here is to her continued good health. 
Ray jumps into his song and performs in a soulful crooning way that phrasing wise reminds me a bit of John Legend's ballads. As he gets further into the performance, passion oozes from him. I love when he goes for the bigger notes. It was overall a very well executed performance with a less is more approach. It was soulful but was not over the top. This season is truly full of seasoned singers and Ray joins that widely talented lineup. I am intrigued to see which singers will eventually move on and which will be overshadowed in the future.
The judges give Ray 4 yeses
After the performance, a tearful Roslyn joins him on stage to give him a big hug.  Judge Simon Cowell congratulates her, saying that it is truly "amazing" what she has been through. She shares that Ray has been practicing every day and that she has "never heard him sing so good." Sofia Vergara believes that is going to fall in love with him. Simon added that you can tell how much they love each other just by how he sings. Howie Mandel thanks Roslyn for her service, and the judges send Ray through with 4 yeses.
Ray Singleton Sings Andy Grammer's "I Am Yours" on America's Got Talent