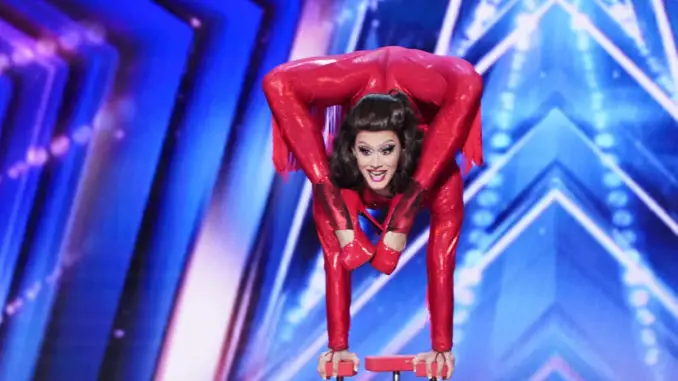 America's Got Talent continues on NBC tonight with Simon Cowell, Howie Mandel, Heidi Klum and Sofia Vergara on the judges panel. Terry Crews hosts. See the new acts vying for the 1 million dollar prize.
America's Got Talent: Ehlich Impresses With Amazing Light Wands (Video)
America's Got Talent: Michael Winslow, Famous Voice Artist Auditions!
America's Got Talent 2021 Auditions 7 Spoilers – Meet the Acts (Photos)
Temple London – Father/son martial arts duo
Temple London is a UK martial arts school, which Dad runs. Father and son both have heavy duty cockney accents. The 11 year old boy has a crush on Sofia! The two perform Kung Fu. Both are very skilled martial artists, but is this the kind of thing that can be leveraged into several performances? Maybe. There's a ton of tumbling and a bit of danger thrown in the mix. Sofia calls their passion "perfection." Heidi calls the routine amazing, and not boring. Howie calls the act "martial hearts." Simon calls them both "amazing."   Simon mentions his young son Eric. But this season, he's not on set. Probably due to COVID restrictions.  – 4 yeses.
Hiplet Ballerinas – Dance group
Based out of Chicago, The Hiplet Ballerinas aim to make ballet accessible to all. The group's dance style is a fusion between classical pointe technique, hip-hop and more. The group welcomes different shapes and sizes. Simon admits that he finds ballet boring (ballet is NOT boring). They begin with traditional ballet moves, but then shift quickly to ballet moves infused with hip-hop and other styles. It's dynamic. I've never seen hip-hop moves performed on pointe! Pretty cool. Sofia like the "tippy toes." Heidi was mesmerized. Howie calls them "nutcrackers." Simon liked their personalities and their energy – 4 yeses 
Behold a montage of buzzed acts
Sweet Sassy Molassie – Singer/Ice Skater – She's from Missouri, or something . And as I predicted, she got buzzed immediately. Even before she tore off all her clothes and pretended to be a rock star.
Anthony The Molar Man – Molar music – This Danvers, Mass. native plays songs on his teeth with only the flick of his fingers. He plays the Addams Family theme. And is immediately buzzed. 
Popstar Nima – Singer – I'm not really sure how to describe this act. He seems like a parody act? His singing is bad. But his weird original songs come with elaborate music videos. AND BUZZED.
Lil Roman – Lil Roman describes himself  as a rapper, dancer and model on Instagram. – SUPER BUZZED
DJ Dance – Dancer – Or something. He's wearing a white hat and gloves, and appears to be elderly. SO BUZZED
M. Lee Post – Dancers – Very bad dancers BUZZED
Drumstick – Chicken drummer – He's Eric from New Jersey and a drummer. He joined the Marines after college to join the drum and bugle corps. He looks normal in his video package. But then walks out on stage dressed as a chicken. WHY? He plays drums and things that sound like chickens squawking. Of course BUZZED. 
Sarah Potenza – Singer
Sarah made it as far as The Playoffs on season 8 of The Voice. Check out her audition singing Rod Stewart's "Stay With Me" HERE. She's 41 years old now. She calls being on AGT game changing, as if she's never stepped on to a TV competition stage before. Sarah performs a song about self love called "Worthy." She explains that the original song was sounded more country. She performs in a big bluesy style that Voice fans are familiar with. She's a smoother sounding Janis Joplin. This chick can BELT. After, the judges are out of their seats. "You just killed that," says Simon, calling her "extraordinary." Howie calls the song a hit. "What took you so long to come to AGT?" asks Sofia. GEEZ BECAUSE SHE DID THE VOICE FIRST. Sarah answers, "Because I didn't think I was worthy." Hm. 
Gramps & Maeve – Grandfather/granddaughter dancing duo
The duo performed a tap routine on Good Morning America in 2018. Check it HERE. They are very cute together, even if Gramps kind of sucked "People are going to love you both," says Simon. Howie says no, though, calling them too amateur.
Michael & Angelina Novikova – Brother/Sister dance duo
The young duo  specialize in Latin Ballroom. Their older brother was on AGT in 2016 dancing ballroom with their mother. She's offstage. OK. I remember this. They made it to the live Quarterfinal. And, apparently, their journey ended when Howie buzzed them off the stage. He complained that the young boy's moves were too repetitive. Mom comes out on stage. She has a lot to say. "You were really really rude!" She scolds him for being mean to a little kid. She has a point. The boy is a little stiff, but they are very well trained dancers. Heidi loved it, calls it "perfection." Sofia calls them adorable. Simon calls it brilliant. He's a little afraid of their mum. Howie apologizes to her and her son. "We all forgive you," says the little girl. "We all make mistakes." Then, Simon sneaks over and presses Howie's button… – 4 yeses
Davide Zongoli – Acrobat
He does a ton of modeling, but also performs acrobatics for the Atomic Saloon Show in Vegas. The acrobatics are similar to silk work, but instead he uses a pole suspended from the ceiling. And blindfolded. He's very strong, and has nice abs. – Simon and Howie were bored. Heidi tries to convince Simon to say yes. I'm with the girls on this on. The act was unique and entertaining. He should have been put through. The guys say no. The girls say yes.
Ehrlich  – Acrobat
Ehrlich came all the way from the Philippines to compete on America's Got Talent. NBC released this audition a few days ago. He works with lighted wands and hoops that seem to float in the air like magic. It's a little like baton twirling, but higher tech. Sofia calls it "flawless." Howie calls it an artform, that the show has never seen before. Heidi calls him incredible. Simon thinks he's got a lot of guts. – 4 yeses
Gene & Isabella Bersten – Father/daughter dance duo – Gene's brother Alan Bersten, performs as a pro on Dancing with the Stars. It's a little clip but they get 4 yeses
The Owl and The Pussycat (Paul Tracogna & Adrienne Jack-Sands) – Trapeze artists – The married duo performs synchronized trapeze that tells a "romantic" story. Adrienne appeared on Season 10 as part of Duo Volta. Together, the pair competed on France's Got Talent season 14. – 4 yeses
Hello Sister – Sibling band
Hello Sister are Gracee, Gabriella and Scarlet Mason, a sibling rock band. The tween girls play guitars and drums, and want to be rock stars. They sing a song they wrote called "Middle Schoolers." They are better musicians than they are singers. The harmonies are rough for siblings. The sound is very 80s, like the Go-Gos. Simon is on his feet. Heidi loves their energy, but feels that they "didn't always sound amazing". I agree with her. Howie thought their vocals were too soft. He is also correct. They were also off-key. Simon thinks they need the girls in the competition. Sofia likes them too. The fake crowd is booing Howie, so he changes his mind and says yes. Heidi also switches her vote. – 4 yeses
Michael Winslow – Super famous voice artist
Weird that this already famous voice actor would appear on AGT. He starred in the Police Academy movies, as well as appearing in Spaceballs, Gremlins and more. He presented the Best Sound Editing award at the Oscars in 1986. Check out his Wikipedia. The show doesn't pretend he's not totally famous. Michael details his big career. He said he quit the business after his wife died. (Hm. There aren't breaks in his resume. I suspect there is more to the story). The show previewed his audition a few days ago.
He is undoubtedly very very good at what he does. But I really don't think AGT is for artists who are already world famous. Howie calls him a trailblazer. Sofia calls him unique. "You're not human!" Simon loves that a big champion has come back to battle with the rookies. Hm. So will this be a thing? Once super famous acts auditioning for AGT to bump their careers? THAT'S A NO FROM ME – 4 yeses
Kevin Micoud – Mentalist
French mentalist works with Holograms. His biggest dream is to have his own show in Vegas. Terry takes the stage to help out. So, this is a little different. He uses holograms as props. It's cool looking. Plus, he's a very clever mentalist, able to "guess" what former contestants the judges had in their minds. – Heidi calls it "incredible." Sofia calls it different and fun. Simon says his act took mentalism into the future. "Brilliant." Howie is so excited. – 4 yeses
Scarlett Business (Kyle Cragle) – Drag Contortionist – Kyle describes how hard he trains. He rehearses as Kyle. But when he takes the stage, she's dressed head to toe in pink, with lovely brunette tresses and platform heels. She mixes hand balancing, contortion and SASS. Lots of sass. It's a unique combo. Her strength is impressive. Simon calls her a "real diva" Sofia is impressed with the heels. Howie calls her fun and energetic. Heidi loves a girl who can do it all. – 4 yeses
Ray Singleton – Singer
A video of Ray serenading his wife before she underwent surgery for brain cancer went viral. He and his wife appeared on Ellen in Feb 2020 to talk about it HERE.  His wife, Ro, is a veteran as well as a brain cancer survivor. They got married in 2018. Ray has always sang, but after college he got a job selling cars. His wife's cancer treatment include 10 months of chemotherapy.
He announces during his audition that she's cancer free. But according to his Instagram, Ro was in the hospital earlier this week for a brief stay, so she's still fighting. He sings "I Am Yours" by Andy Grammer sitting at a keyboard, while  Ro, cries off stage. That Ray is a sensitive and soulful singer only heightens the emotion. Vocally, Ray has a John Legend thing going. Sofia calls their energy beautiful. Simon calls Ray a fantastic singer   – 4 yeses
Next week, it's the FINAL AUDITIONS before the TWO WEEK Olympic break.