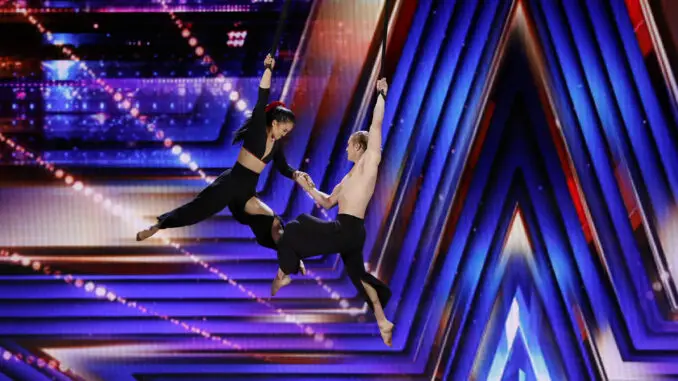 America's Got Talent season 17 auditions continue with Simon Cowell, Howie Mandel, Heidi Klum and Sofia Vergara on the judges panel. Terry Crews hosts. See the new acts vying for the 1 million dollar prize and a headlining show in Las Vegas.
AGT 2022 Auditions 8 Spoilers – Meet the Acts (Photos)
America's Got Talent 2022 MEGA Contestant List (Photos, Videos)
America's Got Talent 2022: Full Season 17 Schedule
Bayley Graham – Tap dancer
Tap dancer from New Zealand. Bayley won TVNZ's talent show 60 Seconds this year. The 22 year old hopes to come to America and work in Las Vegas. He's a skilled and entertaining tapper. He's got personality too. He shouts at the crowd to "make some noise." He's kind of a dweeb. But that's not a bad thing.
Howie is the first on his feet. "I love it!" he says. "You're a show," says Howie. Heidi could watch him all day. Sofia thinks he's worthy of a professional career. Simon admits that he doesn't understand tap dancing. He thinks Bayley undersold himself. – 4 yeses
Freckled Zelda – Singing Fairy
She describes herself as the "music fairy," and has 7 million followers on Tik Tok. NBC leaked her audition HERE. She tells Terry that she has auditioned for AGT for "the last 7 years." As she describes herself as a "music fairy" and is all in on being otherworldly, the judges are a tad confused. But it turns out, that while she's certainly kooky, she's not talent-free. She performs a very emotional and earnest version of Disney's "Colors of the Wind."
As the crowd gives her a standing ovation, Zelda cries. Simon compliments her voice, but doesn't like the instruments. "You're interesting," he says. Zelda insists to Sofia that she's 100 percent fairy. Heidi points out that AGT is a variety show, and there is room for everyone – 4 yeses
Maxence Vire – Magician
Max, from Paris, was a semi-finalist on La France a un Incroyable Talent (France's Got Talent). He is a Spain's Got Talent Golden Buzzer and grand finalist. He's been performing magic since he was a kid. He asks the judges to help. The beginning of the bit is confusing, as he mixes comedy in with the magic. Where is this going? Simon is going to buzz him if he doesn't get to the point. He's a wild and crazy magician. Finally Simon smiles when the magic comes together. The tricks end up being clever.
Sofia calls him brilliant and funny. Heidi calls it "so much fun." Howie also likes his energy and humor. Simon was annoyed at first, but notes that the audience loved him – 4 yeses
Two acts are montaged including variety act, Jessica Fishenfeld. She's an aerialist, actress, and opera singer who also implements comedy into her acts. She spends her time in Savannah, Georgia and NYC. Catwall Acrobats performs a variety of acrobatic acts including Trampwall, Butterfly Trampoline, Powertrack, Teeterboard, Russian Swing, Cyr Wheel, and Sway poles. Both acts get yeses from the panel.
RCC Aruba – Acrobats
RCC Aruba is an award winning Acrobat/performance art group from Aruba. The acronym means Rhythm Circus Company. Sofia is delighted to learn that some of the members are originally from Colombia. But now they live in Aruba. Oh no. The airlines lost their luggage and they almost had to pull out of the competition. The dudes whip off their shirts. The acrobatics are dangerous. Two guys launch another guy high into the air through a hoop (HOPEFULLY!) by jumping on to a see saw. Next, the fire and blindfolds come out! It's thrilling.
Sofia calls it sexy and exciting. Howie calls it edgy and mind blowing. You have to go through, insists Heidi. Simon liked how the routine felt unpolished – 4 yeses
A couple of female comics are montaged. The twist: Simon is the only judges who says no. Gina Stahl-Haven is a San Francisco based comedian, consultant and adjunct professor at the University of San Francisco, teaching Rhetoric and Communication. She's a 41 year old comedian who does "mom" jokes. Simon found her "robotic."
Kim Evey is an LA-based comedian who started her career in Seattle and has decades of experience. She was guest cast member on the Emmy-winning sketch comedy show Almost Live! in 1984. She jokes about being the adopted Asian daughter of white parents. Simon just didn't "click" with her, he says. – 3 yeses Simon says NO
Don McMillan – Comedian
Don has appeared on Dry Bar and has a number of viral videos. He worked as an engineer, so his comedy revolves around that world. He was named #1 corporate comedian by CBS Business Network. He's made appearances on The Tonight Show, HBO, and Comedy Central. He's 61 years old. Simon isn't thrilled. He does a bit about Nerd vs Geek. As a former IT person, I can relate. He delivers his jokes using geeky charts as a prop. Simon eventually begins smiling. 
Howie calls him unique. He likes his delivery. Heidi says, "You had me in stitches." Sofia says, "I had the best time." Simon adds, "I didn't get it." He doesn't like Power Points. He says no. – 3 yeses, Simon says no
Ava Swiss – Singer
Eighteen year old Ava, from the Detroit Area, recorded a version of "Rise Up" after performing it in the wake of a shooting at her high school in Oxford. She helped the community heal. As the show comes back from break, a card announces that the audition was filmed (in April) "prior to a recent string of tragic mass shootings across the country. Our hearts go out to all of the families and everyone impacted by gun violence."
She is singing "Remember" by Lauren Daigle in remembrance of the school shooting. Four students died that day. Music has been healing for her, she says. When singing she remembers the good, her family and friends. She seems very nervous. Her singing is raw. She needs a few more years to polish up. But she pours emotion into her performance. Mom is backstage crying. Afterward, she receives a standing ovation.
Howie commends her for continuing to show up and shine after experiencing such terrible tragedy. Heidi calls her "special." Sofia says, 'You took my breath away…it gave me goosebumps." Simon calls her "gutsy." It's an audition "he's never forget." He calls her "extraordinary." – 4 yeses
Ciara Hines & Trey Rich – Teen dancers
This dancing duo who are best friends have won competitions together. But both dancers are accomplished dancers in their own right, winning competitions on their own.  The two perform a lovely contemporary number. Their friendship is infectious. 
Sofia calls it "amazing." Heidi thinks they brought some "new moves." Howie thought it lacked "crispness" at times. Simon couldn't discern a story. But there was a story–Ciara's dad recently passed away from a heart attack. The two used to watch AGT together. Trey helped her heal. "We're always there for each other." Simon quips "I love friendship. I don't have many friends." – 3 yeses, Howie says no
Auzzy Blood – Horror freak show performer
Auzzy performs dangerous stunts involving corkscrews, meat hooks, sword swallowing, and more. He also has appeared on Cirque Du Soleil. He explains that in high school he felt different than anyone else. He feels AGT will allow him to express himself. He describes himself as a "sideshow freak." And I'm gonna say up front, I'm not gonna watch most of this act. Check out the video below. The little bit I saw involved sword swallowing hijinks. Eventually, Howie joins Auzzy on stage to assist with more sword swallowing. He freaks out the whole way. "I'm going to throw up," he said afterward. "I can feel stuff."
Auzzy promises Simon that next time, he'll break a world record. "I'm disgusted and entertained," Howie says. "I loved you," says Heidi. "It was fun and very dangerous," says Sofia – 4 yeses.
Duo Mico – Aerial strap duo
NBC previewed this act earlier. Watch it HERE.  Maxime is from Quebec and Caroline from Boston, Massachusetts. Cirque Du Soleil in Hangzhou, China (2019) was casting for a Caucasian male and Asian female and Max was already cast. Having never done strings before, Caroline was called to try out and in three short months they debuted their act. They were a Golden Buzzer act on China's Got Talent.  Caroline appeared on AGT season 12. She assisted her husband's roller boller act. Now he's assisting her, operating the winch. These types of acts are usually romantic. But these two are like ninjas, facing off in a fight. It's elegant and edgy. 
Sofia calls it sexy and mysterious. Howie loved the danger. Heidi describes it like a fighting story in a movie. Simon wonders if she dumped her husband for a new partner. "My husband's specialty is not aerial," she says. To prove they are still a thing, he comes out on stage to give her a hug. – 4 yeses
Debbii Dawson – Singer/Songwriter
A Minnesota native, Debbii is an indie pop/R&B singer who describes herself as a singer-songwriter and producer. On stage, Debbii admits that she's nervous. In India, her grandfather taught himself to play organ, And then taught his son. Debii's father taught her. Simon teases her after learning that her family stayed in Minnesota rather than coming out to support her. She performs an acoustic flip of ABBA's massive 70's hit, "Dancing Queen." Her tone is interesting, but she's obviously extremely nervous. It comes through in her vibrato.  Her tone is sweet and high. She gains more confidence toward the end of the performance, but she needs to come out of her shell. She's not there yet.
Howie calls her voice "sweet and soothing." Sofia loves her voice. Heidi advises that she look up more. "Your voice is as gorgeous as you are." Simon says, "you literally made it your version." Debbii gets her dad on Facetime to deliver the good news. When Simon asks why they aren't in Pasadena, Dad says Debbii asked them to stay home! – 4 yeses. 
The Big Apple – SETHWARD!
Dude is dressed in a giant apple costume, and describes himself as a stand-up comedian from New York. Why is a joke act last? This already feels fishy. He thinks he can win the competition because "I AM AN APPLE." Simon did a bit through the whole episode where he asked contestants what fruit they wanted to be. He also ate fruit and gave it away. It all led up to this final (dumb) act. The Big Apple says he'd rather be a pineapple. Pretty quickly after telling a few corny jokes, the judges buzz him. 
And then, Apple doesn't feel so good. He's got a worm, which crawls out of his mouth and OMG IT'S SETHWARD! So funny, another joke act dressed as a parrot a few weeks ago had folks speculating it was Sethward, until Parrot man revealed himself. Sethward, who has appeared on AGT for several seasons in row now, teased on social media like he was going to appear on the show again. So the speculation was half right! Wrong dumb costume, though.
The bit ends in typical Sethward-style mayhem, with him running around stage with his butt and privates hanging out (censored of course). Oh boy! 
Next week, it's the LAST of the auditions. And then the cast gathers at Simon's house to pick the finalists!