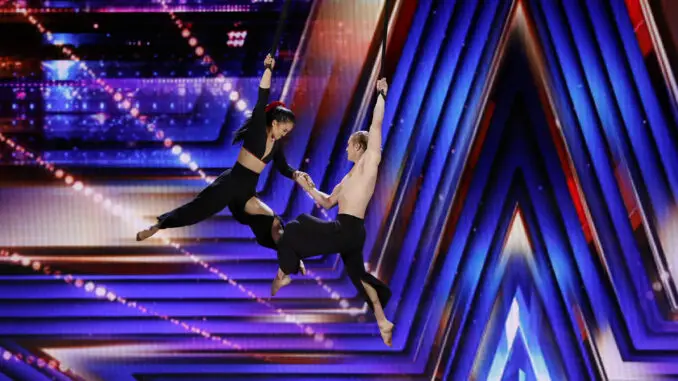 Caroline from Boston Massachusetts and Maxime from Montreal performed an "aerial strap" routine as Duo Mico for the America's Got Talent judges Howie Mandel, Heidi Klum, Sofia Vergara and Simon Cowell in the newest leaked audition from NBC. 
AGT 2022 Auditions 8 Spoilers – Meet the Acts (Photos)
America's Got Talent 2015 – Freckled Sky Audition VIDEO
Caroline reveals that she previously auditioned for season 12 with her husband, as part of a roller board duo. She's still married to the guy, who assists the new act by operating the winch. Cool they can make a thing like that work! "Sounds dangerous," says Howie. Caroline jokes that it's a "calculated risk." She promises that the duo will present something new and original to the judges. 
The act looks dangerous and Caroline and Maxime twist and turn in the air.  They also add an intriguing storyline. They two are like Ninjas, facing off against each other. The performance is graceful, but also fierce. The last trick is spectacular.
Fans will have to wait until America's Got Talent airs on NBC Tuesday July 26 at 8 pm ET/PT to find out what the judges have to say. 
Here is the duo's backstory: Cirque Du Soleil in Hangzhou, China (2019) was casting for a Caucasian male and Asian female. Max was already casted, and having never performed on strings before, Caroline was called to try out. In three short months they debuted their act, X Land of the Fantasy. The duo appeared on China's Got Talent in 2021, earning a golden buzzer and have also appeared in a lot of festivals.
Watch Duo Mico perform a spectacular routine on the aerial straps for America's Got Talent auditions 8 below.