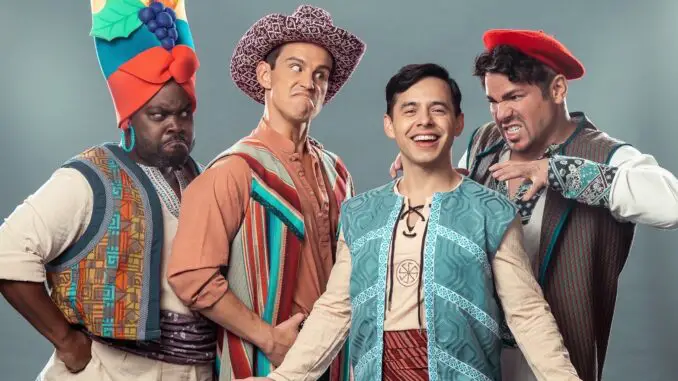 David Archuleta celebrates opening night of Joseph and the Amazing Technicolor Dreamcoat. The American Idol season 7 runner-up plays Joseph in the Andrew Lloyd Webber and Tim Rice musical, running now at the Tuacahn Theater in Utah.
David posted a heartfelt message on Instagram alongside a video clip of himself and the cast celebrating by dancing and blowing bubbles after their first curtain call on Friday night (July 22).
"My first opening night ever of a musical is done," David wrote. "Joseph and the Amazing Technicolor Dreamcoat at @tuacahn.amp is officially on for the next 6 weeks with me in it and continues until October with this amazing ensemble," The singer continued, "This cast is such a delight to share the stage with. A wonderful team of people both on stage and behind the scenes making it all come together and it was wonderful to celebrate everyone's hard work tonight. Feeling very grateful."
Some of David's American Idol pals weighed in. Fellow season 7 singer Brooke White wrote: "Ah I love it!! Congrats friend, Happiest opening night, I can't wait to come and see it."
Season 6 winner Jordin Sparks penned, "YASSSSSS GO DAVID! I'm so proud of you!!!" And season 6 alum Melinda Doolittle wrote "Love this so much!!!"
 

 

 

View this post on Instagram

 

 
A few days earlier, on Instagram, David wrote a caption alongside a promo clip of him and his castmates, "Opening night for Joseph and the Amazing Technicolor Dreamcoat at the @tuacahn.amp is this Friday, July 22! This is an amazing cast and crew to work with it. I'll be Joseph until Sep 3 and the show will continue through October. Can't wait for those of you who get to come to see it!"
 

 

 

View this post on Instagram

 

 
Joseph and the Amazing Technicolor Dreamcoat is the telling of the biblical story of Joseph and his brothers. Utilizing many different styles of music from pop/rock to country to musical comedy the show follows young Joseph as he faces adversity and triumphs through his dreams and his strong, unwavering faith.
David announced that he'd be playing the lead role in Joseph last fall. "Taking a step into new territory," David wrote on social media. "Joseph & the Amazing Technicolor Dreamcoat Starting July 2022 at The Tuacahn Amphitheatre." This production is David's first time starring in a stage musical.
The Tuacahn Amphitheater is located in Ivins, Utah in Southwest Utah, close to the Arizona border. Check out this link for tickets.