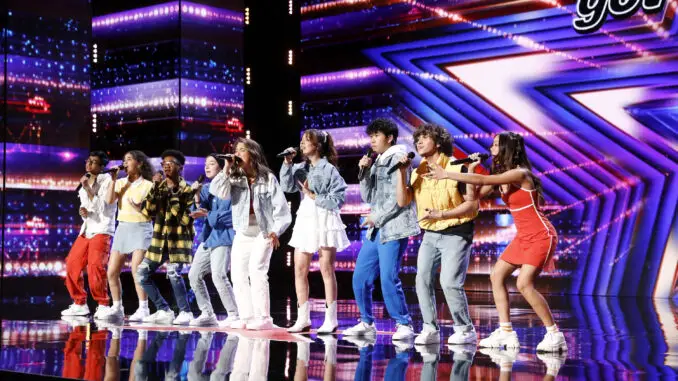 America's Got Talent season 17 continues on Tuesday (July 12) with acts including singers, dancers, comics and more. Howie Mandel, Sofia Vergara, Heidi Klum and Simon Cowell sit on the judges panel, while Terry Crews returns to host.
Featured this week: A kid's a capella group co-created by a Pentatonix member, an R&B singer who appears to have a Curb record deal, a whipcracker, a salsa duo who aren't newbies to talent shows. 
Check out the list of acts auditioning on the sixth night of auditions, plus a photo gallery at the bottom of the page. And for a look at many of the acts viewers will meet this season, check out our America's Got Talent preview. 
America's Got Talent 2022 Auditions 6 Contestant List
Additional reporting by Blake Busch
Acapop Kids – Kid a capella group –  This acapella group made up of kids was c0-founded by Pentatonix (Sing-Off winners) member, Scott Hoying. They signed a deal with Warner Records in 2019. Multiple videos have garnered millions of views on YouTube and multiple songs earned over 300K streams on Spotify. Members are 12-19 years old now. They also performed their Kelly Clarkson medley to Kelly Clarkson on her talk show. Viral cover of High Hopes (15M views) WATCH, Kelly Clarkson Show WATCH. Instagram Tik Tok
Adam Winrich – Whip cracker – Wisconsin native is known as a professional whip cracker, performing at festivals. He holds 31 Guinness record for various wacky records involving whips, like loudest whip crack and most candles extinguished with a whip in one minute. Adam has over 1 million followers on Tik Tok. Conan appearance WATCH Website Instagram Tik Tok
Alex Rivers – Violinist – Vegas-born street performer. Alex has been performing pop covers with his violin for the past few years. He recently released an album titled IMPACT. Instagram Tik Tok
Balla Brothers – Acrobat/Hand Balancing Duo – Circus act from Italy that is now based in the US. Their act sometimes incorporates more dangerous aspects like fire. Instagram
Ben Waites – Singer – Southern Gospel Singer from Nashville who often performs at churches. Born with arthrogryposis multiplex congenita and bound to a wheelchair, he tries to inspire others and touch them with his singing and message. NBC leaked his audition early HERE. Original Song "I Can't Walk" HERE. Instagram Tik Tok
Dino Don – Robot Dinosaurs – Dino Don is a leading manufacturer of robotic animals. They appeared on Shark Tank and made a deal with Mark Cuban for 500K with him having 25% share in the company. Shark Tank clip HERE Instagram
Duo Forza – Acrobat Duo – This male acrobat duo (Jose Sanchez and Lian Alvarez) from Cuba were Spain's Got Talent Semi-finalists. They have appeared on a number of other shows as well including Slovakia's Got Talent, Das Supertalent, and a various of others. Spain's Got Talent WATCH Instagram 
Duo Rings – Acrobat duo with rings – The duo (Flor Aracama & Nico Busso), from Argentina, were former Cirque De Soleil acrobats. The two appeared on Romania's Got Talent earlier this year. Jordan Matter video with over 10 million views HERE. NBC released their audition early. Watch it HERE. Website Instagram Tik Tok
Erica Glenn – Playwright, Composter – This Hawaii native is a conductor, composer, and performer, in addition to a vocal coach She is the Director of Choral Activities and a Visiting Assistant Professor of Music at Brigham Young University – Hawaii. It's hard to tell what kind of act she brought to AGT, but in one of the studio photos, she's brandishing a "Simon, The Musical" sign alongside what look like chorus girls. Website Instagram
Harry the Gorillagician – Comic magician – The act also goes by the name Harambini. Harry is basically a parody of magic. According to his page, he is also an elementary school librarian and volleyball coach. 2020 casting audition WATCH Instagram
Henry and Klauss – Illusionists – Brazilian illusionists hold the world's record for levitating more than four hours. They claim they are the greatest illusionists in Latin America. Programa Da Sabrina WATCH Instagram Tik Tok
Parrot Man – Parrot guy! – ETA: Eric in comments speculates Parrot Man is the infamous Sethward, who has shown up for the last few seasons causing havoc in various animal costumes. Hm…. ETA2 MYSTERY SOLVED. David Safier aka Parrott Man emailed us to say "It's not Seth Ward's fault…Not this time anyway" Parrot Man can be found on Twitter at @ParrotManComedy
Shenay Kloss – Variety acts/Insects – Shenay has a variety of talents. She is a hoop artist, an insect handler, and an actress. The box she is holding in the studio photo may have insects inside.
Stefanny and Yeeremy – Salsa dancers – Yeeremy was a member of Reyes Del Swing from AGT 2018 while Stefanny Moreno competed in the World of Dance 2017 finals as a Swing Latino member. Watch the pair perform together HERE. Instagram (Yeeremy) Tik Tok (Stefanny)
Travis Japan – Dance/Singing crew – This Tokyo-based pop dance and vocal group is huge in Japan. Formed by choreographer Travis Payne to be featured on Johnny Jr (YouTube Page). The group has a huge following with 837K on IG. They're also featured in multiple videos with millions of views like this one with nearly 10 million. Website Instagram Tik Tok
Wyn Starks – Pop soul singer who grew up in Minneapolis. He's a mix of new and old R&B. According to his website, when he relocated to Nashville he signed " a record deal with Curb Records after just six months in town, he began releasing songs that celebrated love, life, and inclusivity, earning nearly 2 million streams for his debut single, 2019's 'Circles'." He's still listed on the Curb website HERE. Website Instagram Tik Tok