America's Got Talent live rounds continues with week 2 of the  Qualifier round on Tuesday (August 16).  Additionally, AGT will reveal results on a Wednesday 1 hour episode. A winner will be crowned on Wednesday September 14. 
America's Got Talent 2022: Full Season 17 Schedule 
Unlike seasons past, only one round will determine which 11 acts will perform in the finale. Fifty-five acts will compete over five weeks of qualifying rounds. Eleven acts will perform on Tuesday. On Wednesday, two acts will advance based on America's vote. An instant vote between acts chosen by the judges panel at the end of round 5 will determine the 11th finalist. 
America's Got Talent 2022 Unveils a Top 55 and New Format
Here are the 11 acts set to perform on America's Got Talent 2022 Qualifiers Week 2. Two of the six Golden Buzzer acts perform this week. Will they both advance to the finale?
The episode airs on NBC Tuesday August 16 at 8 pm ET/PT. The two acts going to the finale will be revealed on Wednesday August 10, also at 8 pm ET/PT. Howie Mandel, Heidi Klum, Sofia Vergara and Simon Cowell sit on the judges panel. Terry Crews hosts.
Aiko Tanaka – Comedian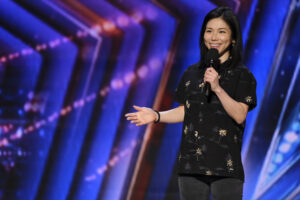 The 42 year old Los Angeles comedian was born in Tokyo, and is a seasoned performer. Her mom died of COVID during the pandemic. – Watch Audition
@aikocomedy
Duo Rings – Acrobats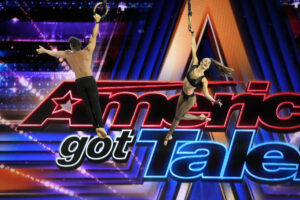 Flor Aracama & Nico Busso are a married couple from Buenos Aires. Their work on the rings is couched in a dramatic and romantic love story. – Watch Audition
@duorings
Freckled Zelda – Singing Fairy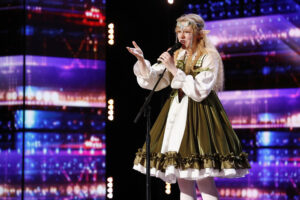 She describes herself as the "music fairy" and has 7 million followers on Tik Tok. She never steps out of character, and AGT is playing along with that. In her audition, she sang a decent rendition of "Colors of the Wind" while playing a flute-like instrument. – Watch Audition
@thefreckledzelda
Fusion Japan – Dance Group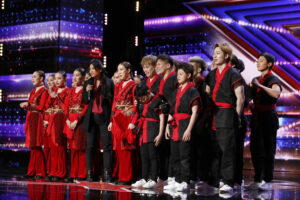 Previously, the boys and girls  were members separate groups, and were rivals. They joined together to audition for AGT. Previously the girls competed on World of Dance. – Watch Audition
@fusionjapan
Madison Taylor Baez (Maddie)  – Kid singer – Howie Mandel Buzzer
Terry "planted" Maddie in the audience where the warm up act asked her to sing. The story goes that Simon had no idea she was actually a contestant. Sure Jan! Simon asked her up on stage to audition, and she sang "Amazing Grace" again. Moved, Howie hit his buzzer. – Watch Audition
@madisonbaezmusic
Mr. Pants – Comedian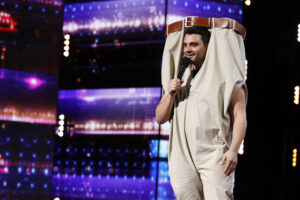 Mr. Pants wears a costume that's a giant pair of pants with his head sticking out where his you-know-what would be. It's a very silly act, that managed to charm the crowd. – Watch Audition
@thatsmrpants
The Brown Brothers – Singing, impressions
Gabe and Nate are brothers and US Navy veterans. In their act, they performed impressions of cartoon characters singing popular songs. – Watch Audition
@gabeandnatebrown
The Pack Drumline – Dancing, drumline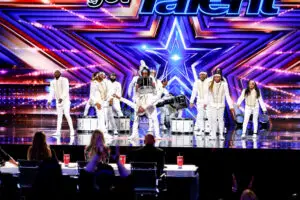 A funky drumline from Chicago, Illinois. The group started in 2014 as an at-risk afterschool program. The group incorporates hip hop moves and music into their drumming. – Watch Audition
@thepackdrumline
Wyn Starks – Singer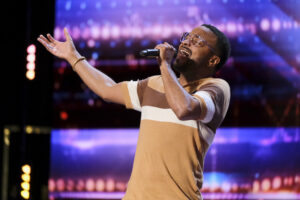 This pop soul singer who grew up in Minneapolis signed a deal with Curb records only 6 months after he relocated to Nashville. In his audition, Wyn performed an original song, "Who I Am," that was a favorite of his brother, who recently passed away. – Watch Audition
@wynstarks
Yu Hojin – Magician
Yu appeared on AGT as part of the popular Las Vegas Illusionist act that performed on a results show in 2016. As an AGT contestant, he performed an act that involved pulling feathers and objects out of midair. Simon said NO to his audition. – Watch Audition
@hojin_yu
Chapel Hart – Country trio – Group Buzzer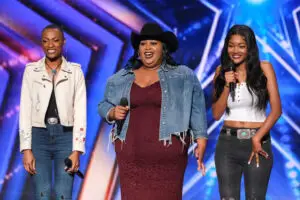 Chapel Hart has released two independent studio albums and five singles. For their audition, the country music trio sang an original song called "You Can Have Him Jolene" that Dolly Parton loved. Their infectious energy moved the group to give them a golden buzzer. – Watch Audition
@chapelhartband