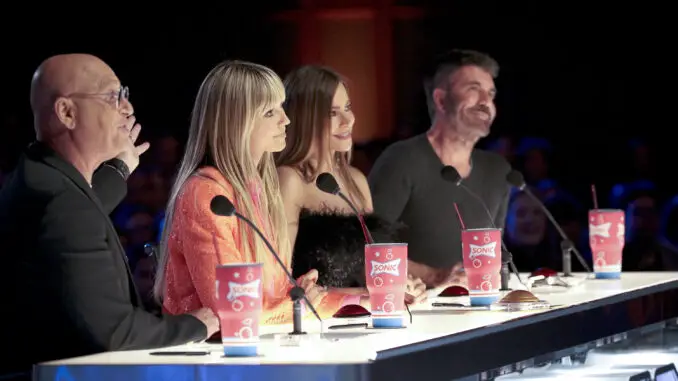 America's Got Talent Season 17 Qualifiers returns to the Pasadena Civic Center for six weeks of live shows beginning Tuesday, Aug. 9 (8-10 p.m. ET/PT) on NBC. Results shows will air Wednesday nights (8-9 p.m. ET/PT).
55 acts will be divided into five qualifying rounds. Only two acts will advance each week
In a series first, there will be 55 acts, divided into five qualifying rounds, that will perform live for America's Got Talent judges Simon Cowell, Howie Mandel, Heidi Klum, Sofia Vergara and host Terry Crews. Each week, only two acts of the 11 that perform will move directly into the finale, based solely on viewer votes.
Viewers will choose an 11th "Final Wildcard" to join the Top 10 in the finale
These top 10 finalists will be joined by an 11th act – a "Final Wildcard" – chosen by the viewers in an Instant Save on Wednesday, September 7th. This vote will consist of four eliminated Live Show acts, each selected by one of the judges.
The top 11 finalists will compete one last time for America's vote and the chance to win a $1 million prize during the two-night finale on Sept. 13 & 14. The winner will also perform in "America's Got Talent Las Vegas LIVE" at Luxor Hotel and Casino in Las Vegas.
The 55th live show spot will be determined via viewer Vote
Four acts are in contention for the final spot in the live shows. Viewers can go to NBC.com or the "AGT" app to rewatch the four performances and vote for their favorite contestants. Voting is open from Tuesday, Aug. 2 at 7 p.m. ET until Friday, Aug. 5 at 7 a.m. ET. The winning act will perform on the live show on Tuesday, Sept. 6 (8-10 p.m. ET/PT).
UPDATE 8/9: Congratulations to comedian Jordan Conley who won America's vote and becomes the 55th contestant.
Throughout the live shows, viewers of America's Got Talent can vote for their favorite act at NBC.com/AGTVote and via the "AGT" App (available through Google Play and on the App Store).
The old format featured two rounds that determined the finale. Acts performed twice before the finale. Plus, viewers voted every results show for an act on the bubble to go through to the next round. There is less Instant voting this season–only two opportunities, to be exact.
The 54 Acts Advancing to the Live Shows
Acapop! – Kid acapella group
Kid acapella group was c0-founded by Pentatonix (Sing-Off winners) member, Scott Hoying. They signed a deal with Warner Records in 2019. In their audition, they performed an original song written by a former member who passed away. – Watch Audition
@acapopkids
Aiko Tanaka – Comedian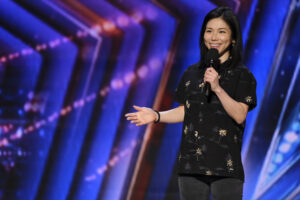 The 42 year old Los Angeles comedian was born in Tokyo, is a seasoned performer. Her mom died of COVID during the pandemic. – Watch Audition
@aikocomedy
Amanda Mammana – Singer/Songwriter
In her audition, the Connecticut native shared honestly about her speech impediment, and performed a highly personal original song, – Watch Audition
@amanda_mammana
Amazing Veranica & Her Incredible Friends – Dog Act
The trainer is only 12 years old and from a Florida farm. In their audition, the dogs did a quick change, which had to be a first. – Watch Audition
@amazingveranica
Amoukanama – Acrobatics
Acrobatics from West Africa combine acrobatic tricks with African dance, using unusual props. – Watch Audition
@amoukanama224
Aubrey Burchell – Singer
Aubrey is a 21 year old pop/soul singer from Pittsburgh. She shared with the judges that she was recently diagnosed with level 1 autism. Her intense cover of The Weeknd's "Call Out My Name" was a crowd pleaser. She made the Top 70 on American Idol season 16. – Watch Audition
@aubreyburchellofficial
Ava Swiss – Singer
Eighteen year old Ava, from the Detroit Area, recorded a version of "Rise Up" after performing it in the wake of a shooting at her high school in Oxford. She performed a moving version of Lauren Daigle's "Remember" for her audition. – Watch Audition
@avaswissmusic
Bayley Graham – Tap Dancer
Twenty-two year old tap dancer from New Zealand won TVNZ's talent show 60 Seconds this year. His energetic routine won over the judges. – Watch Audition
@bayley_taps
Ben Lapidus – Comic Singer
In his audition, he annoyed Simon with a song about "Parmesan Cheese." The audience was encouraged to boo Simon, and now here we are. – Watch Audition
@benlapidusmusic
Blade 2 Blade – Knife Throwing
Brothers Michael and Tyrone Laner were semifinalists on Britain's Got Talent season 11 as Tyrone & Mina. They perform a dangerous knife throwing act. – Watch Audition
@tyronblade
Celia Muñoz – Ventriloquist
Celia won Spain's Got Talent with a unique Ventriloquist act that involves throwing a voice to objects, like a radio and telephone, instead of the usual puppets. – Watch Audition
@celiamunoz_artist_
Cline Twins – Hockey Tricks
16 year old twins from Canada perform tricks with hockey sticks and pucks. – Watch Audition
@clinetwins
Don McMillan – Comedian
A former tech engineer, Don tells everyday jokes while using a powerpoint presentation. He was named #1 corporate comedian by CBS Business Network. – Watch Audition
@donmcmillancomedy
Drake Milligan – Singer
Drake is the plantiest plant that ever planted. He's signed with BBR Recordings, the label that houses Idol winners Chayce Beckham, Noah Thompson and alum Jimmie Allen. Drake brought his band, put on a professional performance, and compared AGT to the Ed Sullivan Show. Afterward, his label sent out a press release congratulating him. Wow. – Watch Audition
@drakemilligan
Duo Rings – Acrobats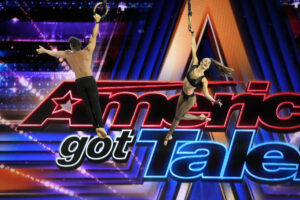 Flor Aracama & Nico Busso are a married couple from Buenos Aires. Their work on the rings is couched in a dramatic and romantic love story. – Watch Audition
@duorings
Freckled Zelda – Singing Fairy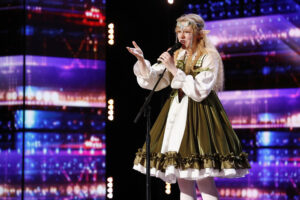 She describes herself as the "music fairy," and has 7 million followers on Tik Tok. She never steps out of character, and AGT is playing along with that. In her audition, she sang a decent rendition of "Colors of the Wind" while playing a flute-like instrument. – Watch Audition
@thefreckledzelda
Funkanometry – Dance Duo
The duo are a hip hop and popping duo from Vancouver, Canada. They appeared on World of Dance season 3 and made it through to Duets round. – Watch Audition
@funkanometry_
Fusion Japan – Dance Group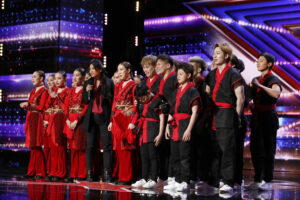 The boys and girls were separate groups, were rivals, and joined together to audition for AGT. Previously the girls competed on World of Dance. – Watch Audition
@fusionjapan
Harper – Kid heavy metal singer
In her audition, sweet as pie, Harper proceeded to take the stage and sing in a death metal style. Her proud pappa looked on from the side stage. – Watch Audition
@thatyellaharper
Hayden Kristal – Comedian/Activist
Brooklyn based queer activist (prefers they/them/theirs pronouns) is deaf and a former zookeeper. Hayden is hard of hearing, born into a hearing family. – Watch Audition
@haydenkristal
Jack Williams – Ventriloquist
Jack's routine involves his buddy "Foster" the rabbit who threatens to steal Jack's act. The ventriloquist wows the audience with his ability to switch back and forth between himself and the puppet, and throw is voice like a fading echo. – Watch Audition
@puppetjack_
Jannick Holste – Magic and Dance
Jannick was a semifinalist on Das Supertalent 2021 (Germany's Got Talent). An illusionist, he danced through his act to Heidi Klum's new single.  As he danced around, performers appear out of seemingly nowhere. – Watch Audition
@jannick_magic
JoJo and Bri – Singers
Uncle and Niece went viral with a cover of "Ain't No Mountain High Enough". Some of you may remember 8 year old Bri covering the Jackson 5 on her front porch. Joseph auditioned for AGT in 2020 with a group called Resound. – Watch Audition
@joseph.b.clarke
Kristen Cruz – Singer
This 20 year old singer is known on Tik Tok for singing while making coffee drinks. Her Tik Tok has 2 million followers. She sings "I See Red" by Everybody Loves An Outlaw for her audition. – Watch Audition
@kristenncruz
Kristy Sellars – Pole dancer
Kristy won Australia's Got Talent Season 9 in 2019. Her unique pole dancing act involves multimedia projection and storytelling. – Watch Audition
@kristysellars
Lace Larrabee – Comedian
This Atlanta native told jokes about her parents, who had her at age 17. Howie especially loved her act. – Watch Audition
@lacelarrabee
Lee Collinson – Singer
This British singer came to America for the first time to perform "Better Days" by Dermot Kennedy for his audition. He lost somebody to COVID-19 during the lockdown. – Watch Audition
@lee_collinson
MPLUSPLUS – Dance and light show
Tokyo-based dance crew incorporates lights and other technologies into dance routines. The crew dances while seemingly wielding ribbons of light. – Watch Audition
@mplusplus_official
Max Ostler – Dancer
The 18 year old Australia native performed a lyrical/contemporary piece for his audition. Simon called Max "the Harry Styles of dance." – Watch Audition
@maxostler_
Merissa Beddows – Opera, singing impressions
Merissa, trained as an opera singer, performs spot-on vocal impressions of iconic pop singers like Ariana Grande, Stevie Nicks, and Celine Dion. – Watch Audition
@merissaria
Mervant Vera – Rapping magician
As he performs magic tricks (a card trick in his audition), he raps along, describing what he's doing, shouting out to the judges. – Watch Audition
@mervant
Metaphysic – Deepfake technology
Metaphysic develops Deepfake technology. In their act, former AGT singer Daniel Emmett sang to a camera that transformed Daniel's face into Simon Cowell's. It's pretty creepy stuff. – Watch Audition
@metaphysic.ai
Mia Morris – One woman band
In her act, Mia performs an original song while "looping" in all the instruments. The Nashville native has been uploading videos since she was a tween. – Watch Audition
@miamorrismusic
Mike E Winfield – Comedian
His comedy routine revolved around older moms and his teenaged "step man." – Watch Audition
@mikeewinfield
Mr. Pants – Comedian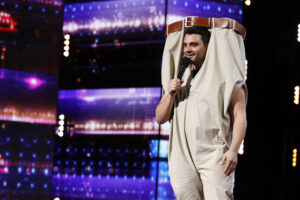 Mr. Pants wears a costume that's a giant pair of pants with his head sticking out where his you-know-what would be. It's a very silly act, that managed to charm the crowd. – Watch Audition
@thatsmrpants
Nicolas RIBS – Magician
A native of France, Nicolas performs close-up magic using a light table. He turns images on the table, including playing cards, into 3 dimensional objects, seamlessly. – Watch Audition
@nicolasribsmagicien
Oleksandr Yenivatov – Contortionist
His wife, who played a nurse, brought Oleksandr back to life, by bending and twisting his body like Frankenstein's monster. – Watch Audition
@yenivatov
NFL Players Choir – Singing group
The choir features former NFL players. The group began on "Celebration of Gospel" a special that airs on Super Bowl Sunday, put together by Patti Labelle. – Watch Audition
@playerschoir
Shu Takada – Yo yo artist
Shu, a Japanese native, performs yo-yo tricks. But he incorporates dance and gymnastic moves for an entertaining and energetic performance. – Watch Audition
@shutakada_yoyo
Stefanny and Yeeremy – Salsa dancers
Yeeremy was a member of Reyes Del Swing from AGT 2018 while Stefanny Moreno competed in the World of Dance 2017 finals as a Swing Latino member. The dancing is fast and sexy. – Watch Audition
@stefannym
The Brown Brothers – Singing, impressions
Gabe and Nate are brothers and US Navy veterans. In their act, they performed impressions of cartoon characters singing popular songs. – Watch Audition
@gabeandnatebrown
The Lazy Generation – Comic pranks
This UK group performs silly and dangerous stunts similar to the American series, Jacka**. Simon loved them. – Watch Audition
@thelazygenerationuk
The Pack Drumline – Dancing, drumline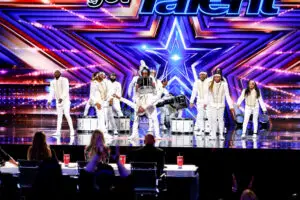 A funky drumline from Chicago, Illinois. The group started in 2014 as an at-risk afterschool program. The group incorporates hip hop moves and music into their drumming. – Watch Audition
@thepackdrumline
Travis Japan – Boy band
The boy band dance and sing in colorful outfits. They are pretty cheesy. Simon seems to believe they could be "molded" into a successful act. – Watch Audition
@travis_japan_official
urbancrew (Flyers of the South) – Dance group
This Filipino dance crew competed on Asia's Got Talent season 2. The group is a typical acrobat/hip hop crew, but with a few unique moves. – Watch Audition
@urbancrew_official_ig_ph
Wyn Starks – Singer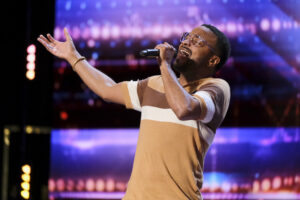 This pop soul singer who grew up in Minneapolis signed a deal with Curb records only 6 months after he relocated to Nashville. In his audition, Wyn performed an original song, "Who I Am," that was a favorite of his brother, who recently passed away. – Watch Audition
@wynstarks
XOMG POP! – Kid singing/dancing group
JoJo Siwa and her mother founded the group via the E! competition show, Siwas Dance Pop Revolution. The costumes are very very colorful, and the girls hyper-energetic. "We are excited to perform FOR YOU!" one says. – Watch Audition
@xomgpop
Yu Hojin – Magician
Yu appeared on AGT as part of the popular Las Vegas Illusionist act that performed on a results show in 2016. As an AGT contestants, he performed an act that involved pulling feathers and objects out of midair. Simon said no after his audition. – Watch Audition
@hojin_yu
Golden Buzzers
Avery Dixon – Saxophonist – Terry Crews Buzzer
Young Avery moved Terry with his story about kids bullying him at school. He was born premature which affected his voice and the shape of his head. – Watch Audition
@averydixononsax
Chapel Hart – Country trio – Group Buzzer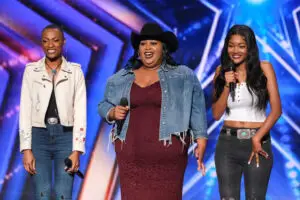 Chapel Hart has released two independent studio albums and five singles. For their audition, the country music trio sang an original song called "You Can Have Him Jolene" that Dolly Parton loved. Their infectious energy moved the group to give her a golden buzzer. – Watch Audition
@chapelhartband
Lily Meola – Singer-songwriter – Heidi Klum Buzzer
Lily touched Heidi's heart after singing an original song "Daydream" dedicated to her mom, who died after a bout with cancer. Lily lost a record deal in the meantime. – Watch Audition
@lilymeola
Madison Taylor Baez (Maddie)  – Kid singer – Howie Mandel Buzzer
Terry "planted" Maddie in the audience where the warm up act asked her to sing. The story goes that Simon had no idea she was actually a contestant. Sure Jan! Simon asked her up on stage to audition, and she sang "Amazing Grace" again. Moved, Howie hit his buzzer. – Watch Audition
@madisonbaezmusic
Mayyas  – Dance group – Sofia Vergara buzzer
This Lebanese dance crew won Arab's Got Talent in 2019. The group performs mesmerizing dance routines involving high synchronized arm movements. – Watch Audition
@mayyasofficial
Sara James – Teen singer – Simon Cowell Buzzer
At only 13 years old, the Polish born singer is an impressively mature performer. Sara represented her country in Eurovision Junior. Additionally, she won The Voice Kids Poland. Simon hit his buzzer because of her "real star glow." – Watch Audition
@sara_james_music
Acts in Contention for "America's Wildcard":
UPDATE 8/9: Congratulations to Comedian Jordan Conley who WON AMERICA'S VOTE
Jordan Conley – Comedian – WINNER!
Jordan's AGT routine was about his dad wanting him to join the military. The original clip had gone viral. – Watch Audition
@loljordancon1ey
Auzzy Blood – Sword swallower
Auzzy performs dangerous stunts involving corkscrews, meat hooks, sword swallowing, and more. If you like that sort of thing…good for you. No way in heck he wins the wildcard. It will probably be either Ben or Debbii. – Watch Audition
@auzzyblood
Ben Waites – Singer
Ben is a Southern gospel singer from Nashville who was born with arthrogryposis multiplex congenita and bound to a wheelchair. – Watch Audition
@bjwaites
Debbii Dawson – Singer-songwriter
Debbii performed an acoustic flip of ABBA's "Dancing Queen" for the judges. The running joke was that her parents from Minnesota didn't come with her. Turned out, Debbii asked them to stay home. – Watch Audition
@debbiidawson