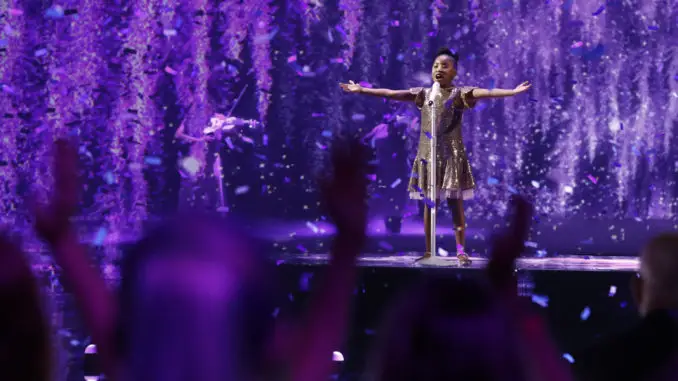 America's Got Talent 2021 aired the second and LAST of two weeks of semifinals last night (Read our Recap).  Tonight, out of 11 acts, only FIVE will move on to the September 14 & 15 FINALE. But TWO of those acts will be saved via the Instant save. THREE acts will be declared safe, while the 4th, 5th and 6th place finishers will vie for the final two spots. America will save one act, the judges will save another. 
You voted in last night's poll for your favorite performance, and also predicted who would leave the competition. Here are YOUR results, and my prediction.
You guys. I think I may disagree with you a little bit this time, even though your track record so far has been very good! But first–an overwhelming number of you chose The Voice alum Brooke Simpson as your favorite act of the night. Indeed, she closed the show in spectacular fashion!
You all love Léa Kyle as well, although I feel the quick change artist may have lost momentum since her initial audition. Josh Blue will be this year's comic, and will likely not only advance to the finals, but wind up in the Top 5. I think Chapkidz have a good shot at the finals, especially after last night's performance. And while Unicycle Flow performed really well last night, I think it might have been too little too late. Northwell Nurse Choir has a powerful backstory. But is it enough? I'm not sure. The panel has been pushing Victory Brinker hard. If she ends up on the bubble, the judges will save her.
My Prediction:
Brooke Simpson, Josh Blue, Victory Brinker, Chapkidz and Léa Kyle (or maybe Northwell Nurse Choir) will advance to next week's finale!
America's Got Talent 2021 Semifinals 1 – Favorite Performance
Brooke Simpson – Singer – 40.61%
Léa Kyle – Quick change magic (Heidi's Golden Buzzer) – 22.34%
Josh Blue – Comic – 8.63%
Chapkidz – Kid dance troupe – 7.61%
Unicircle Flow – Unicycle Dance – 7.11%
1aChord – Singing group – 5.58%
Victory Brinker – Kid opera singer (Group Golden Buzzer) – 5.08%
Northwell Nurse Choir – Choir (Howie's Golden Buzzer) – 2.03%
Peter Antoniou – Mentalist – 0.51%
Rialcris – Hand Balancers – 0.5%
Kabir Singh – Comic – 0%
America's Got Talent 2021 Semifinals 1 – Which 5 Acts SHOULD Move on to the Final? (Choose 5)
Brooke Simpson – Singer – 19.83%
Léa Kyle – Quick change magic (Heidi's Golden Buzzer) – 16.43%
Josh Blue – Comic – 14.02%
Unicircle Flow – Unicycle Dance – 11.19%
Victory Brinker – Kid opera singer (Group Golden Buzzer) – 10.62%
Chapkidz – Kid dance troupe – 9.49%
Northwell Nurse Choir – Choir (Howie's Golden Buzzer) – 7.79%
1aChord – Singing group – 5.52%
Rialcris – Hand Balancers – 3.68%
Peter Antoniou – Mentalist – 0.85%
Kabir Singh – Comic – 0.57%
America's Got Talent 2021 Semifinals 1 – Which 5 Acts WILL Move on to the Final? (Choose 5)
Brooke Simpson – Singer – 21.39%
Léa Kyle – Quick change magic (Heidi's Golden Buzzer) – 16.4%
Josh Blue – Comic – 15.51%
Victory Brinker – Kid opera singer (Group Golden Buzzer) – 14.97%
Northwell Nurse Choir – Choir (Howie's Golden Buzzer) – 13.19%
Chapkidz – Kid dance troupe – 8.91%
Unicircle Flow – Unicycle Dance – 5.35%
1aChord – Singing group – 2.14%
Rialcris – Hand Balancers – 1.07%
Peter Antoniou – Mentalist – 0.71%
Kabir Singh – Comic – 0.36%