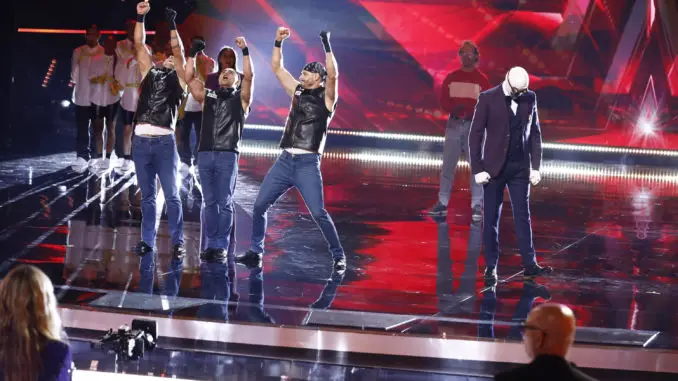 The America's Got Talent 2021 Quarterfinals conclude with tonight's week 3 Results. The third group of 12 contestants performed last night for your vote. Tonight, seven acts will move on to the semifinals, while 5 acts will be eliminated.
America's Got Talent 2021: Quarterfinals 3 Predictions and Poll Results
Five acts will advance automatically to the next round, but the 6th, 7th and 8th place finishers will vie for the final two spots. Fans can vote to save a favorite, while the judges–Simon Cowell, Howie Mandel, Heidi Klum and Sofia Vergara–save an act from the bottom two vote getters.
Also tonight, Season 13 winner & America's Got Talent: The Champions winner magician Shin Lim and season 5 violinist Lindsey Stirling join forces for a performance.
After a recap, the 12 contestants take the stage for results. Simon insists that only 3 acts were better than their auditions. Hm. I thought last night was the best of the three Quarterfinal shows.
Three acts in DANGER REVEALED. VOTE for your FAVORITE
Terry announces the three acts on the bubble: Michael Winslow, Storm Large and Unicircle Flow. Vote to save an act! Use the AGT app or go to NBC.com/AGTVote. Y'all have 30 minutes to vote. Michael Winslow is out front with 40 percent of the vote!
Terry begins announcing the results
Rialcris and Klek Entos step forward.  America has voted. The first act going into the semi-finals is…Rialcris! Klek leaves the competition. That's a no brainer.
Results: Keith Apicary and Lea Kyle step forward. The next act going into the semifinals is…Lea Kyle. Keith is laughing at the absurdity of being up against a popular Golden Buzzer act. He knew he was toast. That Lea sailed through even with negative judges comments shows SHE'S GOT PEOPLE.
Results: Chapkidz and The Curtis Family C-Notes step forward. America has voted…the next act going into the semifinals is…Chapkidz. No surprises yet. 
Results: World Taekwondo Demonstration Team, ANICA and Brooke Simpson remain. Two will go through. One will go home. America has voted. The act taking the next spot in the semifinals is…Brooke Simpson!!! Yea! Simon calls Brooke "absolutely amazing" and believes that she could be a "real surprise going forward." He loves him some Brooke. Of course, ANIKA knows she's done. World Taekwondo Demonstration Team is the second act though to the semifinals.
Next, is a clip of 16 year old Darci Lynne driving puppet Simon Cowell around as she learns to drive. Or something! Howie Mandel "helps." FILLER!
Shin Lim and Lindsey Stirling join forces
Next magician Shin Lim takes the stage with Heidi Klum. She picks a card and draws a heart! The card will become part of his magic act. Heidi goes back to her seat before Shin introduces violinist Lindsey Stirling. She plays as Shin does magic. For a minute, I thought he was going to play the piano. Heh. 
Instant Save Results!
And the act America voted through to the semifinals via the Instant Save is… Michael Winslow! Howie mentions that he came to AGT as an established superstar. Exactly why he doesn't belong on AGT. Having said that, I underestimated Michael's power as a known entity. His celebrity wasn't enough to clinch a top 5 spot, but it came in handy when he needed it.
Next comes the Judges save. Pretty sure they'll pick the Unicycle gals. 
Judges Pick
Sofia – Unicircle Flow
Heidi – Storm Large
Simon – Unicircle Flow
Howie – Unicircle Flow
Unicircle Flow wins the judges pick. Storm Large is eliminated. And finally, the judges do not allow the vote to go to deadlock. In the first two weeks of the lives, the vote was tied, allowing America's votes to determine the judges choice. The judges were clear that they loved Unicircle since their audition. They needed more than a couple of mistakes to derail their trajectory.
I bet Simon is surprised that Matt Mauser didn't win the Wildcard, actually. The judges have never been more than lukewarm on Storm, really. Plus, the brief glimpses into the Instant Save polling showed Storm trailing in 3rd. She probably has some hard core fans, but their numbers are small.
Advancing to the AGT semi-finals
Rialcris
Lea Kyle
Chapkidz
Brooke Simpson
World Taekwondo Demonstration Team
Michael Winslow – America Saves
Unicircle Flow – Judges Save
Eliminated
Klek Entos
Keith Apicary
The Curtis Family C-Notes
ANIKA
Storm Large – Eliminated from Instant Save