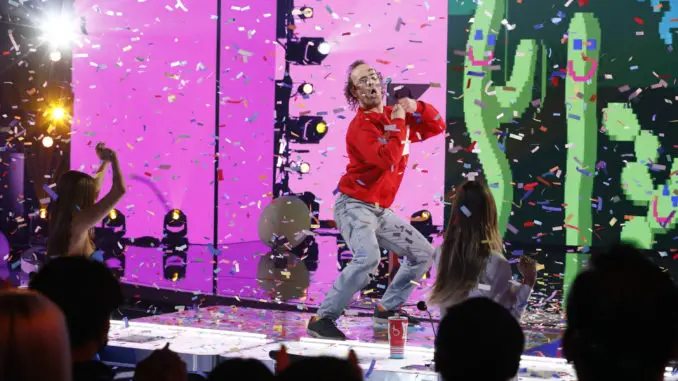 America's Got Talent 2021 airs the Quarterfinals THIRD AND FINAL RESULTS show tonight. After last night's performance episode, Seven acts will advance to the semifinals. Five acts will go home. Viewers will have the opportunity to save an artist on the bubble. And the judges panel will save another.
In other words, Five acts go straight through to the semis. The 6th, 7th and 8th place finishers will be up for the Instant Save. The highest vote getter of that contest advances. The judges save one and one goes home.
Also tonight,performances from Season 13 winner & America's Got Talent: The Champions winner magician Shin Lim with season 5 violinist Lindsey Stirling. 
You voted in last night's poll for your favorite performance, and also predicted who would leave the competition.
No surprise that the talented vocalist and former The Voice favorite, Brooke Simpson, is at the top of the favorites list with almost 30% of the vote! Quick change magician Lea Kyle is second with almost 22% of your vote, followed by World Taekwondo with over 17% of the vote and then singer Storm Large with 11.46% of the vote. After that, the percentages are in single digits. It's kind of sad that joke dance Keith Apicary and veteran comic Michael Winslow are tied at under 2%. 
Joke act Keith Apicary is at the top of the would and should go home polls. Not a surprise! However, while I think the Curtis Family Should and Will go home, I wouldn't have scored them so high on the should poll. Their performance had weak spots, but overall I think they are talented musicians. 
Nevertheless, you all have accurately guessed two weeks in a row which five acts will leave. I think your guesses look pretty accurate for this week as well. 
My Prediction:
Keith Apicary, Curtis Family C-Notes, ANICA, Klek Entos, Michael Winslow will go home tonight. Storm Large will probably end up on the bubble. Lea Kyle could end up as a surprise bubble appearance.
America's Got Talent 2021 Quarterfinal 3 – Favorite Performance
Brooke Simpson – Singer – 29.3%
Lea Kyle – Quick Change Magic – Heidi's Golden Buzzer – 21.66%
World Taekwondo Demonstration Team – Martial Arts – Terry's Golden Buzzer – 17.2%
Storm Large – Singer – Wildcard Winner – 11.46%
Rialcris – Hand balancers-  6.37%
Klek Entos – Scary Magician – 3.18%
ANICA – Rock singer – 2.55%
ChapKidz – Kid Dancers – 2.55%
Keith Apicary – Dancer (Joke act) – 1.91%
Michael Winslow – Already Famous Voice Artist – 1.91%
Unicircle Flow – Unicycle group – 1.27%
The Curtis Family C-Notes – Family band – 0.64%
America's Got Talent 2021 Quarterfinal 3 – Which 5 SHOULD Go Home? (Choose 5)
Keith Apicary – Dancer (Joke act) 18.1%
The Curtis Family C-Notes – Family band 17.2%
ANICA – Rock singer 13.26%
Klek Entos – Scary Magician 12.9%
Michael Winslow – Already Famous Voice Artist 10.22%
ChapKidz – Kid Dancers 7.35%
Storm Large – Singer – Wildcard Winner 5.91%
Unicircle Flow – Unicycle group 5.2%
Rialcris – Hand balancers 3.58%
Lea Kyle – Quick Change Magic – Heidi's Golden Buzzer 2.15%
World Taekwondo Demonstration Team – Martial Arts – Terry's Golden Buzzer 2.15%
Brooke Simpson – Singer 1.97%
America's Got Talent 2021 Quarterfinal 3 – Which 5 WILL Go Home? (Choose 5)
Keith Apicary – Dancer (Joke act) 18.14%
The Curtis Family C-Notes – Family band 17.69%
ANICA – Rock singer 17.23%
Klek Entos – Scary Magician 13.15%
Michael Winslow – Already Famous Voice Artist 9.07%
ChapKidz – Kid Dancers 6.58%
Unicircle Flow – Unicycle group 6.35%
Storm Large – Singer – Wildcard Winner 6.12%
Rialcris – Hand balancers 2.95%
Brooke Simpson – Singer 1.13%
Lea Kyle – Quick Change Magic – Heidi's Golden Buzzer 0.91%
World Taekwondo Demonstration Team – Martial Arts – Terry's Golden Buzzer 0.68%