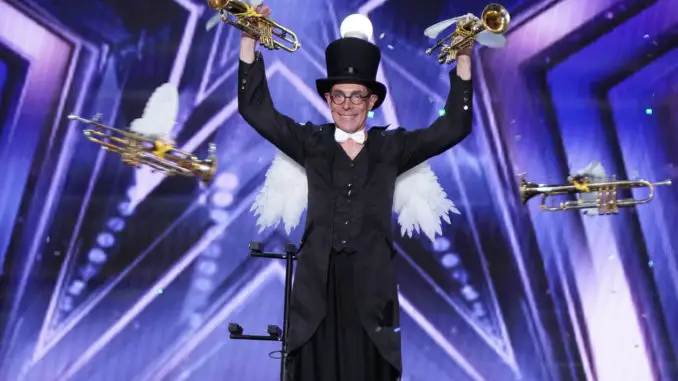 America's Got Talent continues on NBC tonight with Simon Cowell, Howie Mandel, Heidi Klum and Sofia Vergara on the judges panel. Terry Crews hosts. See the new acts vying for the 1 million dollar prize.
For the first time ever, all the full cast chooses a Golden Buzzer tonight. 
America's Got Talent: Cam Bertrand's Baby-Faced Comedy Gets Laughs (Video)
America's Got Talent: Madilyn Bailey Dedicates Song to Her Haters (Video)
America's Got Talent 2021 Auditions 6 Spoilers – Meet the Acts (Photos)
Joel Claudio – Baton twirler
He describes himself as a baton twirling champion. Instagram. He also does the Tik Tok, where he has 121K followers. Joel turned 30 on the day of his audition. Born in Puerto Rico, now he lives in North Carolina. He started in a drumline, but twirling a baton called him. He's dreamed of appearing on the AGT stage from season 1. He incorporates balletic and jazzy dance moves into his baton routine. And outfit changes!   Eventually Joel is tossing around two batons in between tumbles. Simon has never seen a baton go higher. Joel had to be careful not to hit an X! Simon loves his personality. Sofia loved it. Howie calls it fun "A one man parade," he says. 4 yeses
Madilyn Bailey – Singer
This Youtube star performs a song about her haters. Her dad taught her how to write a song at 8 years old. Madilyn has over 8 million followers on Youtube! She posted this song about her social media haters last year. She took real hate comments from her Youtube account and strung them together into a song. The lyrics are clever, but it sounds a little like Kelly Clarkson's "Since U Been Gone." The chorus goes "She's so overrated…" Howie calls it current, "I love what you stand for. You're a good singer." Heidi isn't impressed! "It was so so…not jumping out of my seat." She's one of the haters. Sofia like her honesty. Simon doesn't read hate comments. But he appreciates Madilyn's talent. Howie convinces Heidi to say yes. "I'm going to give you a shot," she says. Madilyn's next song needs to be less novelty. 4 yeses
Chapkidz – Dance Crew
These kid dancers are the "next generation" crew of the Chapkis Dance Family, who appeared on AGT on season 10. They are Junior Division champs in a Bay Area World of Dance competition. This group might have competed on the World of Dance TV competition….if it hadn't been cancelled. So AGT it is! The group features 30 dancers, which is a lot! They incorporate a bunch of styles. The routine could be more coherent. Sofia didn't know where to look. (Kind of a problem, I think). "Very good," says Heidi. Howie calls them slick and professional. Simon calls them one of the best dance acts of the season. "People are going to remember this audition." 4 yeses.
Darrell Thorne – Drag queen
Darrell's website describes himself as a "multi-disciplinary artist specializing in makeup, costume design and performance art for stage, screen and editorials." He appeared in HBO's High Maintenance in a costume he designed and he designed the winning headpiece worn by RuPaul's Drag Race Season 11 winner Yvie Oddly during the on-air finale. Last year's finale convinced him to audition! The act is a weird male/female mime of Elton John and Kiki Dee's "Don't Go Breaking My Heart." Simon buzzes him, however Heidi loved it. – 3 yeses, Simon says no
Slinky Josh – He does the slinky. It's not that fancy. But he gets 4 yeses after he bounces a colorful slinky off of Howie's head.
Roy and Judith – Ballroom dancers – AGT has featured senior ballroom dancers before. However, Judith, at 96 years old, is the oldest yet. Here she is with her partner Roy twirling at the spry age of 94. The Tampa grandma tells ABC news Tampa that dancing keeps her young. Sixty-two year old Roy more or less tosses Judith about the stage – 4 yeses
Donovan Michael Hoffer – Singer
Lancaster native Donovan auditioned with a song from Phantom of the Opera according to this piece. He's done a bunch of musical theater. He performed in something called Queen/Journey which looks to be a tribute to those bands. He sings "Think of Me" in a female soprano. Other than the singing-like-a-girl gimmick, his voice is kind of weak, actually. "We were not expecting that!" says Simon. Sofia calls him really different. Heidi calls it "unusual." Howie says, "certainly surprised." – 4 yeses
Tyler Scott (The Stunner) – Cosplay Dancer
His Instagram describes him as a Spiderman cosplayer. Probably two seconds into his act, Simon will buzz him. YEP THAT'S WHAT HAPPENED. The Stunner's act is him jumping around the stage like a weirdo. "That was dreadful," says Simon. Heidi and Sofia liked his moves. Howie and And Simon NO. – 2 nos 2 yeses
Alex Ostrovskyi – Flying Trumpet Player
He glides around the stage on rollers, wearing wings, while playing flying trumpets. What to call that? Heidi and Sofia buzz him, because his trumpet playing is bad. Howie and Simon give him a standing ovation. Simon begs the FAKE CROWD to stand. Geez. "This is the year of uniqueness!" declares Howie. Sofia can't be convinced to say yes. The fake crowd boos. "You said no to an angel with flying trumpets!" says Simon – 2 nos 2 yeses
Matt Mauser – Singer
His wife Christina died in the helicopter crash in January 2020 that took the life of basketball star Kobe Bryant, his 13 year old daughter Gianna and others. He explains that they both were school teachers before his wife  went to work as a coach for Kobe's basketball school. This video package is edited for maximum weepiness. The two were married 15 years. His three children join him on stage for a bit.
He sings "Against All Odds" by Phil Collins. His singing is solid, not spectacular. But that's not the point here, as his performance is very emotional. He's crying by the end.  Although he described himself as a school teacher, he has spent a number of years fronting bands. Howie says, "There aren't words to describe it." Heidi says his voice "went inside of me…it was very special." Sofia calls it emotional and touching. Matt wants his children to see that grief doesn't have to define them. – 4 yeses 
Ooo. Matt didn't get the Golden Buzzer.
Chief – Comedian – Dressed in a bright red hoodie and a white face mask that muffles his voice, he claims he's never performed before. Nobody can understand him. Is that the point? THE FAKE CROWD IS BOOING. He gets buzzed by the entire panel. – 4 nos
Cam Bertrand – Comedian
The Tampa, FL based comedian calls himself "Cam the Comic." NBC dropped this audition a few days ago. His mildly amusing routine is about how his baby face gets him carded at liquor stores. But why would a clerk believe someone buying wine is underaged? Or something. Sofia loved it. Heidi laughed the entire time. Nobody can believe it! She loves his smile. Howie thought the routine was a little myopic, but funny nevertheless. Simon is impressed at Cam's hard work. "I think the audience is going to like you," he says. After, he cries on the phone as he shares the good news with his mom. Never mind that! Mom has the hots for Terry. – 4 yeses
Breez Carver – Kid dancer
This 13 year old has been dancing since 5 0r 6. She cries over her adoptive parents, who are very supportive. She has had issues with shyness, and dancing has helped. She's a very talented contemporary dancer. She performs to the ballady version of Kelly Clarkson's "Piece by Piece." For a youngin, Breez is a very expressive dancer. The judges give her a standing ovation. Sofia calls it "perfection." Heidi calls her "really really special." Howie thinks America will love her. Simon compliments her "glow" and likability. – 4 yeses
Next, a trio of strong female acts
Vertical flow – Pole dancing artists – Basically female synchronized pole dancing, MJ – Hula Hoop artist, Femme Fatale – Dance trio – The trio of female dancers specialize in the Hip-hop style "popping." – All 3 acts get 4 yeses
Gigi Deluxe & Devon – Danger act
According to their Instagram, this female mother/daughter danger duo are professional sword swallowers and archers. BONUS! Devon's father is an emergency room doctor (!!!) Mom calls daughter her "target." They both have senses of humor. The daughter seems to be holding one balloon in her mouth. But, it turns out to be a series of balloons, one inside each other. Each one gets smaller and smaller as mom picks them off. 
Next, mom shoots arrows that land very close to her daughter's body. The second trick is not as impressive as the first. Simon can't look. Afterward, mom tells her daughter she loves her. Daughter says: "Thanks for not killing me!" Just joking. Simon calls the act "nutty." But he loved it. Sofia calls it "super different" and "a lot of fun." Howie wanted more energy. He's right, I think. The act relies on the mother/daughter novelty. Simon suggests that they "put on more of a show." Howie says no, 3 yeses
Guapacharros – Dance Group
This dance group from Mexico specializes in shirtless, sexy dancing.  The group is so ambitious, that they moved into the same house in order to rehearse together 24/7. Only together a year, they met in dance school. They do the Mexican dancing AND THEY SING. That's before ripping off their shirts to dance to pop music. Now it's lots of bumping and grinding and strip club moves. Simon compliments their voices at the beginning. The gals loved them. "The six packs are great," says Heidi. Howie is confused. 4 yeses
Victory Brinker – Kid singer – First EVER Group Golden Buzzer
This 9 year old singer from Latrobe, Pennsylvania, is an opera prodigy. Mom says Victory sings morning, noon and night. She shocks everyone with her operatic trillings. She's not quite as precocious as Jackie Evancho (also from Western PA!) from years ago. She still sounds like a kid. Imperfect, but she definitely has potential. At the time, Jackie sounded like she was possessed by an adult soprano. Victory's enthusiasm and sweetness is infectious.
There's a bird flying around the studio, which the panel takes as a sign. Howie calls her angelic. Sofia calls her a star. Simon calls her incredibly brave. Here it comes! Simon calls Terry over to the table. After a tiny discussion (like this isn't staged). "We are not going to give you a yes today," says Simon. THE FAKE CROWD IS BIG MAD. Instead they are going to give Victory something special THE FIRST EVER CAST GOLDEN BUZZER! She's crying. 
Next week, it's another audition episode.