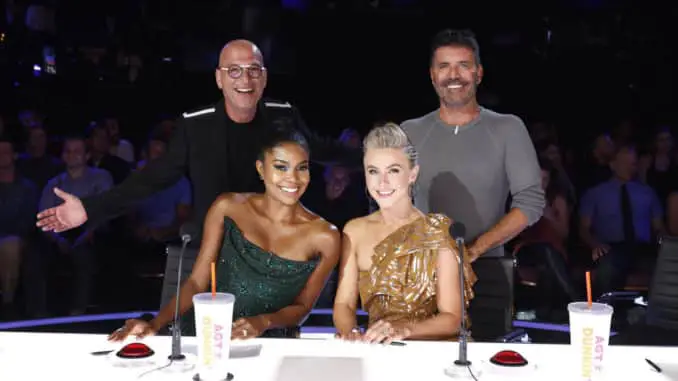 America's Got Talent is coming down to the home stretch. Twenty-one acts survived the Quarterfinals and will perform over the next TWO weeks in the semifinals for your votes. Only two Golden Buzzers didn't advance to the semis. Howie Mandel's pick rapper Joseph Allen, and guest judge Brad Paisley's choice, Youtube star  Sophie Pecora were eliminated at the semifinals. By the way, I believe young singer/songwriter Sophie  is a good bet for the sole wildcard spot set to be announced on Tuesday. Another possibility to return? Simon's favorite dog act, Lukas & Falco.
Check out the full list below.
And take a peek at which acts will be performing when below. Notably, the two magicians, Eric Chien and Dom Chambers, will appear on different weeks, upping the chance for both to move on to the finals. Additionally, the two choirs, Ndlovu Youth Choir and Detroit Youth Choir, will perform on different weeks as well.  There will be no battle of the choirs this time, unless the quartet, Voices of Service counts. There are seven solo singers: Ansley Burns, Robert Finley, Kodi Lee and Benicio Bryant perform on Sept 3. Chris Kläfford, Emmane Beasha and Luke Islam perform on Sept 10. Adding Sophie Pecora on the 10th would make the solo singers even!
Tuesday Sept 3 Episode:
Greg Morton, Tyler Butler Figueroa, Ndlovu Youth Choir, Ansley Burns, Robert Finley, Light Balance Kids, Kodi Lee, Messoudi Brothers, Eric Chien, Benicio Bryant, Jackie Fabulous
Tuesday September 10 Episode:
Alex Dowis, Chris Kläfford, Detroit Youth Choir, Dom Chambers, Emmane Beasha, Luke Islam, Marcin Patrzalek, Ryan Niemiller, V. Unbeatable, Voices of Service – *JUDGES WILDCARD Lukas & FALCO
*AGT will reveal a JUDGES WILDCARD next week. I'm assuming AGT will schedule the wildcard act for Sept. 10, as 11 acts are already set to perform Sept. 3. Additionally, for the first time ever during semifinals, a guest judge will join the panel.