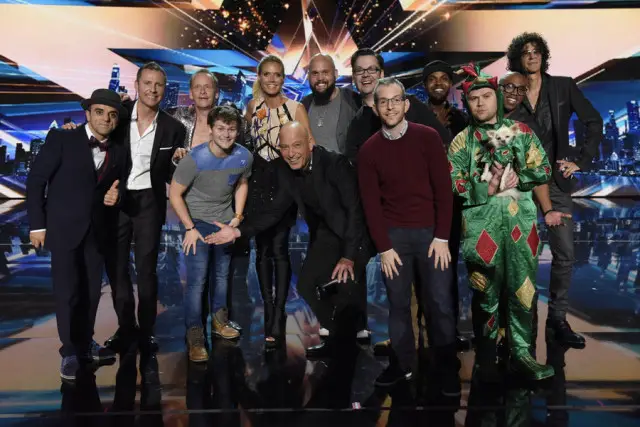 America's Got Talent 2015 Rankings Week 6
Can you believe it guys? America's Got Talent X is just about wrapping up, and wow has it been a season of ups and downs. Hey everyone, it's Adam, here for the last time this season to bring you my pre-show rankings. This Wednesday we will find out who has taken the title, and while I have my guesses about how things will play out, there are a number of contenders who can still take it. Let me know what you think!
10- The CraigLewis Band – Singing Duo – They barely skated through last round, and I doubt will go very far in the final tally. They are destined to finish in the bottom 5.
9- Benton Blount – Singer –  It's kinda odd grouping all the singers, but that just is how it is this season. Even with his large fanbase Benton still needed a save to advance last time. I don't see him cracking the top 5.
8- Uzeyer – Ladder/Balancing act –  Ok guys, when I said in my predictions that I kinda hoped he skated by, in no way did I intend it to actually happen! It was more a joke, but the fact that he actually got the save shocked me, but in retrospect, it makes a lot of sense. Face it, pity votes are a major factor this season (just look at Drew!), so here he is.
7- Gary Vider – Comedian –  Gary is yet to be on a performance show with Drew Lynch, and since that is finally happening this week I think it will drastically hurt his chances. Drew has the pity story, and as we have seen that always wins out.
6- Derek Hughes – Magician/Comedian – I think this is the highest I have ever ranked Derek, but still I am not sold on him. He is a poor man's Oz, Paul, Piff and even Drew.
5- Drew Lynch – Comedian – He stole Siro-A's spot, but I can't ignore how many fans he has. Hopefully this is as far as he goes.
4- Oz Pearlman – Magician/Mentalist – Oz is a solid contestant this season, but as good as he is, I just don't think he will be the one to win. I think 4th place will be a fine finisher for him though.
3- Stevie Starr (The Professional Regurgitator) – I don't like his act, I don't like his personality and I don't like that he said he enjoys eating coke and raw butter first thing in the morning. Everything about this guy just disgusts me, but at least he is a creative in his own gross way. I don't think he will win, as I think his act turns people like me off, but I still think he will rank high.
1-2- Piff The Magic Dragon, Paul Zerdin – Magician/Comedian, Ventriloquist – One of Piff or Paul will hopefully end up winning this season. These two acts have expressed creativity, humor and most importantly the ability to lead a solo show for an hour or longer. I would pay to see either of these two's solo shows, and I hope they deservedly take the title this Wednesday.
Whelp, those are my final pre-show rankings of the season! What are yours? Who would you rank as your number 1? Sound off in the comments!