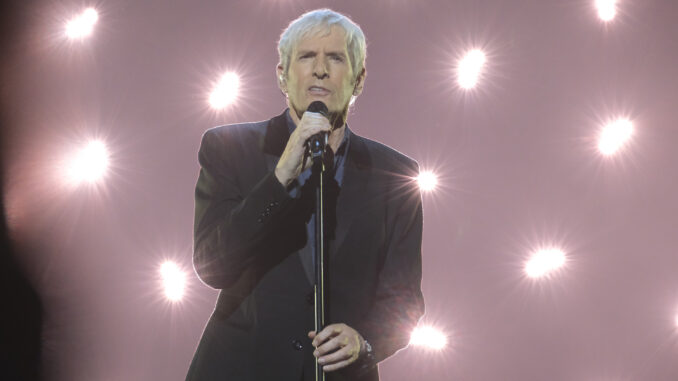 The American Song Contest FINALE airs on Monday May 9. After a nationwide vote and votes from the Jury, one song will emerge victorious. After five weeks of Qualifiers competition and two semi-final rounds, 56 states and territories have been whittled down to 10 finalists.
Six songs were known to have made it to the finals as of the end of Monday's (May 2) final semi-final episode. But now, NBC and EOnline reveal the remaining four finalists from Monday's show who advanced to the finale.
80s and 90s pop superstar Michael Bolton representing Connecticut, Native American and 4th generation rancher from North Dakota Chloe Fredericks, Texas' Grant Knoche and American Samoa representative Tenelle will join jury winner from the semi-finals week 2 Tennessee's Tyler Braden in Monday's finale.
"I am acutely aware that a career in music takes more than some success, and even I know artists who have Grammys who have not had another hit, and I think that keeps me grounded," Michael Bolton told E News after learning the news. "So, I just try to do the best I can, see what happens."
American Song Contest Week 1 semi-final voters and jury sent Jury winner and Grammy nominated singer-songwriter Allen Stone from Washington, Oklahoma's K-pop star AleXa, Colorado native, DWTS and Glee star Riker Lynch, singing duo NiCo from Alabama and Kentucky native and The Voice season 9 winner Jordan Smith to the finals. 
American Song Contest finale airs LIVE on NBC May 9 at 8 pm ET/PT. The competition is hosted by Kelly Clarkson and Snoop Dogg.
American Song Contest Top 10 Finalists
AleXa – Wonderland – Oklahoma – VIDEO
Allen Stone – A Bit of Both – Washington – VIDEO
Chloe Fredericks – Can't Make You Love Me – North Dakota – VIDEO
Grant Noche – Mr. Independent – Texas – VIDEO
Jordan Smith – Sparrow – Kentucky – VIDEO
Michael Bolton – Beautiful World – Connecticut – VIDEO
Ni/Co – The Difference – Alabama – VIDEO
Riker Lynch – Feel the Love – Colorado – VIDEO
Tenelle – Full Circle – American Samoa – VIDEO
Tyler Braden – Seventeen – Tennessee – VIDEO
 Photo credit: (Chris Haston/NBC) Click for Gallery