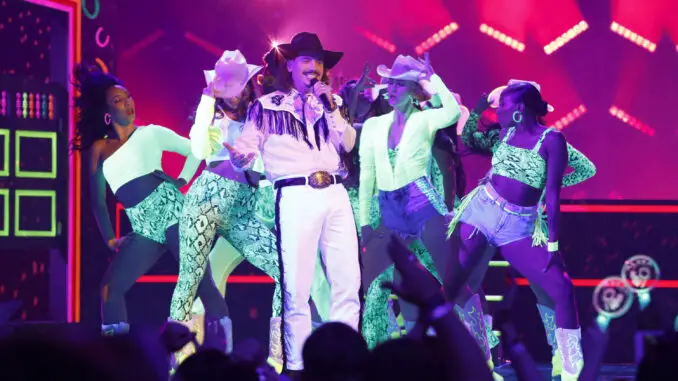 Goodbye to Qualifiers and hello to the start of the Semifinals tonight on American Song Contest!
Tonight's episode will feature 11 contestants performing the same songs, but are expected to step it up this time. After "Natalie" by Ada Leann from Michigan was crowned the winning song of the night last week, tonight's show will begin with Kelly and Snoop announcing three more semifinalists, as well as the final wildcard who is being redeemed after previously being disqualified, and all will perform on next week's Semifinals 2 episode.
Voting is conducted by a jury representing all 56 states, territories and Washington D.C., but fans have the opportunity to vote as well! Fan-voting takes place online, on TikTok, and on the NBC app. Full voting details can be found HERE.
Kelly and Snoop announce the final three acts from last week who are moving on to the semifinals… Tenelle, John Morgan and Sweet Taboo!
Jordan Smith – Kentucky – "Sparrow"
Jordan shows up with KFC for everyone just as mentioned in the previous "postcard" package! lol Jordan says lots of people have been reaching out saying that "Sparrow" saved their life, among other things.
Jordan performs another rendition of "Sparrow" surrounded by lit candles. The audience waves their phone lights as Jordan belts out those The Voice-winning vocals. And then a choir literally appeared out of nowhere for the final chorus, and Jordan proved once again why this song deserves to move forward!
Riker Lynch – Colorado – "Feel The Love"
Riker shows us how to make a margarita in his "postcard" package and says despite being from Colorado, he's inspired by a tropical, vacation vibe. Riker than introduces everyone to his wife, and says he owes everyone who voted for him to take it up a notch.
I'm about to be biased here because this song is my favorite of the competition! I'm definitely lip syncing along as I type this! But in all seriousness, it's a super good song. The entire performance was very reminiscent to the first, aside from that fun choreo!
MARi – New Hampshire – "Fly"
MARi says the message "Fly" portrays is that of a warrior and is her life's anthem. MARi then says she feels like she already won by how proud her daughter is of her.
This is another fave, not going to lie. Very upbeat and powerful, with motivational lyrics thrown into a song you can't help but want to dance to. MARi brought it last time and exceeded expectations tonight!
"It felt good to me because it must be good for me" – Snoop Dogg on "Fly" by MARi (just had to document that quote because WHOA)
Allen Stone – Washington – "A Bit Of Both"
Snoop Dogg calls Allen the greatest to hit the ASC stage so far, and Allen says he was shocked to win the jury vote. He says he wrote the song after becoming a father because it rocks your perception of all humans.
If I'm not mistaken, I believe Allen performed this on stage solo last time. Tonight, he starts out singing in the middle of what's supposed to look like a club full of people. I'll admit, I wasn't impressed last time, but I enjoyed this song the second time around.
Ni/Co – Alabama – "The Difference"
Labeled as the ASC Powercouple, Ni/Co share the different variations of their name before they settled on Ni/Co. They say their favorite lyric is "We felt like we were oceans apart," and say despite feeling like underdogs, their supporters make them feel like they're doing it right.
The performance feels like I'm having deja vu of their last one. Even their choreographed moves are the same, right up until the ending. Repetition aside, this song is just as beautiful now as it was weeks ago.
Ryan Charles – Wyoming – "New Boot Goofin"
Here as a redemption act, Ryan talks about all the viral TikTok videos using his song. He says if he wins the show, he's going out and buying himself, Kelly and Snoop brand new boots.
I was expecting tonight's performances to at least look different since they're singing the same songs, but clearly I was wrong. How could we forget the weird boot song full of glowing neon background dancers?
They celebrate Kelly's 40th birthday in between acts, playing a Happy Birthday video from all the performers and Snoop giving her a cake!
Hueston -Rhode Island – "Held On Too Long"
Hueston was the very first act voted into the semifinals, and he's ready to battle Allen Stone over his comment about beating Rhode Island. He says his song is extremely personal and he wants people to understand that this competition is about the song.
"Held On Too Long" is a really good country rock ballad. Very "Take Me To Church" meets "Unsteady." And as I type this, my dog is mesmerized by Hueston singing on the TV. So I guess I know who he's voting for!
Jonah Prill – Montana – "Fire It Up"
Jonah says his on-stage performance was fired up (ha get it?). He says his big white truck is named Betty White, and he and his friends make a party whenever, wherever.
This song is very summer anthem-y. I can see it playing as fireworks burst in the sky on 4th of July. I also appreciated the minor changes to this performance compared to his last. He really amped it up for the semifinals!
We come back from the commercial break to the final redemption announcement! The final act joining the semifinals is… Enisa!
Ada Leann – Michigan – "Natalie"
Ada says she was socked to win the jury vote last week, and that she wrote "Natalie" from personal experience. She now gets to share these emotions with everybody in the country, she says.
Whether she win or not, this girl is the next Taylor Swift. The song's got that sweet-turned-salty attitude reminiscent to Taylor Swift, with a catchy hook and great lyrics.
Jared Lee – Massachusetts – "Shameless"
Jared says it's an amazing feeling to know his song is reaching people. Fellow Bostonian and New Kids On The Block member Donnie Wahlberg sends in a video in support of Jared and "Shameless," which Jared says is inspired by him living around a lot of water.
Now all I get is New Kids vibes from this song after hearing from Donnie lol It's good lyrics sung to an overdone melody, in my opinion. I know he's my home state but I'm still rooting for Colorado! lol
AleXa – Oklahoma – "Wonderland"
AleXa says she's been nonstop on the go since her last performance, and is excited to represent Oklahoma and the K-Pop community. She says Alice in Wonderland was one of her favorite movies, and the people of OK were like her white rabbit leading her to where she is today.
K-Pop meets Alice in Wonderland again during this performance. It's definitely a fun song, very 2022, and AleXa is a great singer.
We're back from commercial and Kelly and Snoop about to reveal tonight's jury selection. And the winning song is… "A Bit Of Both" by Allen Stone from Washington!
No surprise there after Allen ranked #1 all night. I'll be back next Monday for the second round of semifinals and to see who else makes it to the next round!