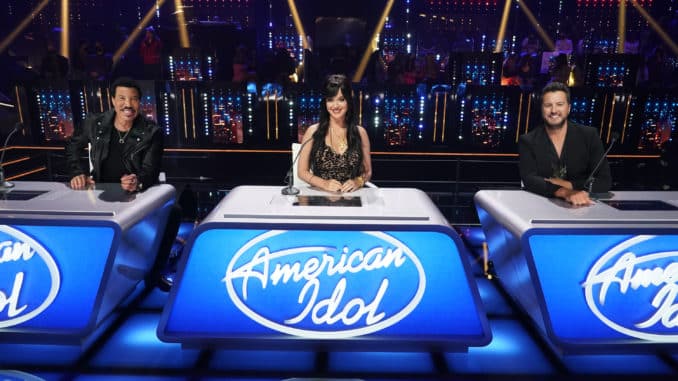 During the American Idol Television Critics Association (TCA) panel earlier this week, the American Idol judges–Luke Bryan, Lionel Richie and Katy Perry–were asked about  the lack of diversity in country music. 
"Morgan Wallen uses a racial slur and he's more popular than ever," a reporter said. "I'm wondering what Idol can do and what you guys can do to address this issue and maybe diversify country music more."
Lionel insisted that American Idol treats contestants like "family."
"We represent America and the music business and we come from very different walks of life," Lionel said. "But at the same time, we can come together and celebrate one thing: Each other."
Country music is not a "racist format"
The reporter pressed on, according to Insider. "Well, how does that specifically solve the problems that are going on in country music right now and dealing with the perception that there's racism in country music, and that it's not open to people who are Black and Asian?" the reporter replied.
At this point, Luke, who is a country music star, entered the conversation.
"First of all, there's racism throughout the whole country," he said. "Just to just sit here and single out country music as some kind of racist format is not altogether natural and true."
Luke continued: "I've been privy to various board meetings where we recognize our problems as an industry, and things take time. I think this country learns every day about the severity of racism. And like I said, I think sometimes you have to open your eyes and understand other people's side of the story."
Luke gets "fired up" when he sees audience members who don't fit country stereotypes
Luke said that during performances if he got "fired up" if he saw "an African-American fan or someone of a different color that didn't look like a typical country music fan."
"It was always one of the coolest images in my world because that means I crossed over and touched somebody else that maybe stereotypically somebody else wouldn't agree with," Luke said.
"And I think, as country music learns, yes, there's a bigger audience out there for us as artists."
Meanwhile, country singer Mickey Guyton recently endured a racist attack
These questions come amid Black country music artist, Mickey Guyton, sharing how she endures racist trolling from so-called country music fans. In a recent incident, a Trump fan suggested she "get out of our country music," as if the genre belonged to white people.
Nevertheless, Luke believes big changes are coming. "I think we are going to grow, and you are going to see tremendous changes," Luke added. "You bring up the Morgan situation — that's a situation that I think country music and the industry is doing everything they can to recognize, and these things take time. They take time in the National Football League. They take time as a country."
It's worth noting that Luke was one of the first artists to bring Morgan back to live music. During one of Luke's concerts last summer, Jason Aldean brought Morgan out on stage to perform. The group did shots together. Much backslapping ensued.
American Idol judges look at contestants with "an open heart and an open mind"
Luke insisted that when someone comes to audition for American Idol, the judges "don't care" what they look like or what their sexual orientation is.
"We look at them with an open heart and an open mind," he said. "And do you know what? For the most part, what I'm proud [that] we feel like our viewers at home are doing the exact same thing. Are we ever going to bat a thousand? Never. But we damn sure work hard to give everybody love."
Changes coming to American Idol
During the same panel, executive producer Megan Michaels Wolflick outlined what to expect in the coming American Idol season. For instance, American Idol alums will mentor contestants in place of the departing Bobby Bones. Additionally, a new twist, the Platinum Ticket, will be awarded in each audition city, giving the recipient special perks at the Hollywood Round.
American Idol premiers on ABC, February 27.