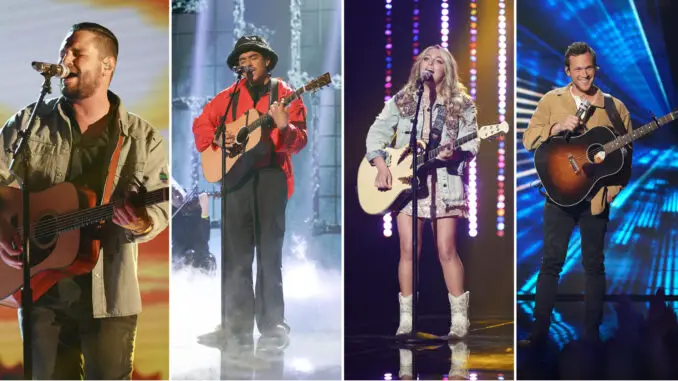 On Sunday, the American Idol  season 20 Top 20 performed for America's Vote. Additionally, three alums returned to perform their own original music including Chayce Beckham, Alejandro Aranda (Scarypoolparty) and Phillip Phillips. Afterward the episode aired, several of the artists got nice bumps on iTunes.
One huge change from earlier American Idol seasons is that contestants are permitted t0 release music while they are contestants on the show. HunterGirl, the Nashville Platinum Ticket holder who has become a fan favorite released a five song EP in March titled One Day. On Sunday, she performed a track from the EP "Heartbreak Down." Both the song and the EP charted on iTunes. HunterGirl's original song "Heartbreak Down" charted at #65 on Monday. Her EP hit #46. But by Thursday, her EP had climbed impressively to the No. 5 spot.
On Friday April 15, Phillip and Chayce released new music ahead of their American Idol appearance. Season 11 winner Phillip Phillips hit as high as #5 on the overall chart with his new single "Love Like That." Reigning winner Chayce Beckham dropped his debut EP Doin it Right and performed the title track on Idol. The song charted at No. 9 on Monday, while the EP hit No. 1, but has sat mostly in the No 2 spot all week. 
Alejandro Aranda performed a cut "Darkness" from his 2021 album, The Act of Forgiveness.  On Monday, the set climbed to No. 34 on the album chart, and sits at #58.
Singing original music on a national platform often results in an artist's music cha
Monday April 18:
Top Albums:
2 Chayce Beckham Doin' It Right – EP
34 Scarypoolparty The Act of Forgiveness
46 HunterGirl One Day – EP
Top Singles
#5 Phillip Phillips "Love Like That"
#9 Chayce Beckham "Doin' It Right"
#65 HunterGirl "Heartbreak Down"
Thursday April 21
Top Albums:
3. Chayce Beckham Doin' it Right – EP
5 . HunterGirl – One Day – EP
58. Scarypoolparty The Act of Forgiveness
Top Singles
13. Phillip Phillips "Love Like That"
25. Chayce Beckham "Doin it Right"
41 HunterGirl "Heartbreak Down"
Another season 20 singer, Leah Marlene released a self-titled EP in February. She performed the track "Wisher to the Well" for her audition and on Monday's Top 14 reveal episode, after learning that she made the cut. However, her EP/song did not chart in the iTunes Top 200.