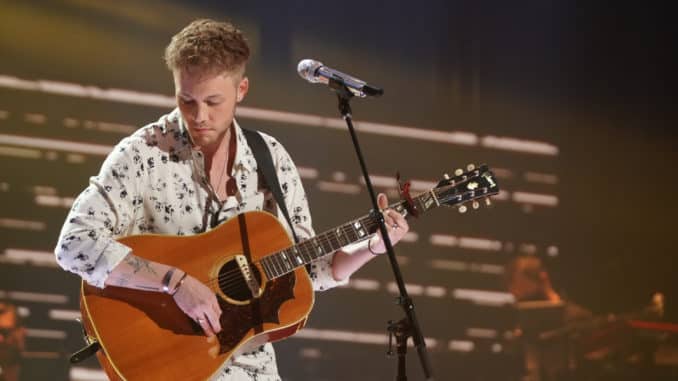 Recently, Hunter Metts hinted in an Instagram post that he had brand new music ready to go. Now, the American Idol 2021 finalist has offered a few more details on his upcoming record.
In an interview with Everything Nash, Hunter reveals that after competing on American Idol, he began making music full time. 
"During the show, me and some of my best friends who are also super musically talented, we booked a cabin in Tennessee," Hunter said. "I write songs. I've written songs for so long, and so we chose our favorites. We went to the cabin and we recorded them."
"We have a record"
Hunter says the songs are close to ready. "As of now they're being finalized," he shared. "So we have a record; we have material from that. From there, it's just building shows, and giving people a really, really cool experience live that hopefully blows their expectations."
American Idol's Cassandra Coleman Requests Help For Charity Event
American Idol 2022: Entire Cast Will Return for Landmark Season 20
Chayce Beckham May Be Playing A Concert Near You!
After the challenge of American Idol, the singer-songwriter feels ready to face the even bigger challenges that navigating the music industry will bring.
"I'm just putting the time in, and all the work, to play your cards," Hunter shared. "It feels like in music, it's hard to get any cards to play, if you will, or any traction. So, it's just all been this very strategic thing of, 'Okay, now we have this and this and this. So we have a shot at it.'"
"We can still do it regardless of a massive label or not"
Before leaving American Idol in the Top 7, Hunter released a self-penned tune co-produced with heavy-hitter Ian Fitchuk for 19 recordings (Check out the romantic "20,000 Kisses" HERE).  Hunter told Nash Everything that currently he is unsigned, but would consider working with a record label if the right opportunity came along. However, he's also willing to continue his musical career as an indie artist.  
"If it makes sense for someone to come along, then I'm more than open to that [signing a record deal], but I think that's been a big focus, to try and make this dependent on myself, and the people that I can trust around me," Hunter said. "We can still do it regardless of a massive label or not."
Coming up next for Hunter: Two sold out shows at the Franklin Theater in his hometown, Franklin, Tenn on August 8 and August 15. Both shows are sold out–the first one in 90 minutes.