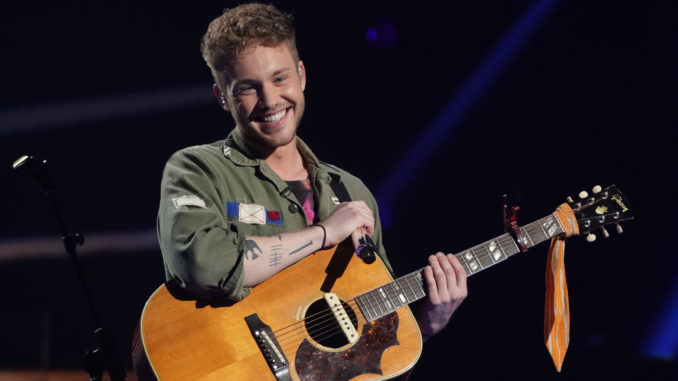 American Idol season 19 alum Hunter Metts just dropped his new song, "Open." The singer-songwriter thanked his fans on Instagram for being patient. "Hey there, it's been a little while(: My new song 'Open' will be out February 25th," He added "Thank you all for giving me time to figure out a bit more of myself and create at a pace that allows me to make the best art I can. Excited to share this with you."
The song is a dreamy ballad, backed by acoustic guitars, that details heartbreak, and the downside of leaving oneself "open" and vulnerable. The lyrics go "Open/Why'd you have to leave me Open/Cut me up to keep me/Broken now/I'm bleeding out" Listen to the broken-hearted new single below.
Hunter Metts: "Open" Official Lyric Video
Still sorting out post-American Idol life
Last October, Hunter shared on Instagram that he was still sorting out his post American Idol life, "Hello (: just wanted to say thank you for being patient with me," Hunter wrote. "I feel like I have the best music I have ever written sitting on my computer and it's been extremely hard for me to navigate this season after American Idol. This isn't an exciting announcement or anything particularly special, just letting you know how I am (: hope you all are doing well."
After Hunter's American Idol season ended in May 2021, the singer-songwriter sold out shows in his hometown, Franklin Tennessee. Also, he went out on tour with season 20 standout, Francisco Martin, and performed one-off concerts with fellow Idol contestant, Cassandra Coleman and others.
Hunter left American Idol at the Top 7, but not before making a huge impact. After forgetting a few lyrics in a performance of "Falling Slowly" on Top 12 night, Hunter burst into tears on stage. Judge Katy Perry called the performance "perfect" and "vulnerable" and later on the two performed a beautiful duet of Katy's song "Thinking of You " in the finale. 
After his elimination, Hunter had the opportunity to release an official American Idol single, "20,000 Kisses,"  helmed by top-notch producer Ian Fitchuk, written by Hunter and Mark Irwin.
Later, when Hunter performed Bon Iver's "Skinny Love" on the Ellen Degeneres show, he shared that the moment he forgot the lyrics on stage "intense for me" but "after coming off the show, the support has been amazing.