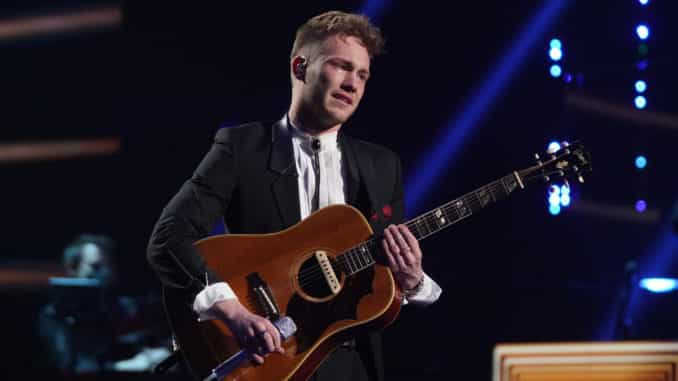 American Idol 2021 Top 12: Hunter Metts Vulnerability is Beautiful
The
American Idol
Top 12 sang Oscar nominated songs for viewers' votes Sunday night (April 18) in a show that aired in real time coast to coast. Emotions ran high, as three contestants were eliminated at the end of the episode (Read recap
HERE
). Maybe it was the high stakes that had contestant
Hunter Metts
dissolve into tears after he flubbed the last line of his performance of Glen Hansard & Markéta Irglová "Falling Slowly" from the movie
Once
.
The song, a singing show staple, has been done most notably by season 8 winner Kris Allen. Also, season 13 alum Alex Preston, and a few others have competed with the song. I was ho-hum on the song to start, but as it built up and Hunter stretched his voice and dug into the emotion, I just loved this performance. He took the falsetto head on and boy am I glad he did. Hunter's falsetto is so hauntingly beautiful. For me, I did not even compare this to Kris's version, as Hunter is an artist. Maybe the vocals weren't as good as Kris's version, but the young singer brought his own flair. Hunter brings a lot of color to his performances by wearing his heart on his sleeve and emoting with every word. 
The judges consoled Hunter, who continued to cry
As far as the mistake is concerned, it was only the last line where Hunter appeared to lose the lyric. The judges immediately began to console him, while Hunter continued to cry. But somehow, him messing up the lyric did not feel like a mess-up. It felt sincere and beautiful as Hunter is vulnerable, but does not necessarily strike me as nervous when he is singing. I am not going to excuse Hunter for that mistake if it comes around again. But I will give the guy a break as he is authentically himself. If you compare him to competitors who are still in the competition, there are a few others who seem to let nerves get them to when they sing. Hunter, on the other hand, usually stays in tune. 
Judge Katy Perry tried to sooth Hunter, insisting that he connected and "forgot where he was. "That is perfect," she said. Luke Bryan declared that he did not care, because the performance was a crazy journey of emotions, adding that Hunter's falsettos were "some of the best things" he's heard since he's sat in the American Idol chair. Lionel Richie compared Hunter's flub to him messing up "Hello" years ago, and the audience staying on his side. He said that it was absolutely a "perfect run" now that he did that. However, even with the judges enthusiastic support, Hunter continued to lament that he made a mistake.  Hunter didn't need to worry. In the end, he made it into the Top 9 and will sing a Disney song when American Idol returns on May 2 after an Oscar break.
Hunter has given American Idol viewers moments
It has been no secret that the 22-year-old from Franklin, TN, has been one of my favorite vocalists all season. He has given us moments with "July", "Skinny Love", and "I Can't Make You Love Me." I look for the complete performer in an Idol. For me that is someone whose record I would buy, and is a solid vocalist.  My favorites tend to be the ones who are both artistic and emotive. Julia Gargano was my favorite last season due to her tone and artistry and Hunter is following in her footsteps for me. Hunter's originals on Spotify, "Loaded Gun" and "The River" are beautiful indie pop/folk songs that I recommend checking out if you like those styles.
Casey Bishop and Hunter Metts are two that I am the most consistently liking this season. Casey is a prodigy and Hunter is an artist.
Watch Hunter Metts become very emotional after forgetting a line during his "Falling Slowly" performance
Ryan and the judges console Hunter. Hey look, it's Graham DeFranco hanging out with Hunter's family!