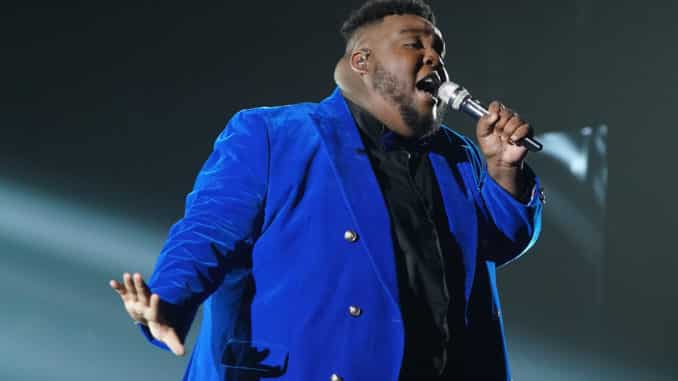 American Idol 2021 Top 12: America Stands Up For Willie Spence!
I have always thought Willie Spence, the 21-year-old viral singer and caretaker from Douglas, Georgia was an incredible vocalist, but for me, this was his breakout performance and one of the best of the American Idol 2021 season. I have been begging for Willie to dig in, lean further into the emotion, church it up a little bit and go away from his typical ballads and runs. And his performance of Cynthia Erivo's "Stand Up," performed during Sunday night's (April 18) Top 12 Oscar nomination themed episode, was exactly what I have been asking for.
Cynthia Erivo called Willie to wish him good luck
Willie got some encouraging words from Erivo in his opening package. Afterward, the singer felt the pressure to nail the song, which he did! His performance closed the show, and there is no questioning why producers saved it for last. The rousing song is from the movie Harriet, which details the life of Harriet Tubman who helped smuggle slaves to freedom via the underground railroad. The beautiful song allowed Willie to deliver his best performance to date. He hit the notes with ease and precision and gave me the emotion I have been searching for.
I loved the deepness of Willie's voice at the start of this song. As the vocal got bigger, the singer's tone cut through the backing choir vocals. I could totally see him go this route in his career. Gospel-tinged soul songs are perfect for Willie. The entire cast was jamming as he performed, including the judges panel. It was cool to see the widespread support he was getting from his fellow competitors and the small, but mighty audience.
Willie could make the Top 5
Judge Lionel Richie had three words for Willie's performance 1. Amen, 2. Religious experience and 3. You delivered. Katy Perry felt that it was "powerful" and that the singer took "all of the emotion of the week" and put it into the song, cutting through the "darkness." Luke Bryan said that Willie taught him to "never use the word frontrunner again, until the whole show is done."
Needless to say, Willie advanced to the Top 9 (Check out the rest of the results HERE). His booming vocals and technique should carry him through to at least the Top 5. This performance had me excited about what he will do in future rounds, and it even made me vote for him. Even if Willie has not always been my favorite of this season, I am a fan of this performance to say the least.
Watch Willie Spence's moving performance of Cynthia Erivo's "Stand Up."