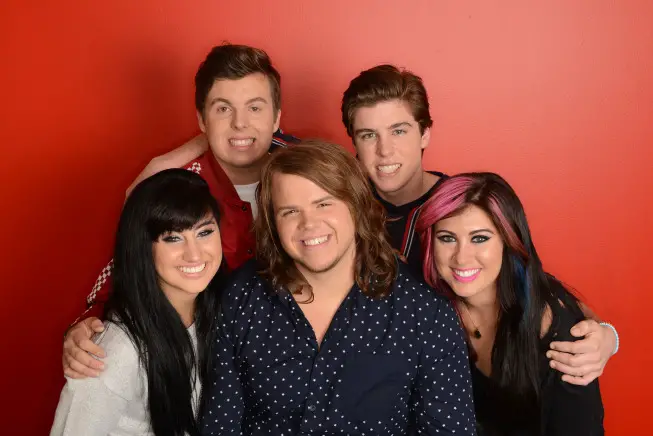 Jena Irene, Caleb Johnson, Jessica Meuse, Alex Preston and Sam Woolf are the Top Five finalists on  American Idol XIII, and will work with guest mentor and Grammy Award-winning singer/songwriter Jason Mraz next Wednesday, April 30 (8:00-10:00 PM ET live/PT tape-delayed), on FOX.
The Top Five will sing a song chosen for them by the viewers at home in the "America's Request"-themed performance show.
On next week's results show, one more contestant will leave the competition, airing Thursday, May 1 (9:00-9:30 PM ET live/PT tape-delayed).
Tune in to see a special performance by American Idol judge and country star, Keith Urban.
We get a musical guest next week. Hooray.
I wonder if Jason's BFF Alex Preston set up the mentoring session? Heh. In any case, this should work out pretty well for him. The know each other. Alex opened for Jason here in Boston, (Correction: That was Gavin DeGraw Jason opened for in Boston) and as Alex has mentioned, they've seen each other around Hollywood. Alex met Jason through some mutual friends. He gave Alex pointers on his "Every Breath You Take" performance.
Watch the Top 5 – The Road to the Finale!