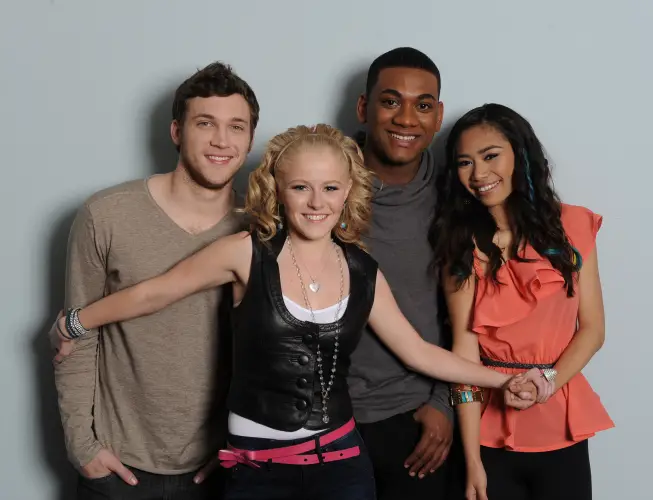 UPDATE: Nigel Lythgoe tweeted that next week's theme is, specifically–Songs from bands or singers from California and Songs I Wish I Had Written.
The second theme is pretty wide open–another opportunity for the remaining contestants to show us who they are.  I hope they choose wisely.
Next week the Top 4 choose songs for a "California Dreamin" themed performance show. So…songs about Califorinia? Songs by artists from California? There is probably a secondary theme that hasn't even been announced yet.
ETA:  The theme appears to be "California Artists"
Jennifer Lopez has already taped a performance that will air next Thursday. And Season 7 winner, David Cook, will sing his brand new single, "The Last Song I'll Write For You".
Next week's results show decide the Top 3, who will embark on their respective hometown visits! Yay.
Read the press release:
Tonight, the Top Four Finalists were revealed – Hollie Cavanagh, Joshua Ledet, Phillip Phillips and Jessica Sanchez. One of them will be crowned the next AMERICAN IDOL! After America cast a season-high of nearly 60 million votes for their favorite finalists, it also was revealed tonight that Skylar Laine had received the fewest number of votes and was eliminated from the competition.
With only three performance shows left in the season, tune in next week, Wednesday, May 9 (8:00-10:00 PM ET live/PT tape-delayed), when the Top Four return to the IDOL stage to sing for America's votes on a "California Dreamin'"– themed performance show.
Don't miss the live results show the following night, Thursday, May 10 (8:00-9:00 PM ET live/PT tape-delayed), when the Top Three finalists are announced and get set for their hometown visits to see family, friends and fans. In addition, global superstar and AMERICAN IDOL judge, Jennifer Lopez, will perform her hit new song "Dance Again." Season Seven AMERICAN IDOL winner David Cook also returns to the IDOL stage to perform "The Last Song I'll Write For You."