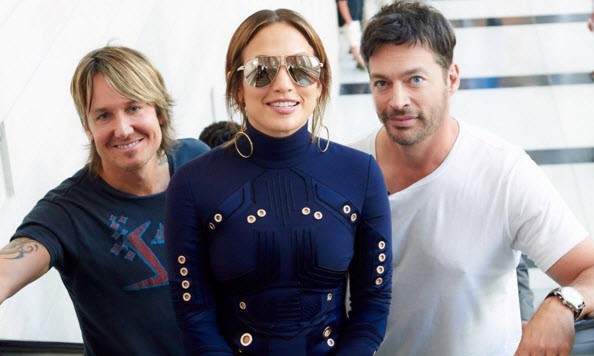 American Idol Schedule 2016 – Season 15
The Idol Pad has posted the upcoming American Idol Schedule 2016 for Season 15. According to the information they have, the season ends on April 7.
UPDATED: Information on the semi-final rounds. WHICH Idol alums will be returning. WHEN will they sing and HOW the Top 24 contestants will be split up between two weeks of performances Click for Details!
UPDATE 3/12: The rest of the final schedule is up. American Dream, the Idol retrospective airing on Tuesday April 5 is now 90 minutes long.
UPDATE 3/23: FOX press release CONFIRMS the Top 3 will ALL perform on the Series Finale Part 1 Wed April 6.  Note: The "American Dream" episode on Tues April 5 IS NOT A LIVE SHOW. It's a special.
I'll be updating this post with any changes, so stay tuned.
American Idol Schedule 2016 – Season 15
Wednesday January 6  (

8:00-10:00 PM ET

/PT) – Denver and Atlanta Auditions
Thursday January 7   (

8:00-10:00 PM ET

/PT) – San Francisco and Little Rock Auditions
Wednesday January 13  (

8:00-9:00 PM ET

/PT) – Philadelphia
Thursday January 14  (

8:00-10:00 PM ET

/PT) – Denver and Little Rock
Wednesday January 20 (

8:00-9:00 PM ET

/PT) – Philadelphia and San Francisco
Thursday January 21  (

8:00-10:00 PM ET

/PT) – Atlanta, Philadelphia, San Francisco
Wednesday January 27 (

8:00-9:00 PM ET

/PT) – Hollywood Week – First Solos
Thursday January 28 (

8:00-10:00 PM ET

/PT) – Hollywood Week – Group Round
Wednesday February 3 (

8:00-9:00 PM ET

/PT) – Hollywood Week – Second Solos
Thursday February 4 (

8:00-10:00 PM ET

/PT) – Showcase Round & Final Judgement (Top 24 Revealed)
Wednesday February 10 (

8:00-9:00 PM ET

/PT) – Semi-Final Round – Twelve of the Top 24 perform, mentored by Fan Favorite Idols
Thursday February 11 (

8:00-10:00 PM ET

/PT) – Semi-Final Round –  Six "Fan Favorite" Idols return to mentor and sing with the Top 24. The judges vote on who will stay in the competition. FIVE contestants leave the competition.
Wednesday February 17 (

8:00-9:00 PM ET

/PT) – Semi-Final Round – Twelve of the Top 24 perform, mentored by Fan Favorite Idols
Thursday February 18 – (

8:00-10:00 PM ET

/PT)  – Semi-Final Round –  Six "Fan Favorite" Idols return to mentor and sing with the Top 24. The judges vote on who will stay in the competition. FIVE contestants leave the competition. The Top 14 are revealed.
Wednesday February 24 (

8:00-9:00 PM ET

/PT) – Semi-Final Round – Judges choose FOUR of the Top 10. Remaining TEN contestants perform in a wildcard for the FIRST viewer vote of the season.
Thursday February 25  (

8:00-10:00 PM ET

/PT) – TWO Wildcard choices revealed FIRST LIVE SHOW OF THE SEASON Top 10 perform for the first time.  Viewers vote. Results revealed the following Thursday.
Thursday March 3 (

8:00-10:00 PM ET

/PT) – Top 8 Revealed – 550th Episode
Thursday March 10 (

8:00-10:00 PM ET

/PT) – Top 6 Revealed
Thursday March 17 (

8:00-10:00 PM ET

/PT) – Top 5 Revealed
Thursday March 24 (

8:00-10:00 PM ET

/PT)  – Top 4 Revealed
Thursday March 31 (

8:00-10:00 PM ET

/PT) – Top 3 Revealed
Tuesday April 5 – (

8:00-9:3o PM ET

/PT) – 90 Minute Retrospective, including alums, judges, etc. (American Dream)
Wednesday April 6  – (

8:00-9:00 PM ET

/PT) – SERIES Finale Part 1 – 

Top 3 Perform

Thursday April 7 – (8:00-

10:06

PM ET/PT) –  SERIES Finale Part 2 – Winner Chosen