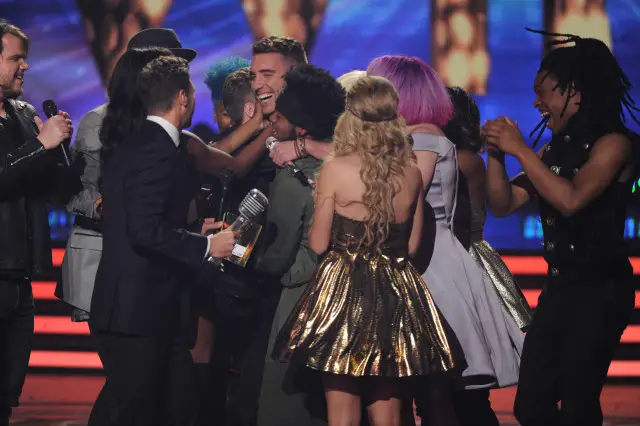 Not one for listicles, I decided to post 15 of my favorite singing show performances of 2015 as a jumping off point, for you, dear reader, to share your lists, grievances and thoughts on the year in singing shows. Go forth and search Youtube! Afterward, hit the comments section below.
One thing that jumps right out at me: Admittedly, I had to utilize a little affirmative action to maintain a semblance of gender balance. Although guys dominated the winners' circles as they always do, it was female artists who ruled singing shows in 2015. Maybe the story of 2016 will be the preponderance of female winners.
Whether male or female, there was plenty to celebrate. So, without further ado, in no particular order, DIM THE LIGHTS KIERAN HERE WE GO with my Top 15 singing show performances of 2015.
The Voice 9 – Krista Hughes – Blind Audition – Angel from Montgomery
Krista's Blind Audition was brilliant. Unfortunately, coach Blake Shelton sacrificed the rootsy country singer in the Blind Auditions to save Chris Crump. WHO? ROBBED.
https://youtu.be/Q_oc2WL8DfQ
The Voice 9 – Jeffery Austin – Finale – Stay
Jeffery had to know he was likely going to be eliminated first in the finals. That didn't stop him from BRANGING it big time with an emotional performance of Sugarland's "Stay." I threw every shoe I owned at the TV set that night.
https://www.youtube.com/watch?v=1fWzlW05XFs
The Voice 9 – Madi Davis – Semi-Finals – Songbird
For Team Pharrell Williams, Madi Davis, delivered a gorgeous performance of Fleetwood Mac's "Songbird" during the semis. The singer's ability to play with melody displayed a musicality beyond the young artist's years.
https://www.youtube.com/watch?v=FnuYd6Pa9vw
The Voice 9 – Darius Scott – Semi-Final – Love Lockdown 
Not saving the talented Darius Scott was one of Pharrell Williams missteps during season 9, if you ask me. He should have put him on the team and allowed the young producer/songwriter to do his musical thing.
https://youtu.be/SNRvs0zsJJQ
X Factor UK – Live Shows Week 1 – Sean Michael Moore – Life On Mars
Most of you didn't watch X Factor UK. The teenaged pop singer, Louisa Johnson, deserved the crown. However, I would have loved to see Sean Michael Moore go deeper into the live shows. He was eliminated Week two, after making a HUGE splash Week 1 with a captivating take on David Bowie's "Life on Mars."
The Voice Season 8 – Top 10 – Koryn Hawthorne – Make it Rain
Church singer, Koryn Hawthorne, was inexperienced and a little rough around the edges, but the 4th place finisher's talent could not be denied. "Make it Rain" by Ed Sheeran was one of my favorites.
https://youtu.be/ZK_fYT3Vi78
The Voice 8 – Kimberly Nichole – Top 12 – "House of the Rising Sun
Kimberly had been knocking around the New York City club scene for awhile before she appeared The Voice, therefore knew her way around a mic. Her powerhouse performance of "House of the Rising Sun" had the crowd on their feet. After she was eliminated in week 5, she performed onstage with Slash.
https://youtu.be/TSRa6F4lhHM
The Voice 8 – Sawyer Fredericks – Blind Audition – Man of Constant Sorrow
Sawyer Fredericks wowed viewers every week with his heartfelt, plaintive and soulful performances. My favorite is his first. "Man of Constant Sorrow" got every single coach to turn their chairs. Sawyer settled on Team Pharrell Williams, who wisely allowed the teen singer to follow his own musical instincts.
https://youtu.be/eFH9LQLGNbk
The Voice 8 – Meghan Linsey – Semifinals – Tennessee Whiskey
I was a fan of Meghan's when she competed as one half of  Steel Magnolia on the 2009 edition of CMT's Can You Duet. The Voice 8 runner-up has stated on several occasions she wants to make a leap to soulful pop, but I still prefer her country tinged performances, like this cover of "Tennessee Whiskey."
https://youtu.be/iP5P2HJQ05k
American Idol 14 – Joey Cook Fancy – Top 11 – Party Week
Joey Cook had a major moment when she covered the Postmodern Jukebox inspired version of Iggy Azalea's "Fancy." She impressed PMJ so much–they loved her interpretation and thoughtful shoutout–she was invited to join the outfit on tour! Sadly, the Idol tour only took the Top 5 on the road. Finishing in 7th place, Joey was sorely missed.
American Idol 14 – Sarina-Joi Crowe – HOB – Big White Room – Jesse J
Sarina-Joi Crowe finally made the American Idol Live shows after numerous tries, only to be heartbreakingly eliminated in 12th place. Here she is killing it on Jesse J's "White Room" during the HOB Showcase–just in case you forgot her awesomeness. is.
https://www.youtube.com/watch?v=_LXlesoM4yY
American Idol 14 – Jax – Top 5 Arena Anthems – White Flag
Second runner-up, Jax was a bundle of energy and emotion when she took the Idol stage. When she was able to reign in that nervous energy, she delivered some of her best work, as in this emotional Top 5 performance of Dido's "White Flag."
https://youtu.be/CDiAVBw0nQE
American Idol 14 – Quentin Alexander Audition – Royals
Quentin Alexander brought style, passion and originality to American Idol, which made his early demise, after that bit of nastyness with judge Harry Connick Jr all the more heartbreaking. I'm choosing the "Back to the Start" version of the singer's audition, because of the intense emotion he brought to the stage that night.
https://youtu.be/10Dx5-cpZ8M
American Idol 14 – Clark Beckham – Top 3 – Earned It
Clark Beckham was the frontrunner for most of the season, until he ran out of steam at the end. Or Scott Borchetta sandbagged him. Take your pick (I think it was a little of both).  Clark rode the wave performing throwback soul songs, but when he slayed a rendition of the very current Earned It, by The Weeknd, he proved his contemporary mettle.
American Idol 14 – Nick Fradiani – Top 2 Winners Song – Beautiful Life
Winners songs usually suck, but "Beautiful Life" did not. It was appropriately aspirational, while fitting Nick's style to a T. The 28 year old singer was the "old man" of the group. He knew who he was as an artist and worked his butt off to win. In the end, there was no denying him the crown.
https://youtu.be/CrHuPnveM7Q