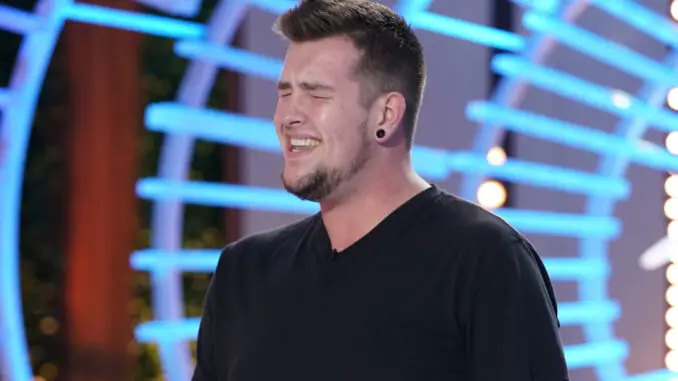 American Idol 2022 Audition: Returnee Jacob Moran "Rises" to the Occasion with Katy Perry Hit
American Idol 2022 Audition 4 episode (Read our Recap) featured the return of  the beloved singing nurse from Season 17. Jacob Moran, a 27-year-old from Danville, Michigan, had a standout moment with his audition of Ariana Grande's "Into You" back in Season 17.  He relives this moment on the screen prior to going into his audition. He had the talent, but lack of confidence and self-doubted help end his Idol journey in Hollywood.
The judges, Lionel Richie, Katy Perry and Luke Bryan remember him as he walks in. Since his audition 3 years ago, Jacob has lost over 60 lbs. Katy notes that he was good then but in "disbelief the whole time." Jacob agrees. Lionel advises him to "enjoy" the performance. 
Jacob goes on to sing Katy Perry's "Rise." He is able to hit notes and sing in keys that only females can manage. His phrasing and dynamics are very impressive. His enunciation is particularly notable, as each word he sings is easy to understand. He hits a glory note that is extraordinary.
Katy gives a little inspirational speech to him, before telling him that he "chose the right song" and "nailed it," giving her "full-body chills." She tells him that he has "arrived and now is the time." Luke and Lionel were won over early in his performance, writing "yes" on their papers midway through his performance. Jacob receives 3 yeses and is going to Hollywood.
Jacob is he best male singer we've seen this season
Jacob is the best male singer we've seen this season. His audition didn't show his full range. It is effortless, much like Willie Spence and Grace Kinstler was last year. He is one of the best technical singers this season; he just needs to reign it in because at times his tone became grating, and he lacked a bit of breath control. But nerves probably played a part, as his breath issues were only noticeable early in his performance. He could be one of the last men standing.
On that note, this week's bonus clip is Jacob's cover of Duncan Laurence's "Arcade." This clip displays both his remarkable range and proves that he is capable of good breath control.  
Other night 4 standouts include singer-songwriter Sam Moss who gave shades of Sara Bareilles, folk-pop singer Elli Rowe, and country crooner Dan Marshall. Honorable mention goes to Douglas Mills and Kevin Gullage who brought timeless old-school vibes and have lots of potential. Both singers were a breath of fresh air, but I need to see more before deciding if either is a true standout.
Tune in again on Monday (March 21), to see more hopefuls audition.