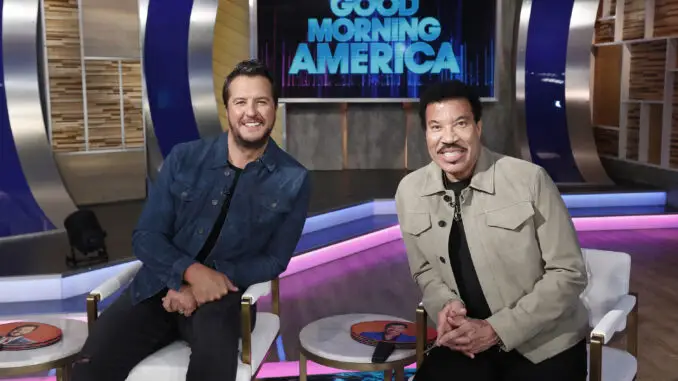 Ahead of American Idol's landmark season 20 premiere on Sunday, judges Lionel Richie, Luke Bryan and Katy Perry shared thoughts on the the new season with Good Morning America on Tuesday (Feb 22) and also dropped by Live with Kelly and Ryan a little later.
Watch a preview of American Idol hopeful, Nicolina 
After Good Morning America played a clip from Sunday's premiere that featured a big-voiced singer named Nicolina belting out "She Used to Be Mine" from the Broadway musical, Waitress, Lionel exclaimed, "That's an indication that we found the barbeque sauce!"
American Idol 2022 Contestants: 31 Season 20 Artists to Know
The judges auditioned singers in Austin, Los Angeles and Nashville. In each city, to honor American Idol's 20th season, the panel awarded a Platinum Ticket to one worthy contestant.
The Platinum Ticket, explained
"Well, it's the 20th season and usually, that means platinum in a marriage," said Katy, who zoomed in from a remote location. "So, definitely Platinum talent and we've been together as judges for now five seasons, and I think our bar is just getting higher and higher. We are jaded, but I think also a lot of truly talented singer-songwriter artists people are coming in and trusting us now. So I would say American Idol is like the cream of the crop now."
The Platinum Ticket allows the recipient to skip the first round of singing during Hollywood Week. "In each city, whoever we decided was the shining star of that audition, we gave them a platinum ticket," explained Luke. "And when they got to Hollywood, they got to sit back in one of the rounds and strategize. And it was a really neat kind of plot twist this season because it made us really concentrate on who we thought won each city of the audition process."
A Platinum Ticket is a double edged sword
Lionel added that when you give an artist a Platinum Ticket "all of a sudden, you realize that it's a pass, but at the same time, the kid is now in trouble because he gets to watch or she gets to watch the competition and at some point you get scared to death because maybe I can't live up to that. It's a pass, but it's not a complete giveaway."
"We have inadvertently been a little tougher on our Platinum Ticket holders because they showed out in auditions, and sometimes they have a bad audition, and we're being a little more critical with them."
American Idol creates artists like Gabby Barrett and Alejandro Aranda
On Live with Kelly and Ryan, where Idol host Ryan Seacrest co-hosts, Kelly Ripa asked if the talent audition for American Idol keeps getting better and better.  Lionel namechecked Season 16 country singer, Gabby Barrett who has had big country hits such as "I Hope" since leaving the show. He also mentioned season 17 runner-up Alejandro Aranda aka Scarypoolparty, who has gained a measure of acceptance in the alternative music scene.
"These kids are coming out of the woodwork," said Lionel. "In our last five years, we've found major recording artists to the point of Gabby our country goddess who went straight from the show, straight to a number one record. It's one of those things where I feel so great about it because artists are coming out. They trust us."
Lionel added, "Alejandro for example. These are ARTISTS who have their own style."
Social media creates stars, but American Idol can set an artist apart
"We're in our fifth seasons as judges," Katy added. "The world is changing. There are new stars that are being born every day and there's so much that's being put out on social media." Katy points out that while stars are being born on platforms like Tik Tok, utilizing the American Idol stage can set an artist apart from the others.  "Then you have the best of both worlds, and that's a real look," she said.
Artists have come to trust American Idol as a platform, Katy believes. "They trust our judgement. We handle these kids with care, with kid gloves. We know what it's like to walk a day in their shoes. We only want the best for them, truly."
"Even the music universities like Berklee…even Julliard. People are coming from there because they are trusting us," said Katy. "They're seeing how we treat past participants."
American Idol season 20 premieres on ABC Sunday February 27 at 8 pm ET/PT