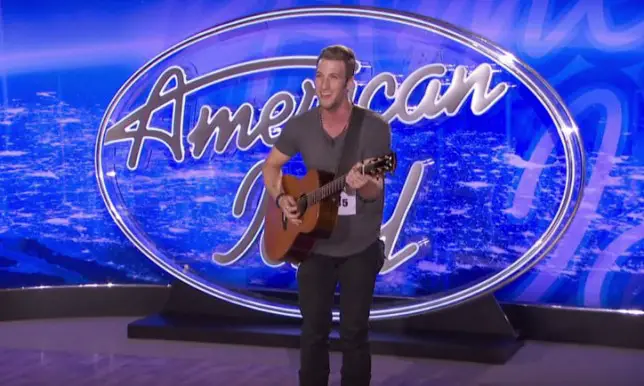 Check out this preview from Wednesday's American Idol 15 Philadelphia audition episode. John Arthur Greene delights judge Keith Urban with a cover of his song, "Somebody Like You." WGWG lovers rejoice! The propulsive performance seems to entertain fellow judges Jennifer Lopez and Harry Connick Jr. too. I think John Arthur is a keeper.
Just look at how happy Keith looks here. I think it's safe to say its a YES.
As a sidenote, John's bumper describes him as a Broadway actor. After a quick Google search, here are the deets I discovered: The singer/actor landed a starring role in a North Carolina production of Grease, and parts in Matilda the Musical and a revival of West Side Story on Broadway. Hailing from Scotty McCreery's hometown of Garner, North Carolina, John Arthur was also a member of the ensemble on NBC's Peter Pan Live! in 2014. His wife is an actor too. McKenzie Mauzy played Rapunzel in the movie version of Into the Woods.
Kudos to Idol for not describing him as a farm hand, or some other nonsense.
American Idol airs on Wednesday January 12 at 8/7c pm, making it's timeslot 1 hour debut. We're back to 2 hours on Thursday January 13 at 8/7c pm. Click for the FULL AMERICAN IDOL 2016 SEASON SCHEDULE.
Watch John Arthur Greene perform "Somebody Like You" in a preview from Wednesday's American Idol.