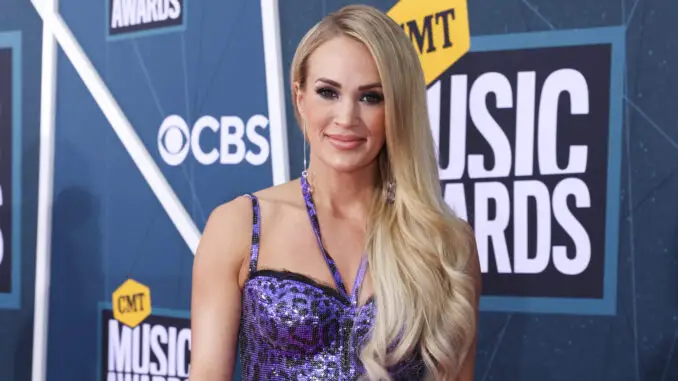 On American Idol this Sunday (May 15) the Top 5 not only will sing their own original songs, but mentor Carrie Underwood will choose a song from her vast catalog of hits for each of the contestants.
Noah Thompson, HunterGirl, Leah Marlene, Nicolina Bozzo and Fritz Hager will compete on Sunday for one of three spots in the May 22 finale.
The contestants travelled to Las Vegas this week for mentoring sessions with the season 4 winner, who is kicking off another leg of her residency at Resorts World. It's possible that Noah and Fritz didn't make the trip, as both tested positive for COVID-19 last week, preventing them from singing in the live show. Whether they can participate work with Carrie in person depends on whether they have recovered from the virus and are no longer infectious.
The Top 5 will sing original songs, and a Carrie Underwood song that she picks for each contestant
The Top 5 all worked with top-notch producers recently to record original songs that will drop for stream and download on Friday May 13. Fritz Hager will perform his song, "Hearts Align" produced by King Henry, while Noah Thompson will sing his track "One Day Tonight" helmed by Jimmy Robbins. Leah Marlene will perform her emotional self-penned song "Flowers," HunterGirl will sing "Redbird," a deeply personal song she wrote during Hollywood Week. And Nicolina Bozzo will perform her original song, "Glitter."
In a Tweet, American Idol announced that Carrie would not only be mentoring the contestants this week, but also choosing her own songs for them. Which of Carrie's hits do you think she'll choose for each of the Top 5? Which of her songs do you believe they SHOULD sing?
Sunday's #AmericanIdol guest mentor is the incredible @CarrieUnderwood — and they're each singing one of her songs! ??

What do you hope Carrie picks for @NoahThompsonMu1?? pic.twitter.com/pMcSeou0ex

— American Idol (@AmericanIdol) May 12, 2022
American Idol airs coast to coast on ABC Sunday May 15 at 8 pm ET/5 pm PT. Fans can vote throughout the broadcast until after the last commercial break. At the end of the episode, host Ryan Seacrest will announce the Top 3 finalists moving on to the May 22 Grand Finale.
Lionel Richie, Katy Perry and Luke Bryan sit on the judges panel.