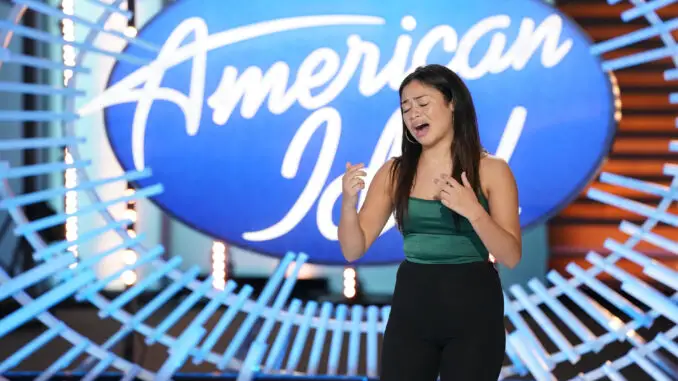 American Idol's landmark season 20 auditions end on Sunday (March 27). After ABC broadcasts the 2022 Academy Awards, a special hour-long audition episode will air on ABC after the local news (11:35 if the Oscars don't overrun). More hopefuls will sing in front of judges Lionel Richie, Katy Perry and Luke Bryan in Austin, Los Angeles and Nashville. Host Ryan Seacrest is on hand to help, as always.
Sunday's American Idol "auditions 5a" episode includes the daughter of a famous rock band drummer, a former America's  Got Talent contestant, and a returnee from Season 19.
Meet the contestants and click through the photo gallery at the bottom of the page.
*Contestant research by Blake Busch
American Idol Auditions Post-Oscars (5a) Contestants List
Scarlet Ayliz – Scarlet is a returnee from Season 19, but her audition did not air. The 18 year old from Massachusetts initially got a golden ticket, but she didn't go to Hollywood because of poor grades. (Watch her explain HERE.) She lost her father and had a difficult time growing up in a small town in a blended family. She says her music is heavily influenced by Jazz and Funk.- Instagram Tik Tok
Brooks Kidd  – Brooks graduated from South Laurel High School in London, Kentucky and currently studies at Eastern Kentucky University. He recently released a cover of "Mad World." Check out his official website. – Instagram Tik Tok
Katyrah Love – Maryland native Katyrah Davenport aka Love sings R&B. She attended Catonsville High School and performed in many open mic nights. Her Tik Tok is full of run challenges. She calls herself a singer-songwriter, percussionist, event host and poet. She's an Apollo Amature Night winner. She also auditioned for The Voice in Feb 2020.- Instagram Tik Tok
Maurice – Twenty-two year old street performer, singer and producer is from New Orleans. He's a multi-instrumentalist Country singer with Soul and Southern Rock influences. He street performs across the country, including in New York City and Denver.- Instagram Tik Tok
Ava Maybee – Los Angeles native Ava is the daughter of Chad Smith, the drummer for Red Hot Chili Peppers. She's currently a junior at New York University and has been performing for years.  – Instagram Tik Tok
Yoli Mayor – Yoli made the America's Got Talent semi-finals in 2017, the same season as fellow contestant, Christian Guardino. She's 26 years old now. During her audition, Simon complained she was old fashioned and made her sing another song. She advanced after a rendition of Ed Sheeran's "Make it Rain." Watch her AGT audition HERE.  – Instagram Tik Tok
Israel McFarland – Israel is a Nashville based pop producer, engineer and Indie singer-songwriter. He earned a 4 year degree in audio production from Liberty University. He talks about his production style HERE. – Instagram Tik Tok 
Meet more contestants
For more on American Idol contestants, check out our 31 contestant mega-guide HERE. The Voice, AGT, and returning Idol alums are profiled HERE. And meet the contestants featured in television promos HERE.
American Idol 2022 Season 20 SPOILERS are here! But please keep spoiler talk in the spoiler posts. Thank you. 
Showcase Contestant List and Song Choices
Top 24 Season 20 Contestant List
What Did Top 24 Sing in Hawaii?
American Idol 2022 Auditions 3 Contestant Photo Gallery
Click on image for full photo slide show.