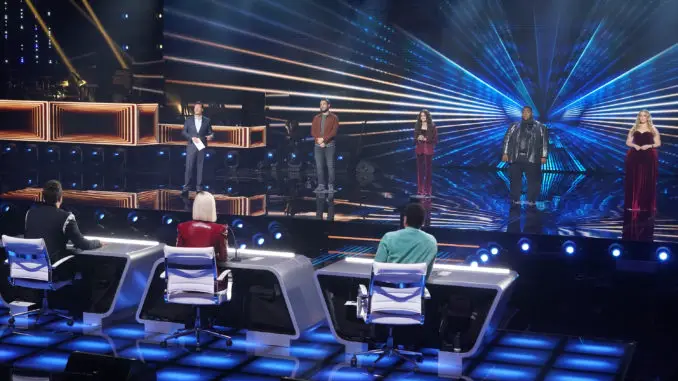 Although the American Idol Top 4 did not perform full versions of their winners singles on the show during the semi-final episode last week (May 16), Idol is promoting the songs in other ways. After a pre-show release last Friday (May 14) for all the Top 6 contestants, each singer will release music videos to their respective Youtube channels TODAY (May 21).
The releases are staggered, allowing fans to join each contestant for a 30 minute live chat before the clip drops. The Top 3 remaining finalists, Chayce
Chayce Beckham, Grace Kinstler and Willie Spence are releasing their videos ahead of the American Idol finale on Sunday May 23. But 4th place finisher, Casey Bishop and Top 7 finalists Arthur Gunn and Hunter Metts are releasing music videos as well.
American Idol 2021: Listen to the Top 4 Winners Singles Here! (Audio)
Hunter Metts Drops Romantic American Idol Single "20,000 Kisses" (Audio)
Arthur Gunn's American Idol Single "Save Me Now" Lovely, Lilting (Audio)
American Idol Top 6 Chat and Music Video Drop Schedule
Releasing winner's singles for the Top 6 is part of a new strategy coming from 19 Recordings and their new partner BMG. 
"[We want to] give the artists the opportunity to grow," says Monti Olson, executive vp and U.S. head of publishing for BMG. "Our development ideas won't be nine-month plans; it'll be 18-month plans…. We're looking at it more as artist development versus 'let's just capture lightning in a bottle right now, and if it doesn't work, we're gonna move on.'"
The music videos feature each of the Idols working on their respective singles in the studio. Each singer partnered with top notch producers to release new songs before the confetti even flew. Tricky Stewart, Ross Copperman and Ian Fitchuk were on board to help record original tracks for each of the Idol contestants. (Note: Caleb Kennedy recorded a track before American Idol disqualified him).