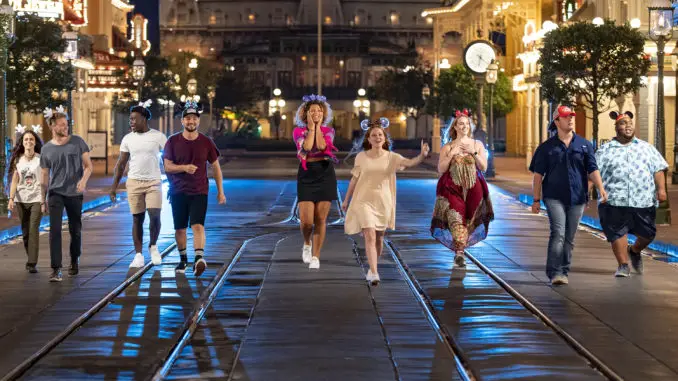 American Idol ends its Oscar break on Sunday (May 2) when the Top 10 takes the stage to perform Disney classics. Only the Top 9 headed to Disney World in Florida last week to tape segments with mentor John Stamos, be surprised by family members and more.
Check out Disney Songs (not technically spoilers, feel free to discuss in comments): American Idol 2021 Spoilers: Disney Night Top 10 Song List
At the top of Sunday's show, the winner of the Comeback episode will be revealed. That twist involves 10 contestants from last season's Top 20 vying for one spot in the 2021 Top 20. NOTE: The winner may have been spoiled HERE. But keep all spoiler comments underneath THAT post please. Some folks don't want to be spoiled! Thank you. 
By the end of Sunday's Disney themed show, THREE singers will be eliminated as fans watch and vote in real time. American Idol airs Sunday on ABC at 8 pm ET/7 PM CT/6 PM MT/5 PM PT.
Ahead of the performances, here's how I would rank the Top 10. 
American Idol 2021 Top 10 Power List
10. Deshawn Goncalves – The competition is getting VERY fierce at this stage, and unless Deshawn comes out with a spectacular performance that producers make sure to highlight (i.e pimp spot), the soulful singer will leave the competition this week. He had a much longer run than expected, considering how he flew under the radar all season. 
9. Alyssa Wray – Alyssa doesn't have a lane to herself, and I think soul singers like Grace Kinstler and Willie Spence will nab most of those votes. Also, her performances have been uneven. Although last week, her performance of an overdone song, "This is Me," was solid.
8. Caleb Kennedy – I could be delusional. But I can't bear to switch out Caleb with Cassandra or Hunter. He's the only country singer left, and could last longer, despite being an inexperienced singer. There could be a shock boot on Sunday. I'm just sayin.
7. Cassandra Coleman – Cassandra is one of my favorite singers of the season, and hopefully she brings it on Sunday. Like Alyssa, she's had her great and not so great performances. She could wind up going home this week.
6. Hunter Metts – Hunter seems to be a fan favorite, and it would be shocking if he got cut. In a recent interview, he seemed very aware of the contradictory nature of the advice judges Lionel Richie, Katy Perry and Luke Bryan have given him so far. He understands that some things they say are just for TV. I hope he tunes out the judges, and follows his own gut. Staying true to his inner vision is Hunter's best shot at staying safe.
5. Grace Kinstler – Grace moves further back in the pack after the judges slammed her "Happy." performance. Apparently, Grace needs to stay in her box. Again, she can't let the judges get in her head. 
4. Willie Spence – Willie is one of the most consistent contestants of the Top 9. His performances are effortless and confident. I expect him to make the Top 5.
3. Casey Bishop – Casey's left turn last week with a straight ahead rendition of "Over the Rainbow" came at just the right time. She's on her way up. She could even win.
2. Chayce Beckham – Chayce isn't the best vocalist of the Top 9, but he's so plain spoken and real, that he resonates with people. He's a guy who has been through a lot and come out the other side. It's a metaphor for the times we're in.
1. Comeback Kid – I'm not posting spoilers in this piece AND NEITHER ARE YOU THANK YOU! No matter who wins the Comeback spot, I think they have a built in advantage to start. They are a known quantity, and have had a year to interact with and grow  a fan base. I don't think they will necessarily win, but they definitely, at this point, have a leg up. 
Poll Results
I don't know why I didn't do a "favorite" Top 9 singer poll. But here are the results of "Favorite Performance"
Favorite Top 9 Performance: Casey Bishop (Over the Rainbow) – 25.35%; Hunter Metts (Falling Slowly) 20.52%; Willie Spence (Stand Up) 14.48%; Cassandra Coleman (Writings on the Wall) 10.21%; Ava August (City of Stars) 7.80%; Chayce Beckham (Everything I Do) 7.43%; Grace Kinstler 3.99%; Alyssa Wray (This is Me) 3.71%; Deshawn Goncalves (The Way We Were) 2.14%; Madison Watkins (Run to You) 1.67%; Beane (Time of My Life) 1.58%; Caleb Kennedy 1.11%
Check out your Comeback poll results from last week. I have also posted them in the Comeback spoiler post. Again, if you looked at the spoiler, don't reveal it here! 
The percentages fall off a cliff after Arthur, Louis and Makayla. And notice that the results are flipped between the three for the WILL vs SHOULD questions
Who WILL win the Comeback? Arthur Gunn 35.81%; Louis Knight 35.23%; Makayla Phillips 25.77%; Aliana Jester 1.16% Olivia Ximenes 0.97%; Nick Merico 0.29%; DeWayne Crocker Jr. 0.29%; Faith Becnel 0.29%; Franklin Boone 0.19%; Cyniah Elise 0.00%
Who SHOULD win the Comeback?  Makayla Phillips 40.55%; Louis Knight 28.09%; Arthur Gunn 21.01%; Aliana Jester 5.60% Olivia Ximenes 1.90%; DeWayne Crocker Jr. 0.84%; Franklin Boone 0.74%; Nick Merico 0.63%; Faith Becnel 0.63%;  Cyniah Elise 0.00%
Comeback Yay or Nay: NAY 59.91%; YAY 25.85%; Don't Care 14.24%
Check out PHOTOS from the Top 9 trip to Disney World
Fans believe the photos are filled with clues on which singer sings what song.