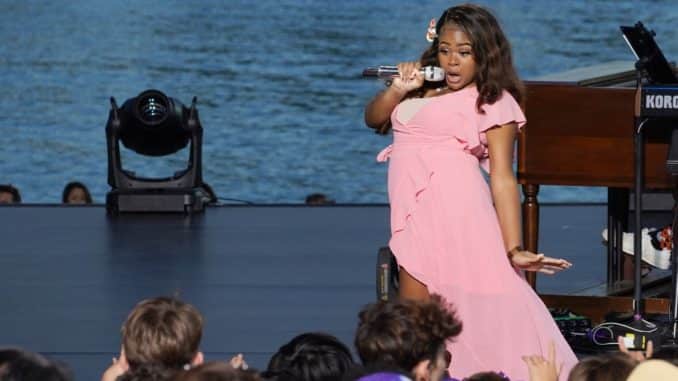 American Idol 2020 Hawaii Top 40 showcase concludes with part 2 TONIGHT on ABC at 8 pm ET/PT. The final 40 singers travelled to the Disney Aulani resort to compete for a spot in the Top 20. This round was filmed in January. Expect to be reminded constantly that the episode is PREVIOUSLY recorded. Because, of course, ABC wouldn't ship the kids and a pregnant Katy Perry (and a 70 year old Lionel Richie and heck, Luke Bryan, host Ryan Seacrest and mentor Bobby Bones too!) to Hawaii in the middle of a worldwide pandemic. And yes, there are folks who need the reminder. 
So, in this PREVIOUSLY recorded episode, the contestants perform a song of their choice on an outside stage backed by the Idol band. The following day, the judges call each to the stage, where they learn their FINAL JUDGEMENT.  Fun fact: This episode was originally scheduled as a 3 hour special. But after coronavirus concerns halted production on the show, ABC reedited the show into a two-parter to air across two Sundays. 
We've got a TON of Spoiler posts linked below. NO SPOILER DISCUSSION ON THE LIVE BLOG. Keep talk under the spoilers posts. Giving stuff away will result in an instant banning.
Full American Idol Season 18 Schedule
American Idol 2020 Spoilers: Top 20 Contestant List
American Idol 2020 Spoilers: Top 40 Showcase Round/Song Choices

Ryan Seacrest promises THE BIGGEST TWIST IN IDOL HISTORY! It's probably THIS. (Actually, it's THIS!)
The big cliffhanger from last week: Dillon James. Did he make it to the Top 20 or not? Sitting with the judges he says that he feels blessed to be here. "What we have is competition all around you," says Lionel. "I've got some good news and some great news. The good news, is you're an artist and the great news is you are in our top 20"  Katy says, "You have surrendered to not knowing. "Let go and let God" says Lionel. Major recovery speak from Lionel and Katy. Dillon leaves the judges, in tears. I have to say, I like Dillon a lot as a person. He's doing ALL the hard work to stay sane and sober. 
Dillon James IS in the Top 20
Genavieve Linkowski – You Say by Lauren Daigle – Genevieve's sister died last year in a car accident.  Her sister was her rock, without her she feels insecure. Bobby advises her to reset. "Remember why you're singing the song," he tells her. Katy thinks she could use a little growth outside of Idol. Luke notes the tragedies in her family, and that she's worked hard to grow in the last two years. However, he didn't feel a big connection with her performance, saying that she's got to deliver every time, because the competition is too fierce. Well, unless you're Louis Knight, in which case it's cool to whiff your Top 40 performance. Luke delivers the bad news. Genavieve is out. To be honest, I actually agree with Luke? Except it been a problem throughout the competition. Her performances aren't memorable. 
Genavieve is ELIMINATED
Franklin Boone  – Daughters by John Mayer – Franklin, a music teacher, first sang his song pick right before learning he would be a father. Ugh. This song is so smarmy and condescending. Otherwise, I like Franklin's smooth vocal style.  "We have to let some good people go," says Katy, "Fortunately you're not one of them!" The fake out. "You guys got me," says Franklin.
Franklin is IN the Top 20
https://www.youtube.com/watch?v=iAgTk8S8ZNY
Julia Gargano – Glitter in the Air by Pink – She impressed the judges in her audition with an original song. Not so much during Hollywood. This is a perfect song choice for Julia. Maybe she sounds a little bit TOO much like Pink? But the song fits her throaty, raspy vocals. It shows off her range. Ugh, though. I wish we could hear entire songs without voice overs. Luke thought it was great to see her step away from the piano. The judges noted her voice was hoarse. True, but she was pouring so much emotion into the song, the hoarseness on the top note worked for her. Luke believes she can go all the way, calls her a front runner. Julia is in the Top 20.
Julia IS in the Top 20
https://www.youtube.com/watch?v=AwCNUTWsWNU
Aliana Jester – This is Me from The Greatest Showman – We previewed this performance HERE. Aliana thinks her dad is back home, but then he surprises her from behind. AW. Ergh. Can we hear contestants sing please? Lionel delivers the good news. Aliana is Top 40. 
Aliana IS in the Top 40
https://www.youtube.com/watch?v=Xqq5UBQAjdE
Sophia Wackerman – Levels by Nick Jonas – Her family grew up watching American Idol. Her brother, who is in Hawaii with her father, has a condition called "Fragile X" syndrome, which causes intellectual disabilities. However, he plays the drums, and is all around musically talented, like the rest of the family. Oh gosh. This performance is kind of Vegasy. She reminds me a little of Kat McPhee, the way she's schmatzing up a pop song. She knows how to work as stage, so that's plus. Katy calls her performance was "another level." But Lionel and Luke didn't agree, she says. They loved being thrown under the bus. Nevertheless, Sophia advances to the Top 20.
Sophia Wackerman IS in the Top 20.
https://www.youtube.com/watch?v=JWvn5l9tOCg
Aunty Netti the Hawaiian healer makes another appearance, blessing people, and stuff.
Robert Taylor – Take Me To the Pilot by Elton John – His audition impressed the judges, but in Hollywood, his duet round performance devolved into a ridiculous, yelping, run-a-thon. And this gospel-ly track from Elton is DANGER DANGER DANGER for oversinging. Once again, he does too much on stage. He can't catch a breath. He ends the performance with a couple of big yelps. Robert is a good vocalist, but he needs to calm down. Luke calls his journey "interesting" and his performance "all over the map…you still have to control some of that." Welp Luke lets him know that he's eliminated. "Keep working but don't overwork it," says Katy. Good advice. Bobby arrives to console him. "You're gonna learn and grow so much from this," he says.
Robert is ELIMINATED.
Kimmy Gabriella – You Don't Do It For Me Anymore by Demi Lovato – Her dad, a "famous" musician, is in Hawaii with the 17 year old singer. Feeling that she's not the best singer compared to her fellow contestants, Kimmy plans to "show her heart." Actually, she's got beautiful vocal control, a big range that she doesn't overuse. Nothing fancy happening here. But it's lovely. She hits the big notes on the last chorus. She's pretty great! Katy thinks she needs to pick better songs. Hm. Katy calls her a pro, she loves her choices and inflections. BUT she doesn't remember her every time. "It's not enough just to be a good singer," she says. COMMERCIAL BREAK! "Now's the time to get into the whole package. You've got to figure that out…especially going into the Top 20!" Kimmy makes it, but can hardly believe it.
Kimmy IS in the Top 20
https://www.youtube.com/watch?v=FBuuDJVwyt4
A string of eliminations: We don't even hear them sing! 
Shannon Gibbons – Send My Love to Your New Lover by Adele – She's struggled with mental health her entire life. I love her tone so much! I usually hate Adele covers, but Shannon put her own spin on the song. It's also nice to hear something contemporary from her. There are a couple of pitch problems, though. Katy admits to "mixed emotions." She asks how she thinks she did. "We thought you did well, you have a cool voice…We see your potential. Unfortunately this is going to be the end of the American Idol journey for you." Aw. I really liked her. She's a little bit shocked. "It is what it is," she says. 
Shannon is ELIMINATED.
The teen girls have bonded. They all got matching rings! Here are a bunch of them in a row.
Cyniah Elise – Lady Marmalade by LaBelle – Well, this is very sassy, and surprisingly funky. A song that's covered a ton has the potential to sound tired, but Cyniah brings the goods.
Makayla Phillips – Sorry Not Sorry by Demi Lovato – She sings like a pro. She can hit the notes and work the stage. There's star power here. Lionel and Luke are on their feet. 
Lauren Spencer-Smith – Respect by Aretha Franklin – Welp. Definitely the best performance from Lauren so far. I don't remember her vocals ever sounding so soulful. 
Cyniah, Makayla and Lauren ALL advance to the Top 20!
https://www.youtube.com/watch?v=YM7GS4G76o8
Olivia Ximines – Proud Mary by Tina Turner – We previewed this performance HERE. Olivia, a dancer as well as singer, choreographed the number herself. However, she does channel Tina big time here. It's a performance straight out of a 70's variety show. All that's missing are the bewigged backup singers. Still, Olivia is a very good performer. Impressed with her ability to sing and dance at the same time. "I gotta pee!" She says as she comes off the stage. Heh. She says her high school doesn't know she's doing Idol. Oh honey, they know. Ha. Lionel says, "You're in our Top 20" as he encourages her to break her NDA. Ha ha ha.
Olivia IS in the Top 20
https://www.youtube.com/watch?v=jrrv0UArMXY
Ryan keeps teasing that TWIST YOU NEVER SAW COMING, while the teaser basically gives it away. Sheesh. 
Arthur Gunn – Is This Love by Bob Marley – One for the Rastafari, he says before his performance. Instead of an unfiltered rendition of Arthur's performance, we get Bobby sharing bromides with the singer as the performance plays. SHUT UP. Arthur doesn't possess a unique sound, but he seems comfortable in his own skin. His performances are effortless. Katy thinks he still has problems connecting sometimes, but he's getting better. "Let us in," she says. Lionel calls him pure light. The decision was easy, he says. Arthur is in the Top 20!
Arthur IS in the Top 20
https://www.youtube.com/watch?v=46P8QcMq2QQ
Demi Rae – Lonely by Demi Lovato – Hoo boy. I'm not feeling her pink party dress. Demi pours her heart out on the stage. "I want this so bad. I just want to sing." Demi says afterward. Sitting in front of the judges, the singer declares that she "feels on top of the world." But she's crying as she says it. Katy is proud of her. "This is the start of the new Demi. Nothing can take that from you. But this is the end of the American Idol journey for you." Aw. "I'm not completely broken, but rejection is never fun," she says.
Demi Rae is ELIMINATED. 
Grace Leer and Lauren Macetti remain,. BUT THERE IS ONLY ONE SPOT LEFT! *Cackle*. They are both country singers from Nashville. and became friends after rooming together all week. They don't like being pitted against each other. BUT IT'S THE IDOL WAY!
Grace Leer – Natural Woman by Aretha Franklin – She competed on American Juniors way back when. For her Top 40 performance, she goes straight up R&B, revealing a soulful side. She reminds me a little of the singer from Lady Antebellum. There are some great, soulful country singers. American Idol 16 alum Gabby Barrett fits into this category as well. "She checked all the boxes on that," says Luke.
Lauren Mascitti – Two More Bottles of Wine by Emmylou Harris – Lauren sticks to country.  Hm. Her vocal presentation is bland? I can't help comparing her to Emmylou, who is authentic from the top of her grey head down to her toes. If I had to pick between Lauren and Grace based on this performance, I'd pick Grace.
The judges reveal that only one spot remains. OH NOESSSSS. The judges go on and on and on….Luke finally says, "We couldn't make a decision, we couldn't agree." Cut to the two walking away from the stage, shocked. They head to the holding room where their families are waiting. At first it's a fake out! Until Lauren and Grace reveal they BOTH advanced to the next round! BUT THERE IS A CATCH! While the judges "couldn't decide" which to choose, it will NOW BE UP TO AMERICA TO CHOOSE. For the first time this season, voting is open!
Fans CAN VOTE NOW FOR EITHER LAUREN OR GRACE.  America DECIDES which will go through. VOTE HERE or via the American Idol phone app. Voting closes Tuesday April 7 at 9 am ET.
https://www.youtube.com/watch?v=QxFFn-Ubihs
Top 20 Contestants
Nick Murico
Dewayne Crocker Jr.
Louis Knight
Francisco Martin
Jovin Webb
Faith Becnel
Just Sam
Jonny West

Dillon James
Franklin Boone
Julia Gargano
Aliana Jester
Sophia Wackerman
Kimmy Gabriella
Cyniah Elise
Makayla Phillips
Lauren Spencer-Smith
Olivia Ximines
Arthur Gunn
*Grace Leer
*Lauren Mascitti
Eliminated:
Makayla Brownlee
Camryn Lee Smith
Devon Alexander
Jordan Jones
Geena
Amber Fiedler
Genavieve Linkowski
Robert Taylor
Shannon Gibbons
Demi Rae
Bilaal Avaz 
Cameron Havens 
Elyjuh Rene
Jeb Vonderbruegge 
Natalie Jane
Perrin York
Travis Finlay
Grace Lundy
Amelia