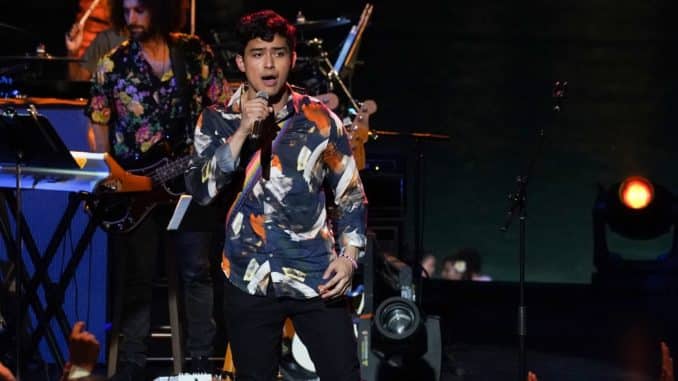 American Idol 2020 Hawaii Top 40 showcase kicks off with part 1 TONIGHT on ABC at 8 pm ET/PT. The final 40 singers travelled to the Disney Aulani resort to compete for a spot in the Top 20. This round was filmed in January. Expect to be reminded constantly that the episode is PREVIOUSLY recorded. Because, of course, ABC wouldn't ship the kids and a pregnant Katy Perry (and a 70 year old Lionel Richie and heck, Luke Bryan, host Ryan Seacrest and mentor Bobby Bones too!) to Hawaii in the middle of a worldwide pandemic. And yes, there are folks who need the reminder. 
So, in this PREVIOUSLY recorded episode, the contestants perform a song of their choice on an outside stage backed by the Idol band. The following day, the judges call each to the stage, where they learn their FINAL JUDGEMENT.  Fun fact: This episode was originally scheduled as a 3 hour special. But after coronavirus concerns halted production on the show, ABC reedited the show into a two-parter to air across two Sundays. 
We've got a TON of Spoiler posts linked below. NO SPOILER DISCUSSION ON THE LIVE BLOG. Keep talk under the spoilers posts. Giving stuff away will result in an instant banning.
Full American Idol Season 18 Schedule
American Idol 2020 Spoilers: Top 20 Contestant List
American Idol 2020 Spoilers: Top 40 Showcase Round/Song Choices

The show opens with Ryan Seacrest beaming in from home with a coronavirus messange and of course HE REMINDS US IN NO UNCERTAIN TERMS THAT THE EPISODE IS PRERECORDED. NO KIDDOS OR PREGNANT PEOPLE WERE HARMED IN THIS EPISODE.
A little opening clip has the cast operating on Island time, and ends with Ryan buried in sand.  Another disclaimer asks curious viewers to check out the Aulani website. Because, ya'll can't go there now. 
This year, making it to the Top 20 means making it to America's Vote! In past seasons, the judges would choose the Top 14, which is why the Top 20 semifinals weren't taped weeks ago.
Nick Murico – When I Was Your Man by Bruno Mars – Sitting in front of the judges, Lionel reminds Nick that he didn't like Him at first (Not really, c'mon that was a bit). Cut to Nick crooning the Bruno Mars ballad. He picked the song because it's his mom's favorite. She's his biggest fan and toughest critic. Note: Pick a song because it's suitable for you, not to please a parent! There are some super pitchy moments in the bridge. Cut to the screaming girls in the audience. Back in front of the judges, Nick claims that after Lionel lectured him, he got to work. It shows, says Lionel, which is why the judges are advancing him to the Top 20. Dang. It's gotta be all about his heartthrob potential. Nick's singing is generic. 
Nick IS in the Top 20
https://www.youtube.com/watch?v=Dhl4TmA89MA
Makayla Brownlee – More Hearts than Mine by Ingrid Andress – Makayla sits with Bobby to share more details on the seizure she suffered in Hollywood. "It's humiliating, it's embarrassing," she admits. But the positive reaction afterward meant everything.  Bobby dials up his good friend Ingrid for some advice. "Don't oversing it," Ingrid says. Makayla changed up the song A LOT she says. This is a little pitchy. Or maybe her vocal swoops and wide vibrato are getting in the way. This is her weakest performance to date. Luke makes a face like he smells something bad. She exits the stage in tears. Maybe she knows that she blew it. Luke is very disappointed that she changed the arrangement so much. At the final judgement, Lionel feels she let the song get away from her. Luke says it wasn't her strongest performance. "You aren't going to make it into the top 20. But we love you." Still, Makayla takes the rejection well and is thankful for everything. 
Makayla Brownlee is ELIMINATED
Dewayne Crocker Jr. – Old Towne Road by Lil Nas X – Dwayne's mother, grandmother and great grandmother are here, enjoying the pool. The women in his life have had a huge influence on him.  Sporting a black cowboy hat, Dwayne puts a reggae spin on the massive country hit. Now THIS arrangement works. He slows it up, which allows him to show off his soulful adlibs. The judges are dancing along. The best performance from Dwayne so far. At final judgment, Lionel admits he was skeptical of the cowboy hat, but the performance changed his mind. Lionel wants to know what grandma will wear in Hollywood!
Dewayne Crocker Jr is IN the Top 2o
https://www.youtube.com/watch?v=SyfZZWPoc18
Camryn Lee Smith – Break Every Chain by Tasha Cobbs – The judges loved her audition, especially Katy. But she struggled in Hollywood. Other than National Anthems, she only sings in church. For Top 40, she chooses a worship song. American Idol released a preview of this performance, that even spoiled the result. Dang. Anway. Jesus is her world, and obviously her family's too. They're in the audience blissed out, praying and waving. She's not the best vocalist, but she sings with passion. Lionel didn't connect. "What is the best thing I can sing that would include every one," asks Katy who ditched Christian music to become a star. She thinks Camryn didn't take the necessary risk. Lauren Daigle is relatable, she says. Camryn won't be advancing to the Top 20. One big hint her elimination was imminent: We've barely seen her all season. 
Camryn Lee Smith is Eliminated
https://www.youtube.com/watch?v=CLb9E46I_Pk
Devon Alexander – Tell Me You Love Me by Demi Lovato – Oh. bad song pick for Devon. He should stick to blue eyed soul. The song improves by the end. But he could have KILLED it with a better song choice. 
Jordan Jones – Redbone by Childish Gambino – Jordan says he's taking the judges advice to cut back runs. It's a solid performance, but I'm not feeling much charisma from this guy.
Geena – Finesse by Bruno Mars – I like Geena. I wish we had seen more from her. She throws a few dance moves into the performance. I like her quirkiness. 
Devon Alexander, Jordan Jones and Geena are eliminated.
Louis Knight – Castle on the Hill by Ed Sheeran – He picked the song, because it reminds him of his English home. Bobby and Lois admit that rehearsals did not go well. He's barefoot! The song begins in his lower register, and is structured in a way that it doesn't break free until the chorus. The chance for a payoff takes a while, but never really comes. As catchy as Castle on Hill is, it's not a great competition song. Vulnerability is Louis' sweet spot. His previous ballads were MUCH better. Louis is aware he didn't nail it. The judges know it too.  Katy says he needs to stay in his heart, not in his head. "You need to get back to that place," she says. Oooh. We gotta wait through a commercial break to find out Louis' fate. Katy says, "Your future based on last night was not there…but we roll the dice…we got a bet on you…Louis you're going to the next level!" He sobs at the news. 
Louis Knight IS in the Top 20
Francisco Martin – Falling by Harry Styles – In a chat with Bobby, Francisco shares more about his nerves and stage fright. Francisco reveals that he had a falling out with his friends and over his "insecurities." The way he describes it, isolating himself from loved ones, sounds like depression. Now, this is a good song choice. Francisco is best on songs that allow him to display urgency and passion. Eventually, he throws his guitar behind him, and picks up the mic. He doesn't seem nervous at all…until the last note. His face falls a little. He apologizes for being so emotional. The next day, Katy says she doesn't recognize him anymore…and that's a good thing. "Is that Bruno Mars up there?" she teases. "You check every box," says Luke, "You're a wonderful talent." Francisco is in the Top 20.
Francisco Martin IS in the Top 20
https://www.youtube.com/watch?v=b4IDCCJDCTg
Jovin Webb – You Are the Best Thing by Ray Lamontagne – Lionel is looking for INSTANT IDENTITY, which he believes The singer has brought to the competition. Jovin makes it look super easy. His breezy yet energetic rendition of "You Are The Best Thing" manages to be both lighthearted and emotional. His vocals and presence pop on stage. At 29, it's Jovin's last crack at Idol. "You didn't hit all the notes," says Lionel, but believes he has something more important. "Artistry," says Luke. They try to fake out Jovin. It's a pretty lame attempt.
Jovin IS in the Top 20
https://www.youtube.com/watch?v=9a3g6mqv2Kg
Faith Becnel – Ain't Nobody by Chaka Khan and Rufus – Faith has been trying to find her comfort zone on stage. I don't think she has. The Chaka Khan jam is totally the wrong song. Her vibrato is distracting and pulls her off key. Luke calls her intriguing and fun. "Last night was not a step up for you." They don't love her vocal tics. But still, seemingly based on her personality? She makes the Top 20. 
Faith Becnel IS in the Top 20
https://www.youtube.com/watch?v=tPA2A51Lug8
Amber Fiedler – Good Kisser by Lake Street Drive – Apparently, she struggled some in Hollywood, especially during duets. What is this song? It's bad. This performance is disappointing. She's so soulful, but here she's powering through the high notes, and it's not good. She feels satisfied after her performance. She wouldn't change a thing. "I felt my grandma on stage with me." Luke knows, with the recent birth of her baby, she's going through a lot. Katy feels she didn't step it up. "You lost sight of the prize last night, too unbridled," says Luke, "You got to keep the vocals at the highest level." She doesn't make the Top 20. Ambers sobs. She put so much of herself into her journey, and still it wasn't enough, she says.
Amber Fiedler is Eliminated
https://www.youtube.com/watch?v=t1yzLvotOVY
Just Sam – Como La Flor (Like the Flower) by Selena Y Los Dinos – She hasn't always felt confidence in herself. But on Idol, she feels like she has a "team." Tonight, she will sing a song in Spanish. She is not fluent in the language! And yet, she tosses this song off like it's so easy. Sam is really a natural talent. She takes a risk on something completely different from what she did before. and it pays off. The judges give her a standing ovation. "That's what we call a metamorphosis," gushes Katy, Calling her performance, elegant, beautiful and feminine. "I couldn't be more proud, if you were my own child," says Lionel. Sam felt comfortable and beautiful for the first time, she says. They don't even try to fake her out. Sam is in the Top 20. Sam couldn't afford to bring grandma to Hawaii, so she calls her with the good news.
Just Sam IS in the Top 20
https://www.youtube.com/watch?v=VfavP8QgGNY
Jonny West – You Found Me by The Fray – Jonny had to say goodbye to his girlfriend Margie Mays in Hollywood. I get the sense that he leans heavily on her for emotional support. Jonny grew up in California. He wasn't into sports, so he turned to music. His parents talked him out of working as a truck driver! Margie is in the audience. Jonny singing a piano driven version of the song, is a little tentative at first. He has some pitch problems, but gets lost in the performance by the end. Katy thinks he's a "real serious artist." She wonders if he's self-sabotaging. Lionel calls artists egomaniacs with inferiority complexes. He stresses that it's a balance. Nevertheless, Jonny makes the Top 20 Katy advises"Block that b****" referring to his self doubt.
Jonny IS in the Top 20
https://www.youtube.com/watch?v=2Rd8CMV1kOE
Dillon James – The Times They Are a Changin' by Bob Dylan – We previewed this performance HERE. He doesn't like to compare himself to others. There is so much talent! He begins, with solo guitar accompaniment. It's a rather bold song choice. It's a song wedded to the 60s. The risk is sounding dated. But his unique vocals bring a fresh take on the old classic. Katy wishes he leaned into the emotional part of his voice. She has a point. His performance was a little too smiley. "You have come through a tunnel," says Lionel. "Last night you came out of that tunnel" and…. CLIFFHANGER FOR NEXT SUNDAY. Plus a twist.
https://www.youtube.com/watch?v=FU1lxa5-Cgw
If you want to know the Top 20 results, and the probable twist. CHECK OUT THE TOP 20 SPOILERS. They are accurate so far. 
Top 20 Contestants
Nick Murico
Dewayne Crocker Jr.
Louis Knight
Francisco Martin
Jovin Webb
Faith Becnel
Just Sam
Jonny West

Eliminated:
Makayla Brownlee
Camryn Lee Smith
Devon Alexander
Jordan Jones
Geena
Amber Fiedler
CLIFFHANGER RESULTS FOR NEXT SUNDAY
Dillon James