American Idol Auditions end on Sunday March 16. Meet the last batch of contestants auditioning in Savannah, Georgia; Milwaukee, Wisconsin; Washington, D.C.; Los Angeles, California; and Sunriver, set to air on ABC at 8 pm ET/PT.
In an American Idol first, an audition takes place on a yacht, where the judges will deliberate on whether or not their "boat vote" will send a hopeful to Hollywood. While in Milwaukee, a contestant who got her first taste of stardom on American Juniors reunites with Ryan Seacrest as she returns to the audition room; and later, another contestant shares a unique emotional and personal story that touches the judges in Oregon.
YES THERE ARE American Idol 2020 SPOILERS!
Check em out below. But KEEP SPOILER TALK under the spoiler posts. Thank you very much!
American Idol 2020 Spoilers – Top 20 Contestant List
American Idol 2020 Spoilers: Top 40 Showcase Round Contestant List, Song Choices
American Idol 2020 Hollywood Spoilers: Season 18 Top 70 Contestant List

Check out the hopeful set for Sunday's episode. See the photo gallery below.
American Idol 2020 Auditions 4 Contestants
Makayla Brownlee – 17 year old from Wellington Kansas, who comes from a family of musicians, skipped to the head of the audition line thanks to winning a local TV contest. She also won a local contest. –  Instagram Facebook Interview with KAKE
Amber Fiedler – Idaho singer attended the Idaho Acting State for Solo Serious and Musical Ensemble. It looks like she did some musical theater and pursued acting. –  Instagram
Jafar Hurambi – Well, he's fabulous, I guess. Not a serious singer, Jafar seems to be looking to lift his social media presence. Twitter Youtube
Jahzan – Teen singer is known for performing in the subway. One of the episode still depicts her singing with her mom, like she does on the platform. – Youtube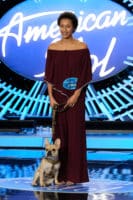 Aliana Jester – Fort Walton Beach Florida singer. She told a local newspaper that she has a traumatic past, but is saving it for her backstory. – Instagram – Youtube
Meghan Knight – "Megan Knight is an incredibly soulful and impassioned singer-songwriter, born in Southern New Jersey," says her website bio. "At an early age, Megan knew that she wanted to make singing, songwriting and performing her life-long career." She released her first three song EP in 2012 at the age of 14. She followed that EP with a full length record in 2015, recorded in Alabama. Her latest song is "Bad Decision" released in 2019. Meghan is currently on tour. Instagram Facebook Youtube
Grace Leer – Grace competed on American Juniors back in 2003 and was eliminated in the semifinals. –  Instagram – Facebook – Youtube – Website Biography
Jordan Moyes – Twenty-Five year old from Provo Utah released a an EP in 2019 titled I Was Young, I Was Old. The song "Not That Far Away" was written for his late mother (backstory revealed!). Check out an interview on FOX here. Instagram Facebook Youtube
Justin Oliver – Tuscaloosa, Alabama based musician has a single out right now called "If You Love Me."  Instagram Facebook Youtube
Demi Rae – American Idol previewed her audition on Youtube. Check it out HERE. Demi won San Jose Idol back in 2008.  Facebook – Youtube 
Gilberto Rivera – He's a mystery! Found musicians with the same name. But then again, I get the feeling this Gilberto is a joke contestant.
Luke Stafford – A jazz and standards singer, Luke has released an album titled H.O.M.E, a "full-length, cinematic album," adding that, "Each music video and song connects in storyline and plot, following the adventure of a young man on a journey of self-discovery." Instagram Facebook Youtube
Robert Taylor – Rob was 22, from Donaldsonville, Louisiana, when he turned a chair on The Voice 8 in 2015. His backstory at the time:  He was only in 6th grade when his mom had a stroke that left her partially paralyzed. He became her caretaker. After high school, he was accepted to Berklee, but decided to stay home for mom. He sang "I Want You" for his audition. and "Earned It" for the Playoffs where he was saved by Coach Christina Aguilera. Rob was eliminated at Top 10 after singing for the Instant Save. –  Instagram Youtube
PHOTO GALLERY