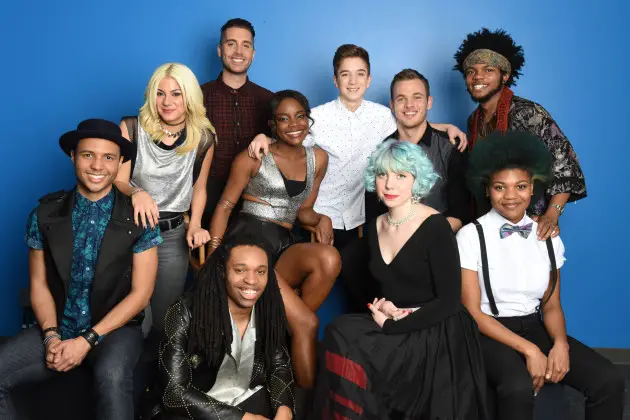 Scott Borchetta recently spoke with Lyndsey Parker of Yahoo Music about his role on American Idol. The mentor and Big Machine Label chief also shared his thoughts on each of the remaining Top 11 finalists.
Scott believes the contestants should be ready for anything. This soundbite is how he would likely respond to fans concerned that the new Idol format, which combines performance/results, is negatively affecting the singers' performances:
"This is not a perfect world. Things will go wrong [on live TV]; that's a guarantee. How are you going to handle it when Kanye runs up onstage and grabs a trophy from you?" he jokes, when asked about the nerves that hampered a few contestants' performances this week. "You have got to be ready. It's like being on the beach at Normandy — like, 'All right, where are the bullets coming from, and how am I going to handle this?' You have to be ready. It's part of being a star."
Scott tells Yahoo Music that he he's already picked out his dream top five in his head.
I'm going to cut and paste a few of Scott's contestant summaries, but you can read them ALL at Yahoo Music.
JAX

"Jax is one of the handful of contestants that come in with a very good definition of who they are as an artist, and so that gives them a leg up over some of the other ones, who need a little bit more development. Jax is super-musical and she's a great collaborator. I'm very excited about her. She's a contender."

CLARK BECKHAM

"Clark is definitely one of the best singers that we've got, but there are areas that I think are pretty obvious that he has to work on, and his performance is one of them. We've also got to expand what he does from a song-selection standpoint. We've basically done a bunch of bluesy songs so far, so now he's going to have to show, if he's going to be a pop artist, it needs to become more defined. Let's get into some songs that are current and let's really show how he would fit into the pop music landscape… We're going to have to get him a lot more current if he's going to win, and he's going to have to understand that. He is very specific in the things he's wanted to do; he's going to have to collaborate better."

DANIEL SEAVEY

"There's always a chance that when you have a really young contestant, you say, 'Man, if I could take that guy or that girl out of this for a year and work with them and bring them back, we'd be so much better off.' But you know what, it's a competition; they're in it, and we have to do the best that we can. And the great thing about Daniel is he is stepping up every week. He is self-aware and knows he doesn't have a chance to say, 'Hey, give me another year, let me come back and knock everybody's heads off.' He's going for it right now, and he gets that."
What do you think of his assessments so far?