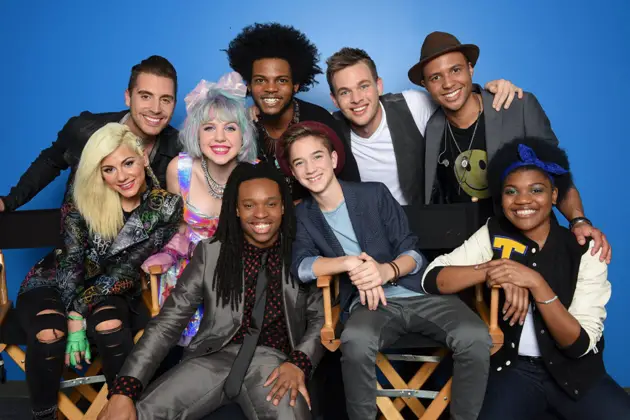 Mac & MJ present their Top 9 Power lists for your consideration. Leave your thoughts in comments! American Idol airs Wednesday at 8/7c PM on FOX. Kelly Clarkson mentors the Top 9 as they tackle her vast catalog of songs!
MAC: 1) Clark Beckham – Yeah, he's still the frontrunner. He had the best performance last week with Every Breath You Take. Honestly, he's not a lock. This bench runs deep, and anyone could change the rankings with a really strong performance.
MJ: 1) Clark Beckham – Yep. Clark is still top dog. Every Breath You Take was a terrific performance. If he keeps the momentum going, he's going to be hard to beat. I would not be surprised if he's garnering the most votes week in and week out. Clark is the one two punch: He's the type of contestant Idol fans love (HAC leaning white guy from the south) and also a terrific singer. That's a solid combo.
MAC: 2) Jax– If Joey doesn't get docked points because her version of Mad World didn't compare to Adam Lambert's, then Jax shouldn't for not being Blake Lewis. Sure, she didn't reinvent the wheel like he did, but she had a completely different take on the song. It was softer, it was very much Jax. The thing I love most about Jax is that I know exactly who she is as an artist, and what kind of record she'd make. And I want to buy that record.
MJ: 2) Jax – I would never dock her points because of Blake Lewis. My own personal view is that no Idol cover is so sacred, it should never be attempted again. Jax certainly put her own spin on the song. There was some stuff in the middle I didn't love, but overall it was a beautifully delivered performance that showcased the singer's artistry. Definitely my number two for the week.
MAC: 3) Nick Fradiani– Welcome to the game, Nick. Fans who thought I was underranking Nick should be happy. Now I see Nick. Man In The Mirror was one of the best songs last week, and it showed who he could be as an artist if he really wanted to be. I gotta say, dropping the guitar allowed him to interject more personality, and have to really connect with the audience and the viewers at home. I think he has trouble doing both his instrument and connecting fully. Nick is officially in this game.
MJ: 3) Quentin Alexander – Nick hasn't had that break out performance I've been waiting for. Quentin, on the other hand, keeps bringing fresh and unique interpretations to great songs. I don't think Quentin can win at this point, no matter what he does. But what he can do every week is make a compelling case for himself as an artist–which, will only help his post-Idol career.
MAC: 4) Joey Cook – I'm just going to call that a speed bump in Joey's trajectory in the show. She's had so many good performances that I'm not going to knock her immediately down for one bad performance. She slid one rank for me, but I think she'll pull it together this week.
MJ: 4) Tyanna Jones – I thought Tyanna made a pretty solid comeback this week. I Wanna Dance with Somebody would be a disaster for most Idol contestants, but the young singer really knows how to pull off uptempo numbers. The tune was right in her wheelhouse. Her energy is infectious. Having said that, I sensed a loss of nerve this week. She wasn't quite as confident as she's been in the past. I hope she doesn't allow a bad week to set her back.
MAC: 5) Quentin Alexander – He's even for me. In The Air Tonight was typical Quentin. I'm now at a point where I think he needs to go uptempo again, because these ballads aren't going to get him to the finale.
MJ: 5) Nick Fradiani –  Personally, I'm STILL waiting for Nick's breakout performance. I still feel like he's holding himself back. "Man in the Mirror" is a deeply emotional and personal statement. Nick could have dug deeper, I think. However, it was another solid performance from the singer. He remains consistent, and true to who he is as an artist. He's not going anywhere.
MAC: 6) Tyanna Jones – Circle Of Life was a setback, I Wanna Dance With Somebody was just like… a leveling off? She stopped her descent, but it wasn't enough to throw her back in the competition and turn her into a buzzy singer again. It wasn't a great song choice. It's a little overdone. I pulled her down this week because I think a lot of other singers are just stepping it up more right now.
MJ: 6) Joey Cook – Her "Girls Just Want to Have Fun" was such a disappointment, that I had to knock her down past singers who either made a comeback/remained consistent. Her best performances are when she completely re-interprets a song. This was too close to the iconic original. The comparisons were inevitable. Plus, she just seemed completely off her game.
MAC: I still think Joey's body of work so far this season has built her up a large enough following that one bad performance shouldn't throw her out of the top five. Even if it was the worst performance of the night.
MAC: 7) Qaasim Middleton – You get saved, so you sing Addicted To Love? Qaasim still has to prove to the world he's a singer. He needs to pick a straight up ballad, reign in all of his crazy showman stuff, and just sing a song. Otherwise, he's going to be pegged as the biggest waste of the save since Sam Woolf. Wait… that was last season, wasn't it?
MJ: 7) Qaasim Middleton – The week Qaasim attempts to "just sing a song" is the week he goes home for reals. The dude has limited vocals, period.  Actually, "Addicted to Love" was an attempt to just sing. The antics were scaled way back. While the vocal improved, the performance suffered. He keeps advancing because folks love his antics. In the few weeks he's got left in the competition, he needs to just break out the choreography and have a ball.
MAC: 8) Rayvon Owen – I didn't completely hate his rendition of Everybody Wants To Rule The World, but it felt rather pointless. And it made me question, again, what kind of artist Rayvon can actually be. He seems to be perfectly fine with coasting, and not trying to "wow" his audience. This was an attempt at going up-tempo, and it kinda fell flat. I'm assuming that he'll be safe this week, since he was "in the bottom 3" last week. Anyone who got scared for Rayvon should have added to his votes. Plus, isn't it time for Daniel to go home?
MJ: 8) Daniel Seavey – Last week, when one of the judges asked Daniel what he wanted, and he answered "to make people happy," I thought to myself, "No way is this kid going home yet."  Week in and week out, he delivers underbaked performances. He's in over his head. But his adorableness and general likability is bringing in the votes, for now. I think he's good for this week and maybe next. I hope I'm wrong though.
MAC: I think Daniel has the producers working against him. He pretty consistently performs at or near the top of the show, as if the producers are trying to torpedo his chances by making him the most forgettable slot. I could say the same about Rayvon though, who didn't have a good edit this week. That whole "he doesn't listen" arc isn't going to help him moving forward.
MAC: 9) Daniel Seavey– Is it time to send Daniel home now? That wasn't a good song choice, and he again failed to bring any sort of life to it. It wasn't the worst of the night, I'll be honest, but it was entirely pointless. It was just a notch above the worst, and it is somewhere in the forgettable territory. Hopefully, this is the last time we'll be ranking Daniel Seavey.
MJ: 9) Rayvon Owen –  Everybody Wants to Rule the World was OK, but nothing special.  That's the trouble with Rayvon–he's been unmemorable for a few weeks now, and what's worse, he flat out said, straight to the camera, that he's just fine the way he is. His unwillingness to take notes or improve is flirting with arrogance, which never sits well with Idol voters. I think he's in trouble this week.
MAC: You may be right. I just gotta think that Rayvon might have a little bump from being in the bottom 3 that might send someone else home. If not Rayvon, if not Daniel, then who? That's where it gets a little scary.
MJ: Never rule out a surprise boot!