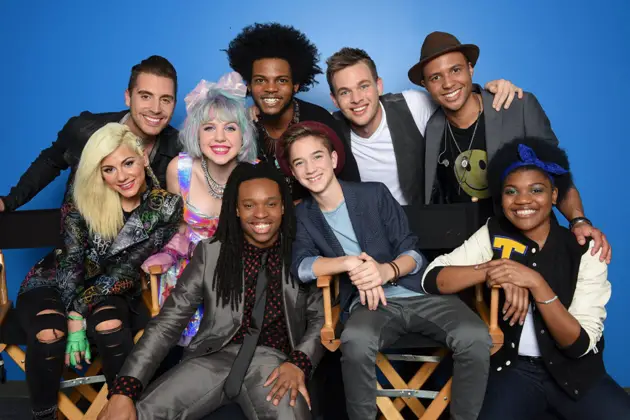 Hey guys, Adam here with another song suggestions article! The American Idol 14 performance/results show airs on Wednesday April 1. Original winner Kelly Clarkson will be mentoring the Top 9 as they take on the singer's vast catalog.
If I said I was nervous about results last week, this coming elimination has me downright worried. To a tee so far, this season of Idol's elimination is following in the footsteps of season 10. Let me break it down for you this way: a girl goes home top 12 (Sarina and Karen, both girls), a early male front runner is then saved top 11 week (Qaasim and Casey, both males), followed by 2 female contestants going home to make a top 9 (Maddie, Adanna and Naima, Thia, both times both were females). Now, if we were to continue this trend into the coming week, the dreaded week that we lost favorite Pia Toscano, the trend dictates that we will lose a female frontrunner.
Now do you see why I am worried!? What are you people waiting for!? Get back to voting for JAX, Tyanna and Joey!!!!!
Ignoring my fears for this coming week, I must say, I am super stoked for this upcoming Kelly Clarkson songbook theme! Last week, when the contestants took on the 80s, I was super disappointed with their song choices (I wish SOMEONE had just done the Taken By Trees version of Sweet Child O' Mine), and personally, I think my suggestions were much better, but since this is a fresh week I am looking forward with a positive perspective. I just hope the contestants really dig deep into the KC songbook, because there are quite a few gems that did not get so much attention in the past.
I must say though, as much as I love me some Kelly Clarkson, her songs are REALLY hard to pull off and are known for her hard to hit glory notes. I don't think I remember anyone on any of these shows who took on one of her songs and actually managed to outdo her. Since Kelly's songs are tailor made for her voice, it is going to be very hard for some contestants to reach her legendary level, so picking out which song fits closest to their range is going to be key. What I'm saying is, don't even try to outdo the queen, not only will you will never succeed, but you will just make yourself look inferior. What I will be looking for in these contestant's song picks, are songs that they can try and put their own twists on and make their own.
Honestly, if I was a contestant this season, I would steer clear of Queen Kelly's power anthems (People Like Us, Stronger, Since U Been Gone etc), and try for a more obscure song that not everyone would be familiar with. That way, at least people won't know the original to compare you to, but that is just me. The thing about Kelly's songs, is that her most popular singles are also the hardest in her songbook to actually sing live, so for the contestants, I hope they don't pick a song based on how well Kelly makes it sound.
One last thing: I really hope A Moment Like This, is not touched or butchered this week. That song is Idol history and should forever remain untouchable.
Rant over.
Alright, enough introduction, on to the song suggestions!
Clark Beckham
Clark is yet to have a real stumble yet this season, can he go all the way without having one? While deep down I know he is the destined chosen one who will be taking it all, I still want Clark to keep taking risks. I want his inevitable victory to be deserved, and since he is already so high up, I want to see him do something totally risky. Clark is at a point where he can afford a meh performance or 2, so why not take a risk at this point while he can still afford it?
1- Mr. Know It All, by Kelly Clarkson. When I was talking about Clark taking a risk this week, I had this song in mind for him. I know it would be a little weird, but if he switches up a few lyrics here and there and does the acoustic version that I found of Kelly's, I think it will truly be an incredible moment. I can totally hear Clark's voice fitting into the lyrics so well that this needs to happen! Just imagine how incredible hearing a male's take on this song would be!
2- Why Don't You Try, by Kelly Clarkson. This song fits perfectly in Clark's wheelhouse. While this song won't be a risk, and he will basically be giving the same kind of performance as he has in the past, I still think he could very much pull this song off. I can already hear where he will be putting the growls if he does this song. I would prefer to hear Clark do Mr. Know It All, but this song does have an old sounding vibe like all the other songs he has done in the past, so I would not be surprised if he settles on this one.
Song To Stay Away From: Stronger. My biggest fear regarding this theme week is that the contestants will be handed a list of 20 songs, which will basically be Kelly's greatest hits album, and that the contestants will just settle on a song from the list. For Clark, searching and finding that right song will be integral to his performance this week, and if he chooses a song like Since U Been Gone, Stronger or People Like Us over digging deep into the other songs Kelly has done, I worry since the songs are not in his wheelhouse that he won't be able to deliver as well. Don't stick to the list this week Clark (unless you want to take a risk and do a dramatic rearrangement of a song, which I would be all for), but rather look deep into Kelly's catalog and go for something that fits and sounds right with your voice.
Daniel Seavey
I'm going to just put it out there: this week is going to be TOUGH for Daniel. Not only does Daniel's voice not even come near the level that Kelly's is at, but most of her songs just don't fit into his wheelhouse. Even for me picking out songs for him was tough, so please don't beat me up in the comments if you disagree. After all, anything I pick is honestly gonna be a wobbly fit for the kid, so if you have a better idea I'd love to hear what you dig up in the comments.
1- Maybe, by Kelly Clarkson. I'm sure Daniel could interpret this song to represent his run on Idol and really connect to the lyrics. I can already picture him doing this with his acoustic guitar. The more I think about it, the more I think this is actually the perfect song for Daniel this week. I hope though if he does this song, that he keeps it in the acoustic ground like the beginning part all the way through.
2- Some Kind Of Miracle, by Kelly Clarkson. This seems like the kind of song Daniel would do, and I think it has a simple enough melody for him to do well with it. In my opinion, the best possible song for Daniel this week is Maybe, but at the same time, Some Kind of Miracle is the kind of song I see him doing this week. Watch him end up doing a cringe-worthy version of Since U Been Gone as I facepalm myself.
Song To Stay Away From: Breakaway. I have a feeling he might be considering this song, and if he is wondering if he can pull it off, I suggest he check out how Lazaro Arbos did with it; that should scar him for life and keep him away from this song. Not to be mean or anything, I just don't think Daniel in any way would be able to do this song justice (or even pull it off at all), so I think it would be best if he just left this one alone and goes for a more obscure song.
JAX
Despite the train-wreck I thought it would be, my favorite contestant this season wowed me with her version of that Bon Jovi song. I think JAX might be back people! I must say though, of all the girls this season, JAX is the one I am most worried might be Pia'd, but I am swallowing that thought with an Advil every couple of hours so that I don't think of that possibly horrible situation. Anyway, moving forward, as I have been saying for weeks now, JAX needs a piano moment, meaning she does a ballad and stays at the piano the entire time! I hope we get that moment from her this week with my number one pick for her:
1- Because Of You, by Kelly Clarkson. If this was any other week, I would absolutely never EVER suggest anyone on Idol EVER perform this song. For me, this is Kelly's signature song, and is basically her opened diary, making it basically sacred ground. However, since this is going to be Kelly week, I know in my gut someone is going to be doing this song, so if I had to give it to someone, the only Idol contestant I would let try it is JAX. I think this could be that piano moment (if she actually does it all there) that would push her to that number 1 spot.
2- Sober, by Kelly Clarkson. I recently discovered this song listening to Pandora radio. Since discovering it I truly have fallen in love with its lyrics and meanings, and now I really want to hear JAX's interpretation of this song (hopefully she would do it all behind the piano). This song has such an epic buildup and such a purity to it that I think it would be amazing for her. This could be the moment that JAX has been waiting all season for. Hear Me could also be a great choice.
Song To Stay Away From: My Life Would Suck Without You. I know this is tempting JAX, and I know you love those pop songs, but please just stick to the piano. We really need a piano moment from you this week, JAX.
Joey Cook
Yipes.
I am a huge fan of Joey, but last week was a mess. I don't know why someone did not take her aside during rehearsals (I'm looking at you Scott!) and gently let her know that her plan for 80s week was not doing her any favors. There had to have been signs that Girls Just Want To Have Fun was going to be a train-wreck and it just sucks that the mentors did not try to help her out and steer her away from doing it. Ok, enough negativity, Joey is still one of my favorites, and now, with Kelly week, it is time for her redemption. Let me know in the comments if you think she can push herself back to the front of the pack with a song from my suggestion list below.
1- The Trouble With Love, by Kelly Clarkson. This is the kind of song I can see Joey NAILING this week. This song doesn't have to many of Kelly's signature glory notes, so I think it will give Joey a lot of room to put her imprint on it. This could be good if she goes with it.
2- Beautiful Disaster, by Kelly Clarkson. Online, a lot of people want JAX to sing this song, and while I can totally see her doing it, I personally want to hear Joey's take on it. I think this song could put Joey back on track and give her a much needed moment.
Song To Stay Away From: People Like Us. People all over are suggesting this song for Joey, and I have to disagree with all of them. I love Joey, but I know there is no way she will be able to truly do this song well or have the moment she needs. Unless she did a dramatic rearrangement to this song, at best, I see her giving an ok karaoke performance that will do nothing for her. Kelly's voice is so hard to match in this song, and nothing against Joey, but her voice just is not as strong as the original idol's. Know what your voice is capable of, and most importantly, play to your strengths this week, Joey!
Nick Fradiani
As I have said before, I think Nick right now is the only one standing in Clark's way of winning the show this season. If Nick falls and goes home in the coming weeks, all those votes of his will go straight to Clark, making him an unstoppable force as he marches towards the title. However, my reasoning also goes the other way: meaning if we lose Clark in the coming weeks, all his votes will go to Nick, basically making him the winner. Of the two, personally, Nick is my favorite, but right now it is all coming down to Nick and Clark: one will probably go home before the top 5 so that the other can win (like what Colton Dixon was to Phillip Phillips). Right now, Nick is hurting Clark by splitting some of his votes, and as long as he sticks around, Clark is in his most vulnerable state. In the coming weeks, we unfortunately will lose one or the other of the two, and when we do, it should be pretty easy to guess who will be winning. Nick, I believe in you and I hope you can do this!
1- Sober, by Kelly Clarkson. I gave this song to JAX, but I also would love to hear Nick's take on this emotional Kelly song. I think Nick could really hit it out of the park and bring the emotion to this song. Nick has some vocal limitations, so bringing extra emotion will be the key to have an impactful performance.
2- Catch My Breath, by Kelly Clarkson. Nick has an incredible acoustic version of this song with his epic band, Beach Avenue. I would love to see him do this song his way on the Idol stage.
Song To Stay Away From: Behind These Hazel Eyes. I have seen this suggestion floating around on Twitter, and I have to respectfully disagree with those people. I know this sounds like a perfect fit for Nick on paper, but I don't think his vocals will be able to go to the places Kelly takes this song. When Kelly sings this, she takes this song to the moon and back with her glory notes, and if Nick were to do this song, I think he will really struggle and it will show his weakness and not let him show where he is strong.
Qaasim Middleton
As long as he stays aways from ballads, Kelly Clarkson week seems right up Qaasim's wheelhouse! Kelly's songs are full of in your face and high energy songs which are exactly the kind of songs Qaasim leans toward. If we find out he is doing a ballad come Wednesday, expect him to crash and burn; this week should be another high energy dancing performance. There are some great songs that Qaasim can pick from this week.
1- Walk Away, by Kelly Clarkson. This is the kind of song I can see Qaasim doing this week. I see him putting on a show and doing quite well with this Kelly song.
2- Stronger (What Doesn't Kill You), by Kelly Clarkson. While Qaasim in no way has the ability to hit most of the notes in this song, the potential show I see him putting on could be amazing! Vocal atrocity=very yes, but fun performance=very likely! In the end, that is all Qaasim will be floating on until he goes home, so why not just give the best possible performance? It works for him, so let him ride this wave as long as it carries him until he reaches the shore and the ride is over.
Song To Stay Away From: Because Of You, or rather, any Kelly ballad. Don't even try to touch a legendary Kelly song that your voice can absolutely never do justice! Know what your strengths are and stick to them, Qaasim. That means no ballads!
Quentin Alexander
If the Idol contestants were a bowl full of fruit full comprised of your basic apples oranges and occasional kiwi, Quentin would be a tomato: meaning he is so different from the others, but he still fits in perfectly. Quentin is in his own lane this season, and he will live and die by his choices and arraignments. So far, his choices have been treating him well, and I hope to see more of his creative interpretations and rearrangements (yes Harry, I know what that word means!). On paper, this week might seem tricky for Quentin, but for me, I just can't wait to see and hear what comes out of the Quentin machine when you toss in a Kelly Clarkson song.
1- Addicted, by Kelly Clarkson. BAM! This song is perfect for Quentin and I can already see him absolutely killing it! Addicted is right up Quentin's lane and his interpretation, if he goes with it, will definitely be something worth looking forward to.
2- Never Again, by Kelly Clarkson. This song is pretty rock, but I can imagine a slow down dramatic and dark version of this song. I would love to hear how Quentin would reinterpret this song and switch it up. Quentin is known for his switch ups, so I only recommend this song expecting him to do something different with it, because if he did it straight up it could be a mess.
Song To Stay Away From: I got to say, I have to leave this one blank for Quentin. I leave the entire Kelly Clarkson songbook open to him, because who knows what song of Kelly's he would take and do something completely different with! I would suggest though he ignore Harry's advice about going uptempo, because if he went with something like Stronger and sang it just like the original it would be a mess.
Rayvon Owen
To be completely honest, I am starting to get worried about Rayvon. Ignoring the fact that I think he is in real danger when it comes to the results this week, Rayvon just seems adamant about growing in this competition. Rayvon knows who he is, and he is not going to be taking risks or changing anything. What you see is what you get, and if you do not like it: tough. This would be amazing in the real world, but for a competition show, the audience needs to see growth otherwise they will not really care to follow their journey and vote for them. In other words, the audience would be more inclined to vote for someone who still has room to grow like Daniel (GASP), JAX or Tyanna over a completed singer like Rayvon, if only to follow their journey and growth into a finished product. Rayvon was one of my favorites from the beginning, but if what we have seen from him is all we will be getting, is there really a point in keeping him over contestants who are still growing and who, frankly, will grow better then the fully developed Rayvon? Nothing against the guy, as I have said, I am a fan of his and will continue to be, but I worry he is starting to rub people the wrong way with his refusal to take risks. Definitely something to think over people.
1- Dark Side, by Kelly Clarkson. On Twitter, Rayvon said that this week will not be another happy song, which already is a step in the right direction. If he is going for a darker pick, I think he could nail this incredible song of Kelly's.
2- Invincible, by Kelly Clarkson. A powerful fresh song of Kelly's that while it might be a little predictable, I think he could still nail the chorus and do it justice. Personally, I'd rather hear him take on Dark Side, but I can still see him doing well with this one.
Song To Stay Away From: Breakaway. This would be a predictable song from Rayvon, and it would basically be the same kind of performance that we have seen in the past from him. Come on, Rayvon! We want to see you try something different! Even though you think you have finished growing, even if it is just a little, show America that you can still get better!
Tyanna Jones
When asked on a You Now for a hint for her song this week, Tyanna replied coyly that her song has a story, which you know, really narrows it down during Kelly Clarkson week! I'm only kidding, but I am really excited to see what song Tyanna decides to go with this week! I worry that Tyanna will struggle a little with getting the right song, because I can see her being drawn to the big singles of Kelly's, but in the end it will all come down to how she delivers. Personally, I want to hear her take on a more intimate song, because we have yet to really hear something like that from her, but who knows what she will actually end up doing. I went through a lot of songs trying to pick some good ones for Tyanna, and I hope you all appreciate them!
1- Save You, by Kelly Clarkson. This song embodies everything I want to hear from Tyanna this week. I really just want to hear her do a ballad sometime, and I think this song would fit perfect for her voice and give her a moment.
2- Miss Independent, by Kelly Clarkson. Though I doubt this one is the song with a story Tyanna was referring to, I think it is perfect for her. I can already picture her nailing this song, but I would HIGHLY doubt we see her doing it come Wednesday.
Song To Stay Away From: People Like Us, by Kelly Clarkson. I don't know, but when I heard her say her song had a story, my first though was People Like Us. I'd have much rather see her go with a song like Miss Independent, but I can see her leaning towards this song because of how similar it is to the kind of performances she has been giving. As much as I personally would love to hear her take on this giant of a Kelly song, I think she will struggle with the speed and high notes. Kelly's songs are HARD to do, and I think this is one of the most difficult in her songbook, so unless Tyanna felt she really could do it, I would recommend she steer clear. I have a funny feeling though we will end up hearing her take on this song come Wednesday, so all I can say is good luck Tyanna, I hope you can pull it off!
So those are my thoughts, what are yours? Who do you think is in danger this week, and are you also starting to think this season is following in season 10's footsteps? Sound off in the comments!
Thanks for reading again, and if you liked what you read and you want to show your appreciation, you can always follow me on Twitter at @adamhsamuel.
Oh, I almost forgot! Before I sign off, I just want to give myself a pat on the back for totally calling Quentin's song choice last week!
*pats self on back