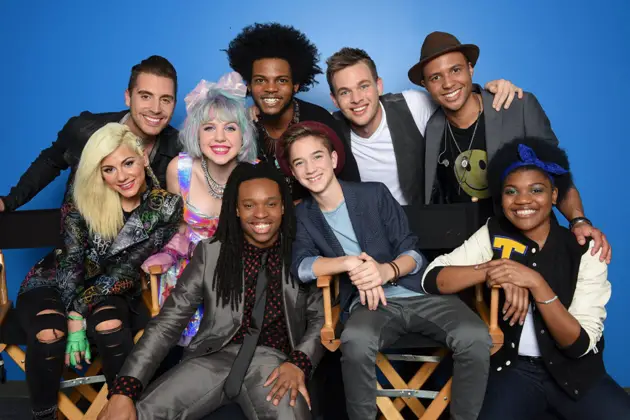 Tonight, Maddie Walker and Adanna Duru were eliminated from American Idol 14, after the viewers' votes. Next week, the first American Idol, Kelly Clarkson, returns to mentor and perform on Wednesday, April 1 (8:00-10:00 PM ET live/PT tape-delayed) on FOX.
The remaining American Idol Top 9 finalists, including Quentin Alexander, Clark Beckham, Joey Cook, Nick Fradiani, Jax, Tyanna Jones, Qaasim Middleton, Rayvon Owen and Daniel Seavey will be singing songs from Kelly's song book in the "Evening with Kelly Clarkson"- themed night.
The following week, Wednesday, April 8 (8:00-10:00 PM ET live/PT tape-delayed), Florida Georgia Line will mentor and perform on the "Billboard Hot 100"-themed show. In addition, Jason Derulo will also be a mentor, and will perform his new single, "Want to Want Me," and there will be a special performance of "Trouble," with Iggy Azalea, featuring Jennifer Hudson.
Also, in a new twist next week, fans will have the opportunity to save their favorite contestants from elimination using the Idol Fan Save on Twitter. Bleh. What is this new twist? Present the bottom two and allow twitter to save one? I hate this gimmick on The Voice, and I'll be hating it here, too.
I hate leaving saves up to such a small section of fans. I'm wondering if The Powers that Be figured they'll get a younger demo voting via twitter. I mean, if Caleb Johnson had gone up against Alex Preston on twitter, would he still have won? Hm.
On a brighter note: It will be interesting to see where the Idols take the Kelly Clarkson songbook. These kids grew up with her songs. I'm keeping my fingers crossed for a great night of music. Also, Kelly should be a terrific mentor.
I know this is going to sound ridiculous, but why bring that obnoxious asshat, Jason Derulo, onto the Idol stage after he effed over our girl, season 6 winner, Jordin Sparks. Yes. I said it was ridiculous, but the reaction is visceral. He has a history with Idol, he'll be on the SYTYCD judges panel this summer–the tie in is huge. But still, I want to draw a big black X across Jason's annoying face. #TeamJordinSparks.
Also, I'm glad American Idol will be presenting contemporary music in the next couple of weeks. Having the Empire boys on for Top 12 night was super cool, and Nile Rogers, who mentored last week, spans the ages–but Boy George? Kenny Loggins? Salt N Pepper? David Hasselhoff? It was beginning to get a little pathetic up in here.
Photos: