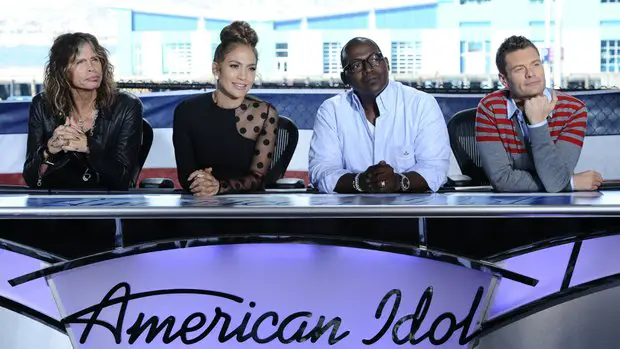 American Idol 11 auditions  hit San Diego, CA on Sunday and Monday for the last of the judges' round auditions. And for something completely different, instead of holding the tryouts in a fancy hotel, Idol producers took the show to the historic USS Midway ship, holding approximately 60 auditions there.
"Today was good, but yesterday was amazing, " Randy said of the talent.  The talent here is top notch, " says producer Patrick Lynn.
Sources: SignOnSanDiego, FOX LA
Take a look at the Wall of Idols at the San Diego auditions!
Interview with producers Patrick and Megan. Tour of the set!  Taylor Hicks  and Ruben Studdard? Relegated to the first floor!  "Taylor I think, is in the back" says Patrick. No Respect y'all.
American Idol: San Diego Auditions: MyFoxLA.com
Steven Tyler and Randy Jackson outside the auditions
Steven says he can't wait for EVEN MORE COVERS OF "ROLLING IN THE DEEP" Har.
American Idol: San Diego Auditions: MyFoxLA.com
San Diego press conference