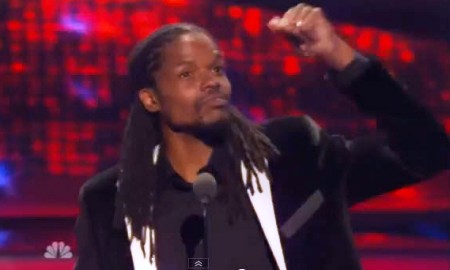 Whoa. Piers Morgan was a cranky pants tonight. Actually, in some cases, his attitude was warranted. But he hated almost everything.
Probably going to advance tomorrow: Silhouettes, Landau Eugene Murphy Jr., Anna Graceman, Landon Swank and Snap Boogie.
Tomorrow, on the America's Got Talent results show, performances from David Guetta with Nicki Minaj and Flo Rida and at the opposite end of the spectrum– Susan Boyle.
VIDEO: America's Best Talent
Kinetic King – Goggles for the audience? Really? It was nice to see KK get redemption when his act failed in the Top 48, but advancing to the semi-finals? I don't think so.  Other than being a little messier, the new act isn't much different from what he did last week.  Piers says America really loves him. Sharon calls it sensational. Howie loves it too. I'm bored.
http://www.youtube.com/watch?v=pApHDDPzMq0
Fatally Unique – "Get Outta Your Mind" is the music used in the epic Twitch/Alex So You Think You Can Dance routine. It was kinda hard not to think about that fabulous performance while Fatally Unique did their thing. Piers and Sharon loved them, while Howie wondered if they were "unique" enough.
http://www.youtube.com/watch?v=lsOs5whVI74
Landon Swank – He's been working on a new, fabulous illusion with his Dad. Did Sharon buzz him, or get confused? Oh it's a high explosive trick. Each of the judges are asked to choose a remote control unit. They each press a button, and every box explodes except for the one he's in? That seemed a little complicated. The judges think he's brilliant. Piers thinks he'll make Top 10.
http://www.youtube.com/watch?v=ZvsO1rUzZNk
Gymkana – This College Park Maryland, gymnastics group is pretty cool. Oh, they got buzzed by Piers. C'mon! They are jumping through a ring of fire! OMG. The guy almost caught on fire and they had to stop. Piers buzzed them because he thinks they are repetitive. Their mistake will cost them, says Piers.  Sharon compared them to lemmings, the way they leaped one after the other at the audience. She was hoping for more of a performance, but called them tremendous. Howie thought it was great.
http://www.youtube.com/watch?v=keQbpYUKPO8
Summerwind Skippers – This jump rope team from Boise adds some dark theatrics to their act. It's still skip roping, no matter how you dress it up. Just mildly interesting. Piers buzzes again! Sharon thinks they've turned into great performers and will advance. Howie does not think they deserve a buzz. Piers noted two big mistakes, and that's why he buzzed them. At this level, it's got to be better, he says. He's got a point.
http://www.youtube.com/watch?v=ty8FV74kOM0
Snap Boogie – Hip hop dancer from Boston. Hm. He begins dancing to a string version of "Viva la Vida" then breaks out the disco. That's an interesting transition. Pretty cool routine. Very well choreographed. Howie likes Snap. But Piers doesn't. He's a crab cake tonight! He thought it was weird and cheesy. Sharon wasn't crazy about his background dancers. You don't need anyone, just you.  But, if he'd performed by himself, they would have told him to bring more.
http://www.youtube.com/watch?v=vGLYOF-aExo
Anna Graceman – Kid singer/piano player. Argh. Ah she's tackling Motley Crue's "Home Sweet Home" and she's singing it Carrie Underwood style. But the little one doesn't really have the chops…yet…to tackle it. GO HOME AND RIDE YOUR BIKE! Come back when you've matured. I'm sure you'll be a fantastic singer one day. Piers loved that. The judges thought it was the best performance of the night.
http://www.youtube.com/watch?v=2MoVSO0pgWo
Steven Retchless – "I've always been interested in dancing with an apparatus". There are a lot of jokes right there. Kidding. Actually, Steven's pole dancing is absolutely beautiful. He's got some girls dancing with him. Maybe that will keep Piers happy. Nope. He's buzzing away. Sharon loved the entire production. Piers says, "It's not what guys should do." UGH. smh. Howie admits he was focused on one of the girls. Argh.
http://www.youtube.com/watch?v=UEQrXxMUZm4
Smage Brothers – These trick bike riders  jump over stuff and each other. OMG they jumped over grandma!  Good thing they didn't kill her. I thought it was a little boring. Piers thought it was incredible. Howie thought it was scary and thrilling. Maybe it's an act that doesn't translate on TV.
http://www.youtube.com/watch?v=vmxgM7qg40c
Professor Splash – He's attempting to dive into a flaming 8 foot diving tank from 70 feet.  The trick comes off without a hitch, and I have to admit, that was pretty spectacular. He's pacing himself well. Howie and Piers are more impressed when he dives into the kiddie pools. Sharon thought it was quite fantastic.
http://www.youtube.com/watch?v=0L2BoR_TleE
Landau Eugene Murphy Jr. – He's the African American dreaded dude who "sings like Sinatra". He performs "I've Got the World on a String". He's got dancers this week. I said it the last time he performed–Laundau has a nice tone, but his phrasing and musicality could use some work. He's just OK. But people go crazy for him, and I think it's a combination of his backstory and unexpected looks. Sharon and Howie gush. Piers doesn't think it was his best performance–nervous and stilted. He does not think his inclusion in the Top 10 is a done deal. I do.
http://www.youtube.com/watch?v=Y9BvGbGBUeY
Silhouettes – These young dancers create incredible images from behind a scrim, although their "America Rules" tableau last week went a little overboard. Hm. that was actually a little confusing. Were they supposed to be the earth in the middle of the solar system? Not their best performance. Howie thought they topped themselves. Piers and Sharon agree with me–not their best performance.  Sharon still wants viewers to vote for them. I think they've garnered enough good will to overcome a ho-hum performance.
http://www.youtube.com/watch?v=zmvmFno3Be0