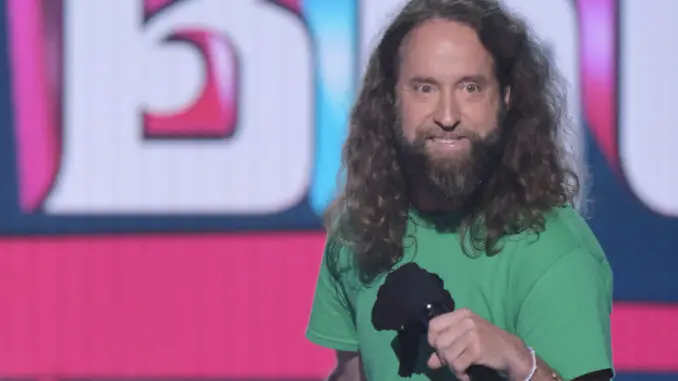 Comedian Josh Blue entered the America's Got Talent: All Stars stage to a standing ovation in a new preview clip from Monday night's episode (Jan 6). The season 16 contestant finished the competition in 3rd place in 2021, and was definitely a fan favorite.
Josh jokes that he is back on AGT to "return to the scene of the crime…because I was robbed!" He jokes that after the show, he began making handicapped signs for cash. Josh's self-deprecating humor often centers on his day to day life, living with cerebral palsy. He offers one of his signs to judge Simon Cowell ahead of his next bike accident. "You're very naughty!" Simon responds, laughing.
AGT: All Stars 2023 Week 6 Lineup: Meet the Acts!
AGT: All Stars: Teen Flau'Jae Original Rap for Murdered Dad
The 43 year old comic claims that when he stood on stage with Aiden Bryant and eventual winner, Dustin Tavella, he was confident he would win it all. But then host Terry Crews announced that he would be leaving the show in third place. Still, Josh says, AGT "launched my career into the stratosphere." He's been touring non-stop ever since.
His bit, which revolves around raising kids as a disabled person, is short, but very funny! Basically, Josh turns all the ways people might mock or discriminate against him on its head. He jokes that when he's pushing his kids down the street in a stroller, folks are expecting a stroller full of doorknobs, assuming that he's a homeless guy, not a father of two. Josh grounds his humor in humanity and is one of my favorite AGT comics.
Howie Mandel is on his feet. "You get the laughs," says Heidi Klum. "I love you because you have such a sweet nature." Simon notes the positive audience reaction. "You're great!" he says, adding that he believes the "superfans" will put him through to the finale. Howie gushes, "You are the cure, you are the medicine. You gave us what we need more than anything else."
AGT: All Stars Week Six airs Monday Feb. 6 on NBC at 8 pm ET/PT and is the LAST week of auditions! The Top 11 will be unveiled by the end of the episode.