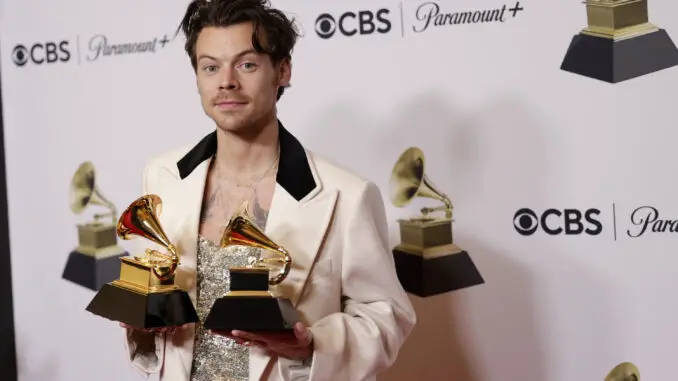 Harry Styles Wins Big at 2023 Grammy Awards
Congratulations to Harry Styles. The X Factor and One Direction alum won two of the big awards at the 2023 Primetime Grammy Awards, which aired on CBS Sunday night (Feb 5).
The singer's album, Harry's House nabbed both awards it was nominated in–Album of the Year and Best Pop Vocal Album. The awards are his second and third Grammy awards, after the performer won Best Pop Solo Performance for his single "Watermelon Sugar" in 2021.
2023 Primetime Grammy Awards Winners (Photos, Videos)
2023 Grammy Awards Full Winners List
Harry was nominated in six categories, including Record of the Year, Song of the Year, Best Pop Solo Performance and Best Music Video for his massive hit single, "As it Was," in addition to his album wins. Earlier in the day, at the afternoon Premiere Ceremony, the Harry's House engineers won in the Best Engineering Non-Classical category.
Some music fans were upset that Beyonce didn't finally win in a big category. And they have a point, because the singer actually broke records last night, becoming the winningest artist in Grammy history (32 awards!) after nabbing four awards in down ballot categories.
Harry's House wins Pop Vocal Album at 2023 Grammy Awards
Former American Idol judge Jennifer Lopez handed Harry his first award for Pop Vocal Album.
"This album from start to finish has been the greatest experience of my life," Harry said after accepting the award. "[it] has been the greatest joy I could have asked for."
Harry thanked a slew of people and "everyone who inspired this album. Everyone, all my friends who supported me through it. Thank you so much. I wouldn't be here without you."
"As it Was" Performance
Later, Harry performed his hit song "As it Was," recreating elements from the song's music video. He fiddled with his in-ear a bit, but delivered a solid performance. The Grammys don't release full performances.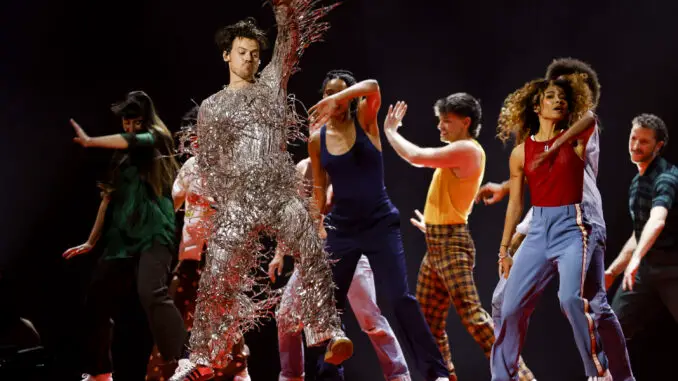 But here is a clip. Enjoy it before Youtube takes it down.
Harry Styles' Harry's House Wins Album of the Year
When Harry won Album of the Year, the last award handed out of the night, he looked truly surprised. After tearing up, he couldn't help but swear. "S–t."
He thanked his fellow nominees in the speech — including Beyoncé, Adele, Brandi Carlile for inspiring his music. "Man, I've been so, so inspired by every artist in this category with me," he said. "A lot of different times in my life, I listened to everyone in this category when I'm alone."
"I feel like on nights like tonight, there is no such thing as 'best in music,'" he said. "I don't think any of us sit in the studio making decisions based on what's gonna get us one of these."
He ended his speech thanking the Academy and saying, "This is really really kind … this doesn't happen to people like me very often, and this is so nice, thank you very much."
The woman who read out his card is a one of the "superfans" featured on the show.
Enjoy a few photos!