AGT: All Stars 2023 Week 6 lineup: It's the final week of auditions, featuring the remaining 10 of 60 contestants. Monday's episode (Feb 6) will determine the Top 11 contestants moving on the the final. On Mon Feb 13, NBC will air a clip show. The finale will air on Feb. 20 or 27.
There is NO Golden Buzzer in this last week of auditions. One contestant, chosen by the "superfans," will move on to the finale.
Does America's Got Talent: All Stars Have a Cash Prize for the Winner? More about the "superfans"
The AGT: All Stars 2023 Week 6 lineup includes: TWO AGT winners, including Brandon Leake from season 16 and Kodi Lee from Season 13. Fan favorite former contestants, Danilya Tuleshova and Josh Blue, will also appear. AND SETHWARD RETURNS.
A new extension of the hit America's Got Talent series, AGT: All-Stars brings together winners, finalists, fan favorites and viral sensations from America's Got Talent and "Got Talent" franchises around the world.  Simon Cowell, Howie Mandel and Heidi Klum sit on the judges panel. Terry Crews hosts. See a list of the full Top 60 line up HERE.
AGT: All Stars 2023 Week 6 Lineup
Brandon Leake – AGT 15 Winner – Poet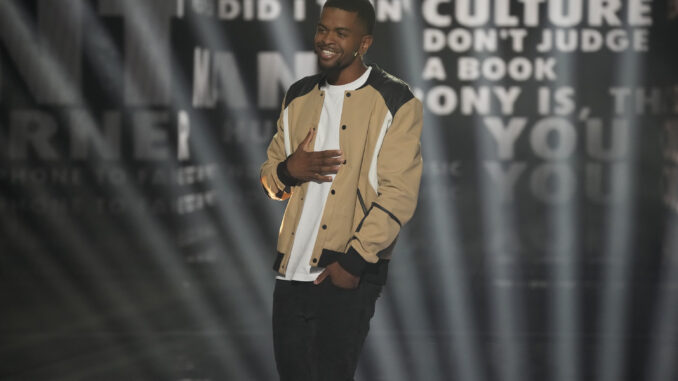 Brandon Leake, rather unexpectedly, won America's Got Talent in 2020 as the first spoken word poet to ever win the show. In his initial audition for AGT, he recited a poem dedicated to his late sister who died as an infant 20 years prior. Howie was so moved that he hit his Golden Buzzer for Brandon. Later in the season, he performed pieces about his father, his mother and his daughter. Since AGT, Brandon has toured all over the world, as well as released an album of his poetry, Deficiencies: A Tale from my Dark Side. – VIDEO
Brett Loudermilk – AGT 15 – Extreme Variety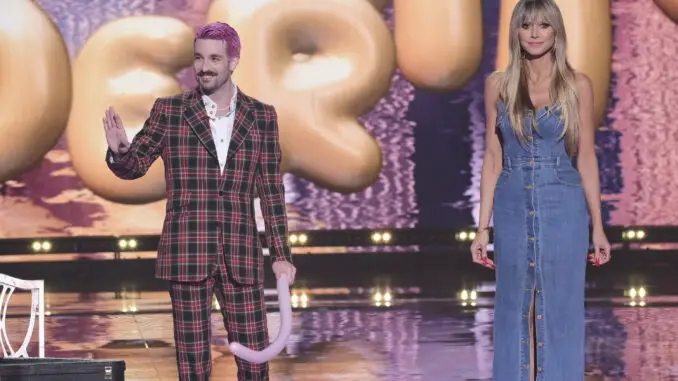 Sword swallower Brett Loudermilk, asked judge Sofia Vergara to help him pull a sword out of his throat during his 2020 audition. She was, understandably, freaked out. Hilarity ensued! Brett was cut in the semi-finals after throwing up a rubber duck that he swallowed. That, after Howie helped locate it with an endoscopic camera. Ew. Recently, Brett appeared in the Discovery+ series Inventions that Changed History. He also makes Las Vegas his home. He recently left the show "Opium" after playing in it for 8 years. – VIDEO
Daneliya Tuleshova – AGT 15 – Singer
Thirteen years old at the time of her AGT 2020 audition, Daneliya Tuleshova, from Kazakhstan won the 4th season of The Voice Kids Ukraine. She also competed on the short lived CBS talent show, World's Best in 2019. The big-voiced pop singer made it all the way to the finale, but was eliminated outside of the Top 5. – VIDEO
Eric Chien – Asia's Got Talent 2019 Winner, AGT 14 – Magician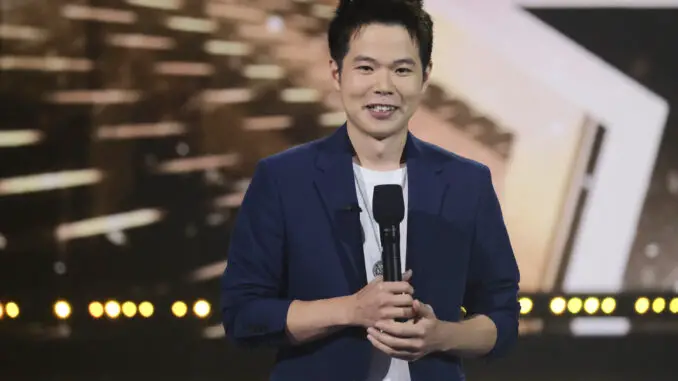 Magician Eric Chien, who won Asia's Got Talent in 2019, suffered constant comparisons to the previous season's winner, Shin Lim. Like Shin, Eric is an Asian magician who performs close-up magic with cards and other objects. Nevertheless, the talented magician did make it all the way to the Semifinals in 2019. Unfortunately, after Simon advised Eric to go "bigger" in the semi-final, he performed outside of his comfort zone, and bombed, which led to his elimination. – VIDEO
Flau'Jae – AGT 13 – Rapper
NBC previewed Flau'jae's audition last week. Eighteen year old rapper, Flau'jae, first auditioned for AGT at 14 in 2018 with a heartbreaking story. Her father, also an aspiring rapper, fell to gun violence before she was born. Her mother was pregnant at the time. She impressed the judges with an emotional anti-gun violence rap. In the Judges Cuts round, guest judge Chris Hardwick sent her straight to the Quarter-Finals with his Golden Buzzer. However, she was eliminated in the next round. After AGT, she was signed by Roc Nation and played basketball for LSU, ranking in the Top 25. – VIDEO
Josh Blue – AGT 16 – Comedian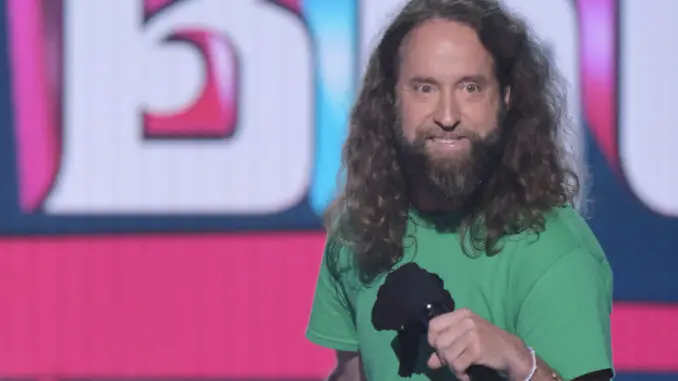 Josh Blue, who won Last Comic Standing in 2006, delivers self-deprecating humor based on his day to day life, living with cerebral palsy. He punches through stereotypes and basically dares people to pity him at their own peril. He made it to the finals, finishing the competition in 3rd place. Additionally, in 2004, Josh represented the United States in 8 countries as a member of the US Paralympic Soccer Team. – VIDEO
Kodi Lee – AGT 14 – Singer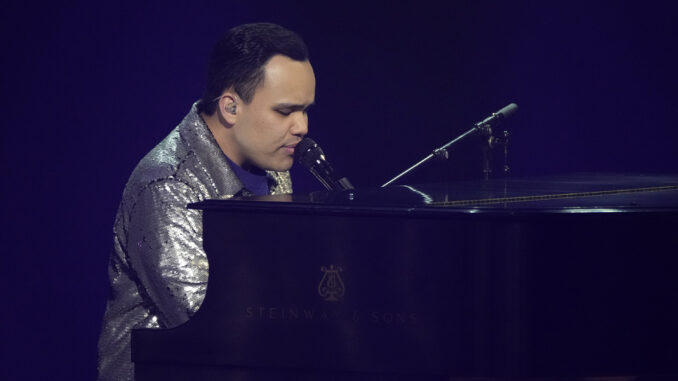 Kodi Lee, who won America's Got Talent in 2019, is both blind and autistic, and passionate about singing and playing piano. In his audition, he impressed the judges with a lovely rendition of "A Song For You." The ill fated judge that season, Gabrielle Union, chose Kodi as her Golden Buzzer. How quickly will the show glance past that little fact? Since his win, Kodi has been a star performer for the America's Got Talent Las Vegas residency at the Luxor Hotel. – VIDEO
Lukas & Falco – Das Supertalent Winner, AGT 14 – Animal Act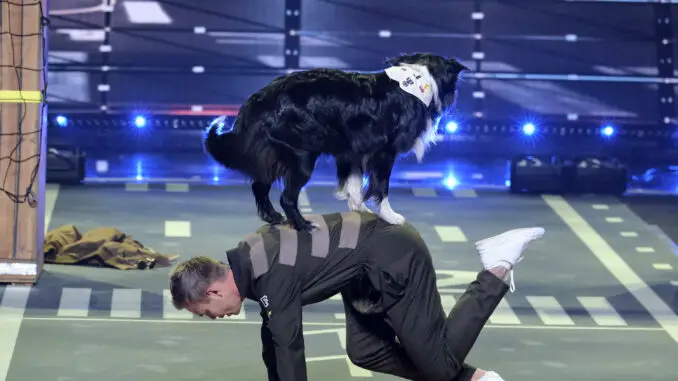 The doggo act from Vienna, Lukas and Falco, already received a second chance when they were handed a wildcard spot for the semi-finals in 2019. However, the act, which won the German version of Got Talent, were eliminated before the finals. The two have had quite the journey together. Lukas' dad gave him Falco as a gift when he was a child. It's nice to see the two are still together, as the pupper is now about 12 years old. Because of Falco's advanced age, Lukas will bring his younger brothers to All Stars. – VIDEO
Sethward – AGT 15, 16, 17 – Variety
Sethward is NEVER GOING AWAYYY. He's now America's Got Talent's perennial joke act, The comedian has performed on several seasons of the show, and it's always the same schtick. Sethward is dressed as various weird animals and lumbers around the stage, engaging in old-fashioned pratfalls, which annoy Simon enough for him to push his red buzzer. However, on season 17, the judges allowed him to advance to the live shows, where he was promptly eliminated.
Voices of Hope Children's Choir – AGT 13 – Choir
The group, which hails from Orange County, California, is a large choir made up of children from around the area. Despite Howie criticizing their upbeat audition of "This is Me," the group advanced to the Judge Cuts, where guest judge Ken Jeong chose them as his Golden Buzzer. The group was eventually cut at the Semifinal round. – VIDEO
The AGT: All Stars 2023 Week 6 lineup performs Monday, Feb 6 at 8 p.m. ET/PT on NBC.